Update:
Nintendo's Facebook post specifies this bundle as exclusive to Amazon, GameStop and Fry's Electronics (thanks for the heads up @Ryno). The bundle is already a 'best seller' and sold out on Amazon and GameStop, the latter of which includes an 'ultimate' set with the Prima strategy guide. Based on social network post timings these sell-outs happened within a couple of hours; hopefully demand will actually bring more stock, especially as an official release date hasn't even been given. We shall see soon enough.
Original Article:
The Legend of Zelda: Majora's Mask 3D was an exciting reveal in the final Nintendo Direct of 2014. In development since 2011, there's understandable optimism that - like The Legend of Zelda: Ocarina of Time 3D - it'll do an admirable job of upgrading the Nintendo 64 classic for the current-gen portable.
With that announcement last year, European gamers were also treated to the news of an attractive special edition that includes a steelbook case, poster and pin badge; unfortunately no equivalent was announced for North America. The positive news is that a limited-edition special bundle has now been announced for NA; pictured below, it will come with a Skull Kid figurine and have a recommended price of $49.99.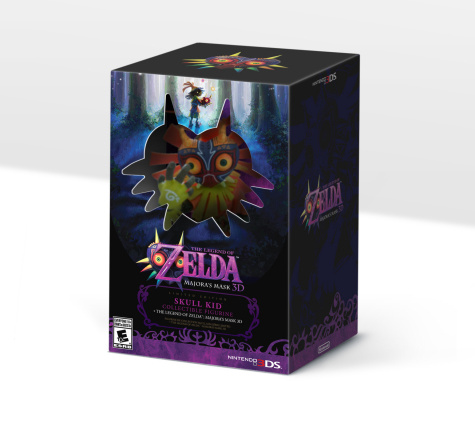 It'll come out the same day as the normal edition - which is yet to be dated - with the standalone game having the usual recommended price of $39.99; $10 for the figurine and box, then. We think it looks rather tempting.
No release date is forthcoming yet, and the pre-order links for Amazon and Best Buy on the official website are still only showing the standard edition.
Are any of you in North America tempted to pick up this limited edition?