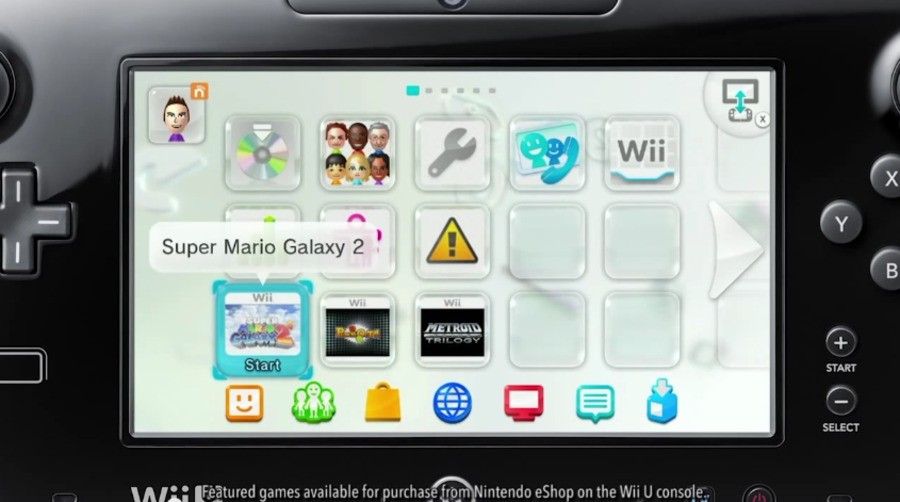 It seems strange, but a reveal in last week's Nintendo Direct broadcasts that prompted one of the biggest reactions in the Nintendo Life community was confirmation of Wii retail games coming to the Wii U eShop. Bearing in mind that the system is already fully backward compatible we were a little surprised, yet convenience and the prospect of affordable downloads seemed to push a number of buttons.
The implementation isn't perfect, of course - though it's nice to download a Wii game onto your Wii U menu, actually running the title simple boots the Wii Mode with a couple of button presses and load-times stripped away. Those that initially fantasized of HD upscaling, for example, were quickly brought back down to Earth.
That aside, though, it's a promising addition to our weekly eShop updates. The confirmed titles, below, also bring a mix of well-known favourites, one of the great gaming trilogies and a couple of excellent games that deserve to be enjoyed by a whole new audience.
We'll see how much the North American and European line-ups match in the weeks and months to come, though a trend with these entries is that they were all developed and / or published by Nintendo - though XSEED published Pandora's Tower in North America, with the big N publishing in Europe. When thinking about Wii games we want on the eShop, however, we've spread our wings further to include more third-parties. These are games we'd love to download from the eShop, but whether that's a practical reality is something else besides.
We've picked 20 games, then, the first 10 of which are below (in no particular order).
We expect this to be on the agenda, especially as we already have Kirby's other Wii platforming adventure on the way; a release alongside or close to Yoshi's Woolly World would certainly make sense, and also lead to a cuteness overload on the eShop. This looks fantastic (still) but also plays particularly well, with clever ideas that blend Kirby's transformational skills with the unique material that made up the world. A lovely game.
A bit of a cult classic, by which we mean it's an excellent game that seemed to earn only a fraction of the sales it deserved. It serves up real-time strategy - reminiscent of Pikmin - but with its own charming world and kingdom-building mechanics. It's disarming, yes, but with dark humour and a decent level of challenge that belies its colourful exterior.
We'd take the original, too, but this sequel arguably provides a more refined experience that learned from its predecessor's mistakes. It's typical Suda51, with bizarre NES-style mini-games and mature / suggestive jokes - not one for young 'uns. If you want mindless fun in which you sever limbs with a laser sword - you're probably not allowed to call it a Lightsaber - then this is the game for you.
One of the finest games of all time with terrific Wii Remote pointer controls. It's not a hard sell, especially for a game that's still regarded as the pinnacle in its franchise and, more widely, as one of the top action horror games we've ever seen. It's a lengthy adventure with memorable moments, and this writer never tires of playing it.
We've opted for the Wii-only Zelda title, which also does its very best to put the Wii Remote MotionPlus through its paces. It was critically acclaimed when released, though some aren't necessarily fans of the control scheme, but it's an important series entry in that it tweaked the formula in some subtle ways. Much of it follows the status quo, yes, but it has strong story-telling and environments that provide twists on the familiar settings of old.
This would be particularly welcome in Europe, where this title never saw the light of day. A sequel to the rather enjoyable Excite Truck, this blends fun vehicles / robots with fast action and plenty of extravagant jumps. We may have certain other over-the-top racers available on Wii U, but this deserves another shot - it was developed by Monster Games, who are now port specialists in delivering games such as Donkey Kong Country Returns 3D and Xenoblade Chronicles 3D.
Another slice of platforming joy from Good Feel, this sports a fantastic hand-drawn art style that gives a sense of playing through a cartoon. It's clever and fun to play, and seemed to get a little lost in the retail mix back in the day, while its perceptibly short run time perhaps went against it. At a reasonable price on the eShop this would be a steal.
In our dreams we'd love to see the HD version that graced systems such as PS3, along with those intuitive Wii Remote pointer controls - we'll settle for the standard definition version, however, of what is one of the most enthralling adventures of recent generations. Steeped in Japanese culture and developed by Clover Studios - which subsequently split from Capcom to become Platinum Games - this would be a true stand-out on the current Nintendo platform.
We can hear the grinding teeth and sense the angry comments coming, but we're going to stick by this choice as a title we'd welcome onto the eShop. Not in the same league as the finest work by Retro Studios, it is - however - entirely unique from the iconic Prime games. Not everyone likes the direction that series creator Yoshio Sakamoto followed but, heck, it's his series and he had the right to tackle it his way. Team Ninja got carried away, too, but this is nevertheless an interesting blend of 2D / 3D / first-person action. Utterly mindless and with a space-opera story - with cut scenes that exasperated a tone we'd arguably already seen in Metroid Fusion - it can be a fun ride while it lasts.
Ubisoft shouldn't have called this Red Steel 2, simply because the original Red Steel notoriously failed to deliver on its promise of exciting swordplay. Using MotionPlus we finally got some enjoyable sword-wielding action, while mixing hacks and slashes with precision gun aiming was rather fun. Throw in some handsome cel-shaded graphics and this is a thoroughly decent experience that we'd happily revisit.
Those are the first 10 Wii games we'd like to see on the eShop, though remember they're not in any particular order. Check back tomorrow for the second half of the list, our honourable mentions and the chance to vote for your favourites.