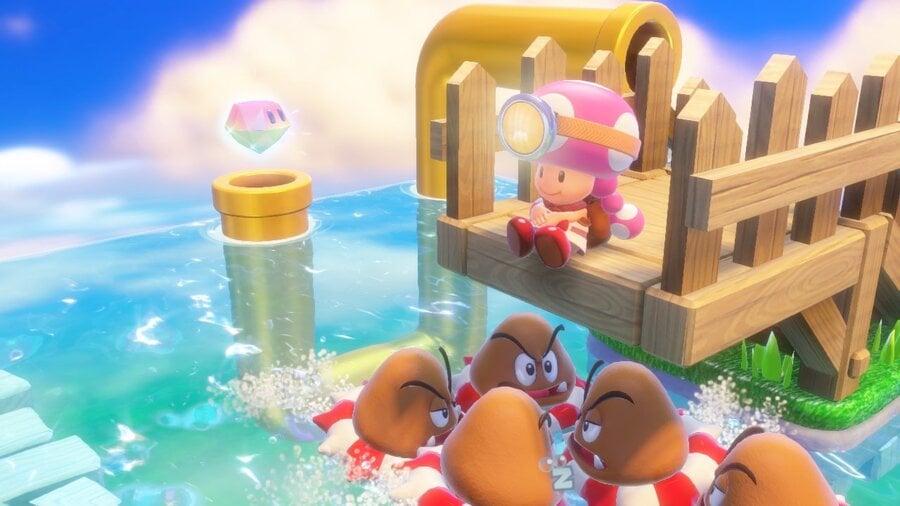 Captain Toad: Treasure Tracker is a lovely game, and we're sure it graced the stockings of a number of North American Wii U owners in the festive season; unfortunately that wasn't the case in Europe. The title officially launched in the latter region on 2nd January - with a handful of countries having to wait until 9th January - though its UK history is particularly strange. UK retailer GAME started selling it early before Christmas, while this writer spotted copies in HMV during the festive sales. It was, essentially, a soft launch.
That was strange, anyway, and we're not sure how that sales data was tracked. The cute and clever puzzler was absent from the festive UK charts, yet has now popped up in the first update since its official release. Were sales from the soft launch accumulated for this week's top 40, or did it fail to chart in previous weeks and the latest results are just from that proper launch weekend alone? We suspect the former, as there were certainly decent numbers of UK owners tweeting and sharing their delight at pre-Christmas copies.
Whatever the case Treasure Tracker has made a respectable chart début, especially considering its release timing and history; it's claimed 16th in the all-format chart and 14th in the single format equivalent. It's currently 6th in the UK eShop chart, too, trailing behind some big-hitting discounted downloads and - encouragingly - bundled fare such as Super Mario 3D World and The Legend of Zelda: The Wind Waker HD.
As per the increasing trend in the UK charts there's little else to bring much cheer. Super Smash Bros. for Wii U is the only other Wii U game in the top 40, grabbing 32nd in the single format chart and 20th place (alongside the Nintendo 3DS version) in the all-format chart. Pokémon Omega Ruby & Alpha Sapphire continue to represent 3DS, with Omega Ruby narrowly ahead (30th) of Alpha Sapphire (32nd) in the all-format results.
As we've said, considering its muddled UK release and lack of mainstream marketing a top 20 finish for Captain Toad: Treasure Tracker is reasonable. Hopefully it'll show some legs to stay in the top 40 for a decent period of time.
[source chart-track.co.uk]