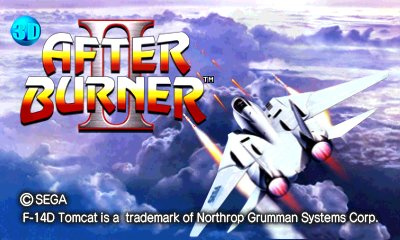 In 2013 SEGA began to release its 3D Classics range in the West, and we enjoyed a mix of Mega Drive / Genesis and Arcade re-releases such as 3D Super Hang-On and 3D Streets of Rage. A second wave of these games, primarily arcade classics, hit Japan; unfortunately the prospect of Western releases seemed distant with each passing month.
In exciting news, however, SEGA has now confirmed that these titles will indeed make it to the West, kicking off in early 2015 — 3D After Burner II will be first up in 'early 2015', and then the following will all arrive on a monthly basis.
The order of the latter four is unclear, but it has been confirmed that all five releases will cost $5.99 / €4.99 / £4.49, while SEGA of America President and COO John Cheng has been quoted as saying the following.
These games were completely re-built to offer a robust 3D experience that offers more modern gameplay while still keeping true to the original. These are the best versions of some of our most unforgettable games and playing them is just like sitting in an arcade machine.
We've been big fans of these M2-developed ports and have enjoyed the Japanese versions of these games; it's good news that they're finally coming to the West.
Are you planning to pick any of these up soon? Let us know.