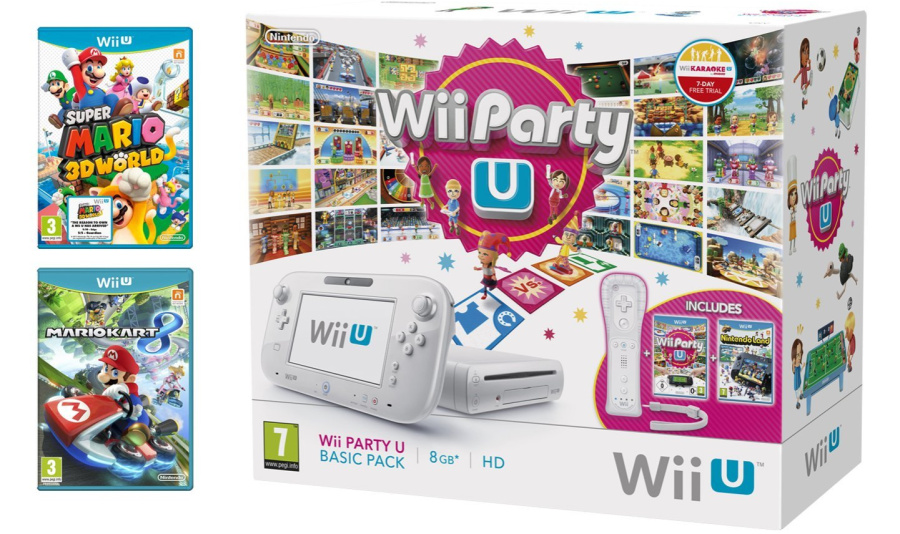 Back in November 2012 we had a few debates in Nintendo Life HQ around the merits of the Basic (8GB) and Premium / Deluxe (32GB) Wii U models. With just 3GB of that white system's memory surviving a launch day update it seemed downright pointless to buy a system with such a small amount of space, as it made a hard drive mandatory. Of course, hindsight teaches us that anyone interested in the eShop or retail downloads won't get far with the 32GB system, either, so it's become a moot point.
Nintendo, however, has rather abandoned the basic model — pretty much to the point of discontinuation — in the West. Some retailers still have stock, however, and these humble little white boxes could provide some of the best value for prospective Wii U owners this Holiday season; just remember to grab a hard drive, too.
As this is the week when discounts provide plenty of shopping fun, we thought we'd highlight the bundles available on Amazon UK right now. Considering what's included in these bundles, the white Wii U systems are really being valued below a 3DS and offer a tempting entry point. With the Deluxe model's Nintendo Network Promotion — in which eShop purchases contribute points towards discount codes — closing at the end of the year, anyway, suddenly these seem like the best option in the UK right now. Check out the deals below.
There's also a less attractive Wii Party U bundle that oddly costs more than the better-value Basic Party edition, so that's one to avoid. Aside from that, these represent outstanding value considering the games available and the inclusion of a Wii Remote Plus — the Basic Mario Kart Edition seems like a standout.
Though these are UK deals, they perhaps point the way for shoppers in various territories in the coming week — leftover 8GB Wii U systems may be sold at fantastic prices as retailers look to shift stock.
Are you still on the Wii U fence and tempted to sniff out a Basic Bundle deal? Let us know.