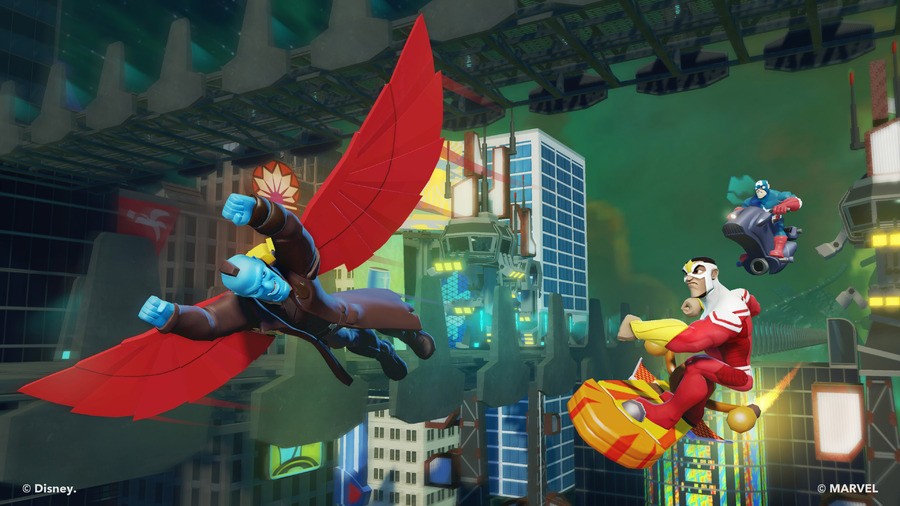 Fans of Marvel comics will be pleased to hear that two more characters have been announced for Disney Infinity 2.0: Marvel Super Heroes, namely Falcon and Yondu
From the press release:
Pararescue veteran Sam Wilson, codename Falcon, soars into Disney Infinity 2.0: Marvel Super Heroes. As Captain America's closest ally, Falcon's an indispensable addition to the Marvel's Avengers Play Set and Toy Box 2.0. With his EXO-7 wing pack and Hardlight Feathers, evil doesn't stand a chance against his aerial assaults. Other characters can also fly like Falcon when players use the Falcon's Wings Power Disc.
From deepest space comes Yondu, leader of the outlaw band known as the Ravagers. Whether he's trying to outwit the Guardians of the Galaxy or face off against a squadron of Sakaarans, Yondu will do anything to come out on top. With his whistle-powered flying arrow and devastating combat skills, Yondu is truly a force to be reckoned with. He will be playable in both the Marvel's Guardians of the Galaxy Play Set and Toy Box 2.0. Yondu will also be making an appearance in the Marvel Team-Up: Yondu Power Disc. When players place the Power Disc on the Disney Infinity base, they can fight alongside the powerful, arrow-shooting ally, and send enemies running for their lives.
Both characters will be on UK shelves next year, Disney Infinity 2.0 will be available on the 18th and 23rd of September in Europe and North America respectively.
Are you excited for these latest additions? Let us know in the comments!