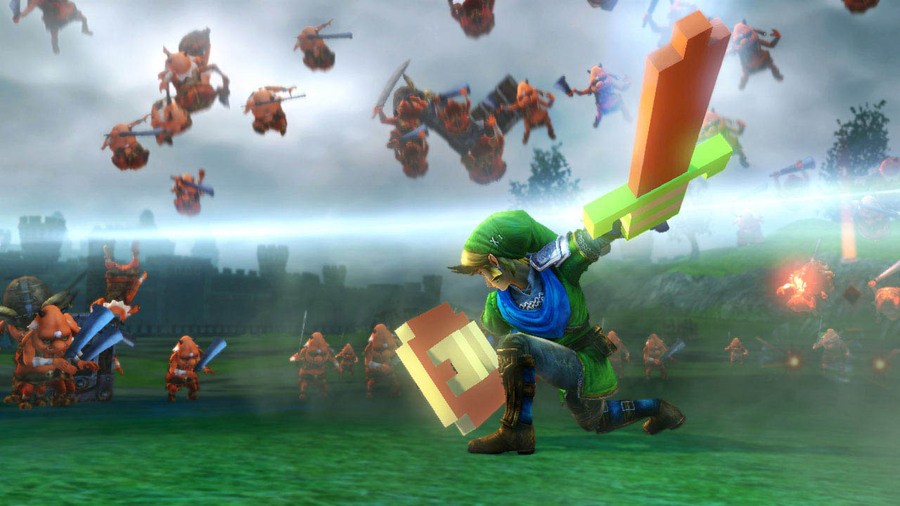 While the western world is still waiting on the release of Hyrule Warriors, it appears Nintendo and Tecmo Koei already have many of the future updates for the Wii U title well and truly laid out.
Due out on the 1st of September in Japan, the incoming update adds a new challange mode, a new weapon, BGM options, and always welcomed bug fixes.
The new challenge mode will allow players to take on eccentric battles in the added scenario 'Faron Woods, The Great Battles'. In this mode, players will challenge enemy outbreaks one by one whilst aiming to clear levels in the shortest time possible. The new weapon – a sword – pays homage to the classic Zelda games, and even includes a shield. Lastly, new BGM options will allow players to change the music before the start of a battle.
The bonus fixes alongside this update solve a series problems:
Fixed a bug that reduces your max strength if you're defeated in battle.
Fixed a bug that where sound was not output from the TV when starting up the game after playing only on the GamePad.
Fixed a bug that paused the BGM during the battle victory screen.
Fixed a bug where, in rare cases, the screen would go black and sometimes freeze after a battle is won.
Fixed a bug where the game would randomly freeze when "Network Connections" is turned "On."
So, does the September update for Japan and additional fixes that come with it excite you for the release of Hyrule Warriors on the Wii U in the West? Let us know in the comments.
[source gematsu.com]