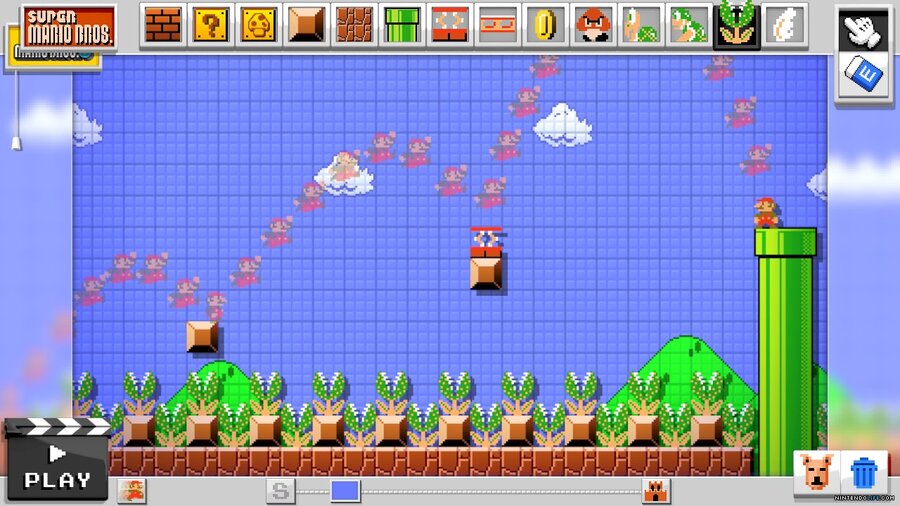 We know that Mario Maker will allow players to craft levels that look akin to the original Super Mario Bros. (among other titles), but will those levels have the same feel of momentum that the NES had?
In speaking with Jeremy Parish over at USgamer, producer Takashi Tezuka noted that Mario doesn't control the same way in today's games that he did in his debut and wants to reflect some of that greater ease even in retro-styled levels:
My greatest challenge right now is that the physics of the original Super Mario Bros. and New Super Mario Bros. are very different. So, people who are used to today's Mario games might have a hard time with the original if they're not accustomed to it. With Mario Maker, the retro Mario style looks that way visually, but the controls are a little bit closer to today's Marios.
I have a feeling that if I make the original Mario style content control like the original Mario, people used to current Mario may not enjoy it. So, we haven't carried those exact physics over. Yet there are parts, of course, that I don't want to let go, that I want to continue.
Tezuka also said that a 3DS version of Mario Maker is "possible," but the Wii U has been the go-to platform for its greater performance and creative options:
I have thought about it. But right now we think it's best for the Wii U Game Pad. I don't know if a 3DS version would work the same exact way, but maybe if Mario Maker does well on Wii U and people really love it, I might consider doing something for 3DS. Right now, the Wii U hardware has a lot more power, so you can fit a lot more enemies and elements on the course. That's why we prefer this hardware. But of course, I am interested in the idea of a portable version.
The full interview is available on USgamer and worth the read, especially to see more of Tezuka's philosophies when approaching an open-ended game such as this. Are you satisfied with a more modern-moving Mario, or would you rather go purely oldschool on retro-styled courses? Let us know below.
[source usgamer.net]