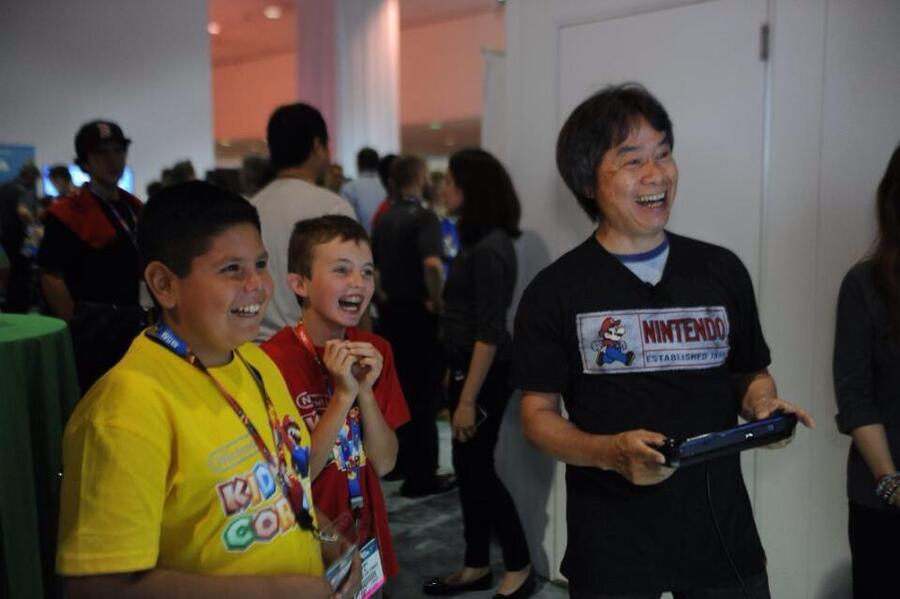 If there's one thing the editors, writers, and readers of Nintendo Life have in common, it's a love for the company that gives the site its name. For many, the love for Nintendo and its consistently engaging content began in childhood — a period of time that shapes much of what we value for the rest of our lives. Like any good company, Nintendo knows this, and has historically used their position as a family-friendly favorite to bolster business. In an interview with VentureBeat, Nintendo of America President and COO Reggie Fils-Aime highlighted just how vital kids are to the company's success.
It's critical for us to have kids grow into and aspire to play Nintendo content. I think about how I introduced my kids to Mario and to The Legend of Zelda. We have to find ways to do that today. We're doing it in a variety of different ways. We had about 10 kids here yesterday, unique kids — kids who write for Time for Kids, kids who have their own YouTube channels. We had them interacting with Mr. Miyamoto and playing our games. They had a fabulous time. We think that type of activity, and having the kids themselves broadcast out what they found appealing, is critically important.
Not content to rest on their laurels, Nintendo is also looking for new ways to extend their online marketing reach to the child demographic. Reggie briefly explained an intriguing web portal that he hopes will not only introduce kids to the colorful franchises the company is known for, but also bring a host of non-game activities into play to help parents better understand why Nintendo is appropriate — and even constructive — for them and their children.
We're doing things around our web presence. We're going to be launching, later this year, a dedicated kids and parents portal that speaks directly to kids and introduces them to our franchises. It gives moms and dads some fun activities – how to plan a Mario-themed birthday party. Things that we know parents are interested in, but there's not a ready resource. That kind of information doesn't exist on Nintendo.com today. It's a day to day job for us to create messaging and content for kids and parents to keep filling the funnel of new consumers to play our games.
It's hard to say exactly what else the portal might encompass until it launches later this year, but it's a good sign that Nintendo is expanding the resources they make available to consumers. In the end, this kind of activity only serves to reduce confusion and raise interest for the Nintendo products we all care about.
What kind of information do you think would be helpful and/or attractive in a web portal for kids and their parents? Are you interested in new ways to get up-to-date with the latest from Nintendo? Let us know with a comment!
[source venturebeat.com, via neogaf.com]