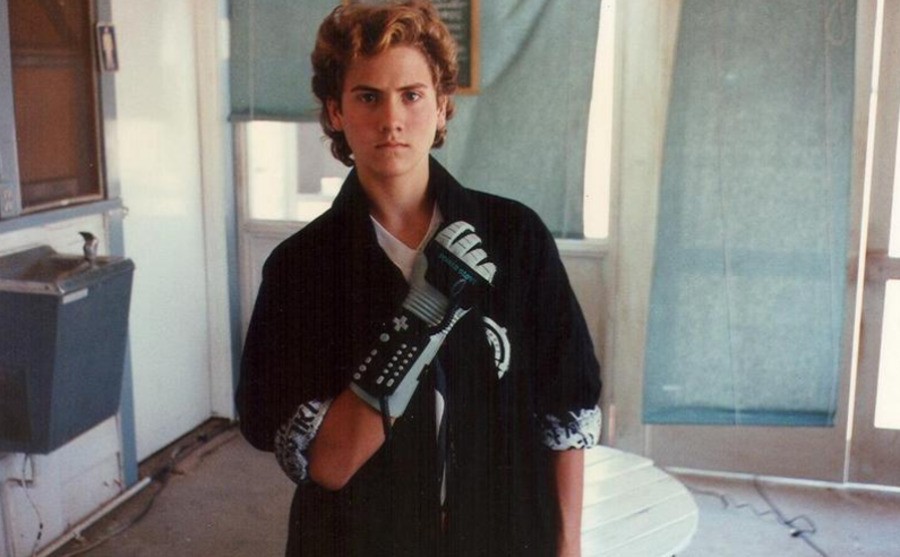 Back in late 1989, the world was a vastly different place. George Bush had just won the US presidential election. Children's movies allowed for minor vulgarity and subjects that could be featured in said films before our world was thrown into a realm of sensitivity. Slash was still the guitarist for Guns N' Roses. And the videogame world was dominated almost exclusively by the Nintendo Entertainment System, with simple 8-bit graphics featuring imagery of pixel-based heroes covered TV screens across the world. The Super Mario Brothers had a tight grasp on the minds of children all over the globe, and were probably responsible for 99 percent of incomplete homework assignments.
The natural progression of Nintendo's extreme popularity was to of course increase the content featuring the company's branding. Animated series, clothing, comic books and a plethora of "sold separately" accessories for the NES filled the market. It was undoubtedly a phenomenon that was making a statement in the world of home entertainment.
The Super Mario franchise — to coin a sporting term — was "on fire". The world was awaiting the third instalment of the video game series, the legendary Super Mario Bros. 3, and the popular Nintendo Power magazine presented previews of updated graphics and new features. A map-style level select process, numerous new power-ups, warp zones that could be accessed with a magical flute and most importantly: the ability to fly. Minds were blown, and gamers waited impatiently.
Amid all of this hype, news of a feature-length movie set to revolve around the Nintendo universe came to light. Called The Wizard, it would feature children on a road trip destined to reach California for a videogame tournament. But the plot was layered much thicker, even though certain critics refuse to recognize. Amongst all this is a broken family whose young daughter perished in a river and the inevitable divorce that occurred as a direct result of her death. When two of the surviving siblings make a break for California, a heartless bounty hunter named Putnam (brought to life by Will Seltzer, who is notable for auditioning to portray Luke Skywalker in Star Wars before Mark Hamill procured the role) is employed to chase them across the country, himself pursued by the estranged father and older brother. It was — and still is — much, much more than just a movie about videogames.
The cast matched the interesting concept. Child actor Fred Savage was on top of the world at the time for his role in the Wonder Years series. Beau Bridges was a highly-requested actor that other stars wanted to work with to get the proverbial "rub" by being in a Bridges film. Christian Slater was an up-and-coming — but already renowned — young star. Director Todd Holland, self-admittedly not a huge video game fan at the time, was tasked to helm. It was evident that the goal in Holland's vision was not to make a 90 minute Nintendo commercial, but to use the videogame aspect as a framing device for a deeper family tale. Plus, the film would finally unveil Super Mario Bros. 3 to the public eye; the eagerly-awaited title would be played in the final round of the aforementioned videogame tournament, dubbed Video Armageddon.
The world in 1989 was absolutely ready to see their beloved videogame realm brought to life on the big screen. But what accompanied their favourite games in action was equally fascinating; an enriching story with a moral tale threaded throughout. Since then, an enduring legacy that can be described as cult fanatical has grown up around this remarkable and underrated piece of cinema. A group in Philadelphia recreated the Video Armageddon tournament this past April, complete with The Wizard being screened and a Super Mario Bros. 3 competition finale. A huge reunion event preceded it a few years back where the cast reunited in Texas on stage. A pristine HD cut is now available through Amazon and TV on-demand outlets.
The Wizard is 25 years old this year, and its fans show no signs of flagging. To mark the movie's quarter century, we caught up with director Todd Holland to chat about his memories of making the film.
---
Nintendo Life: Like all movies, you shot more footage for The Wizard than was actually used. What subplots or key scenes do you immediately recall when you think of the lost hour of film?
Todd Holland: Without a doubt the keenest memory was of Corey's three friends — Garrett, Bogdanski and Mitchell. Most of the missing footage is at the start of the movie, with more emotional stuff setting up Corey's home life and friends. The kid actors who played these roles did a good job — but it was a no-brainer that all this set up had to go once the editor's cut came in at two and a half hours. I wrote the actors each a letter and told them what was happening — that they did good work. The film was just too long. I didn't want them to anticipate seeing themselves in the film — they are 100 percent gone. I thought it was the kindest thing I could do; I mean, Kevin Costner was completely cut out of The Big Chill. It happens in films. You just want to treat actors with respect when it does, especially young ones.
How did it feel to be tasked with bringing the revolutionary Super Mario Bros. 3 to the eyes of the masses for the first big reveal?
Todd Holland: To be honest, Universal didn't want me to direct it. They saw this movie as a total "programmer". They wanted a TV movie director — a "tradesman" to come in a just get the job done. But I'd grown up loving kid adventure movies — and all the "fancier" movies I'd developed at Universal had fallen apart one by one. I wanted to direct a feature badly. The president of Universal Pictures literally sat me in his office and told me all the reasons he didn't want me to direct it. But I loved the adventure of the story; I loved the "kids against the world" element. To be honest, I did not play videogames at the time. And I actually sold that as my strongest suit for the job — the movie needed to make videogames interesting to everyone, not just preach to the converted. And I think that's why it worked. I was driven to make the competition really exciting and accessible.
The final competition was written as being in a hotel meeting room essentially — more "real world" for the period. I saw it should be bigger. I coined the phrase "Video Armageddon" — more of an event. In hindsight, it's funny how much the World Cyber Games and others really became Video Armageddon. I definitely saw this as a big spectator sport — even way back then.
We didn't know what game we were going to be featuring when we started. Super Mario 3 came in while we were prepping — it was super top secret. And as a non-gamer then, I really only wanted to understand how to play it — so I could direct it. I wasn't that aware what an "event" that game's release would be to the gamer audience.
After 25 years, what are your most cherished memories of being on The Wizard set?
Todd Holland: My fondest memories include working with Mali Finn, the casting director, to find the cast. She was a genius. We had the greatest trouble casting the role of Haley. Universal really wanted this little Texas beauty pageant girl who could not act at all. I was fighting for a great little actress whom Universal thought wasn't pretty. And Mali found the girl who made everyone happy — Jenny. She was cute as a button — and could really act. It was like she came out of nowhere, and she was the one.
Other great memories include working with the cast on set — I love working with kids. Fred, Jenny and Luke were all a dream. There was one issue with Luke who became very unhappy with his oversized "Jimmy" wardrobe during the shoot. He didn't want to work any more, and I had to go to him and make a deal. It was a road movie — so no one had packed a suitcase of clothing changes. But I promised Luke that if he was patient, when the "script" took the kids to Vegas and the characters won a little money, I would use that as an excuse to get him into clothes that he liked better. He finally agreed, and we kept shooting.
I loved working with cameraman Bob Yoeman and my first assistant director Jerry Ketchum. My second assistant director on the film, David Davidio, became my first AD later on many many shows — including Malcolm In The Middle. I made a lot of friends in that cast and crew.
I guess my fondest moment as a young director was when the "adult" cast — Christian Slater, Wendy Phillips, Beau Bridges and Sam McMurray — all turned to me while shooting scenes in the Woods' home and said they were excited to work with me again on a "grown up movie". That was real validation for me, that we were doing good honest work together — not the "phone it in" that Universal had imagined should be. I've worked with Beau and Sam since then. It's always nice to reconnect.
My favourite scene to shoot was the tram chase through and the foot chase behind the scene in King Kong at Universal Studios. Getting to show how stuff like that really worked — all the gears and steam vents and such — was the kind of thing I loved as a kid. But I was promised more time to shoot that chase that than I eventually was given, and so that chase to the cage elevator is the very best I could do with the four hours I was had. I think we just pulled it off.
How much input did Nintendo have on the film? Was there a Nintendo representative on set for consultation?
Todd Holland: Nintendo had input on all things Nintendo, but they were pretty easy. It's not like it is today when you have exclusive access to products. I do remember the security guy showing up with the Power Glove in a locked briefcase when we got our first look at it. I liked the idea so much, I gave the character Lucas Barton a similar case. When we shot, the security stood by all day and took the Power Glove away when we wrapped. No way were they leaving it lying about on the set. Nintendo got me started gaming on that movie — when they gave me my own Game Boy!
Will Seltzer was fantastic as Putnam - a cold, calculating villain. He also had great chemistry with Beau. Do you have any specific Putnam stories or memories?
Todd Holland: I love that you pointed Will out specifically. Will was a friend from my acting class, and when we had trouble finding a great comic villain I suggested that Will audition. He was great and won the role, but I don't know if that would happen today. He had almost no resume at the time, and today even small movies cast "up" every role. It was a simpler age in 1989, when a boy could say "s***" in a family film, when you could show real "Coke" cans without asking permission or paying anyone for the right and when the best actor could still win the role — even if they were nobody.
DVD and HD releases are already available of The Wizard. To commemorate its 25th anniversary, a Blu-Ray with the 'lost footage' would be perfect. Do you have any words to Universal Pictures and fans of The Wizard regarding this?
Todd Holland: My words to Universal would be: Listen to your audience. My words to fans would be: Talk loudly.
Universal never regarded this film as anything but a commodity. The day it opened, I was told it was a tremendous flop for them — I couldn't get hired to do anything for six months. It wasn't until the DVD came out — of course, unannounced by Universal — that the internet allowed me to connect with the fans and finally understand that I hadn't failed, and that I did know how to reach my audience on The Wizard. Everything I'd fought to put on film had been really loved and appreciated. But I learned all that on my own; Universal has never reached out to me once in 25 years regard The Wizard. So the battle to get them to treat this film with any part of the love the fans feel for it will be an uphill one. But I'm here and more than willing to comb through the footage if Universal can find it in one of their salt mine film vaults somewhere in Nevada.
One last comment — I would like to express my deep and sincere gratitude to all the fans who have kept The Wizard alive all these years. It's great to know that with this film we truly reached kids looking for adventure. Thanks for taking the ride.
---
REWIND. There are TWO AND A HALF HOURS of The Wizard sitting in a trunk somewhere in the Universal Pictures vault? With the 25th anniversary upon us and Nintendo becoming one of the strongest brands of all time, surely we can have this dropped onto a Blu-Ray disc in time for Christmas? You'd assume so, but it's going to take some work. Send those tweets to @UniversalPics and let them know how significant this truly is. With the live-action Super Mario Brothers movie getting the Blu-Ray treatment following the tragic passing of Bob Hoskins, it's high time that Jimmy's quest should head that way as well. All two and a half hours, clean and remastered. The mere thought of it makes us want to break out that Power Glove.
Let's get some social media hype behind this — below are the Twitter handles for all of the key players, so let's get everyone involved and who knows, Universal might realise that there's a market for a physical HD release, complete with bonus footage.
Thanks to Todd Holland for taking the time to speak with us. You can read an earlier interview we conducted with Holland here, while an interview with Luke Edwards — who played Jimmy — can be viewed here. Finally, there's our review of the movie here.