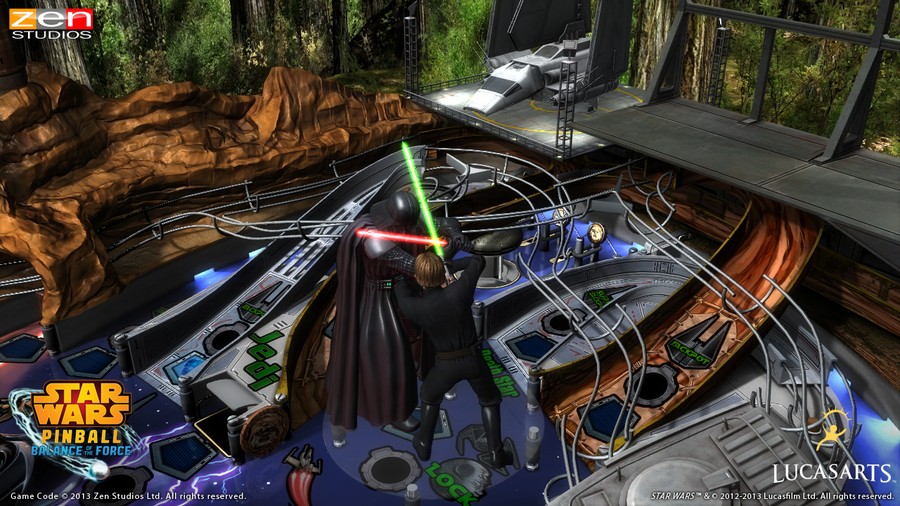 Zen Studios has shown solid support for the Wii U eShop to date, releasing multiple titles and accompanying DLC on Nintendo's system. While there have been slight delays to the arrival of DLC, in particular, it's nevertheless pleasing for Wii U owners to get access to all of the content in some of the developer's most entertaining titles.
The positive trend will continue this week, with Zen Studios confirming the arrival of additional DLC for both Star Wars Pinball and CastleStorm; this content will hit the Wii U eShop in North America and Europe in this week's update on 13th March.
To start with Star Wars Pinball, the DLC will be the Balance of the Force expansion, which integrates into the original game. It'll include three tables — "Star Wars: Episode VI Return of the Jedi", "Darth Vader" and "Star Wars: Starfighter Assault"; this pack will cost $9.99 / €9.99 / £8.99.
Star Wars Pinball "Balance of the Force" DLC
Next up we have "The Warrior's Queen" DLC for CastleStorm, with the following description provided by Zen Studios.
The Warrior Queen reveals a new Viking Elite troop class, plus huge additions to the arsenal of weapons available for the destruction of your enemy's castles. We're not joking around here: Meteor Showers, Exploding Barrels, Stormbringers, Golem Hostages, and you heard it here first: FROZEN SWORDFISH. Throw in 20 new battles and new achievements and you have an excellent addition to your favorite super 2D physics destruction tower defense brawler mashup.
This pack will have the same price as the recent Outcast to Savior DLC — $2.99 / €2.99 / £2.39.
CastleStorm "The Warrior Queen" DLC
---
Do you have either of these games on Wii U, and are you tempted by this DLC?