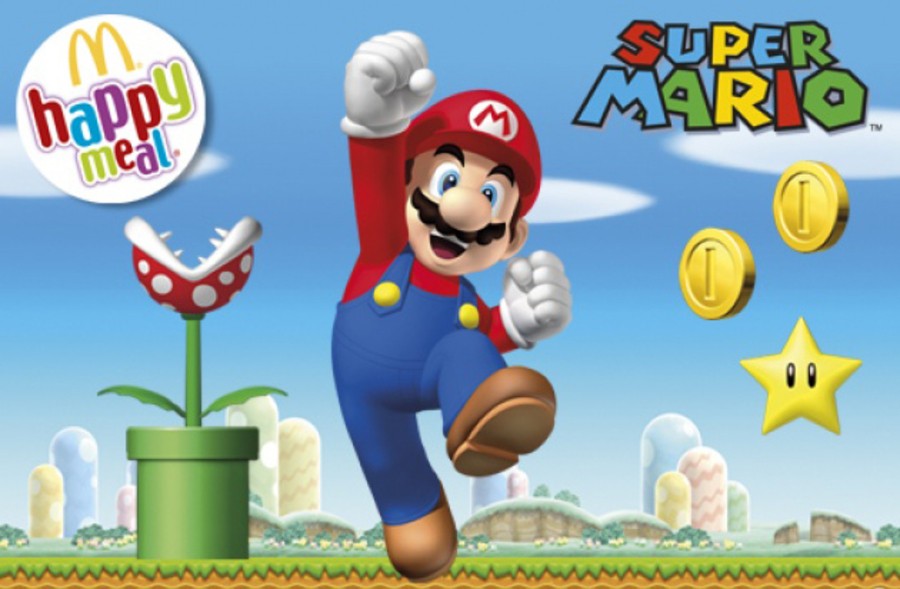 Not long ago we shared the surprisingly glorious news that Super Mario McDonald's Happy Meals were coming to the UK, a clever piece of marketing due to the ongoing popularity of the ever-present big M. The big N and M have now provided further information and, most importantly, images of the collectible toys.
There'll be eight in total that'll begin on 19th March, with a Super Mario-themed advertisement campaign joining the meals until 29th April. It's a good way to get the moustachioed mascot additional exposure and promote the brand, while it'll come with a message of activity and fun.
The toys will feature classic characters from the Mario series including Mario, Luigi, Toad, Donkey Kong and the classic Super Mushroom power-up. Four of the toys will be interactive including Mario's Hovering Coin, Donkey Kong Barrel Projector, a Super Sound Mushroom and Mario's Warp Pipe Embosser.
The Run, Jump and Power-Up with Super Mario promotion also aims to inspire children to get active using some of Super Mario's moves. They will be encouraged to run, jump and complete active tasks set out by Mario and friends.
You can see all of the toys above and below. Beware parents, your youngster(s) may start bugging you for more trips to McDonald's in the coming weeks. As for us big kids, we'll be there too.
---
Will you collect them all?