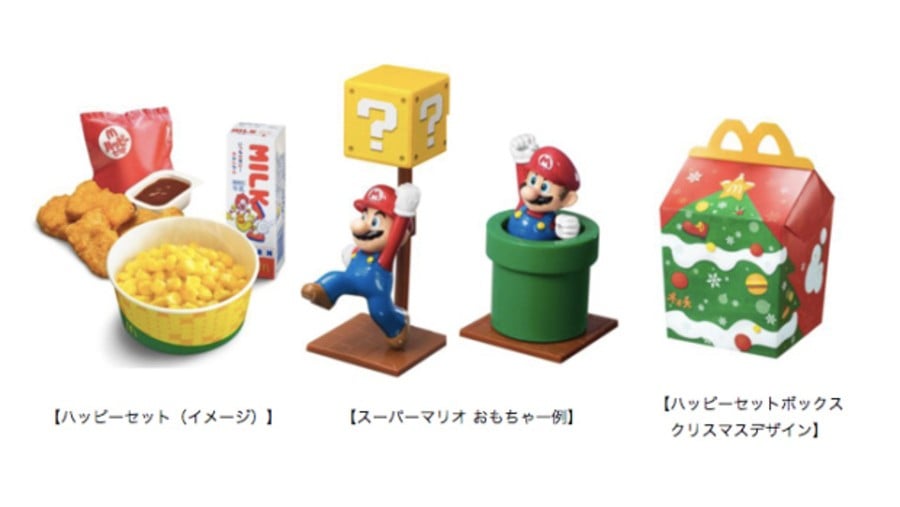 Do you love Super Mario, enjoy eating copious amounts of fast food and also happen to live in Japan? If so, then you're in luck! Starting from next month, McDonalds Japan will be offering two delightful Super Mario toys with its Happy Set meals (essentially the Japanese version of a Happy Meal).
Available from 22nd November — no doubt to coincide with the release of Super Mario 3D World the day before — consumers will receive one of two figurines with their meals. Moreover, the meal comes with a special edition Christmas box that folds into a Christmas tree. Those that purchase the Happy Set on either 23rd or 24th December will receive a special Mario-themed dice game.
Mario is known for liking his food, whether it's wolfing down size-increasing mushrooms or the odd bowl of pasta every now and again. Therefore, it only makes sense that he'd get behind the world-famous burger chain for a bit of self-promotion; after all, Nintendo needs all the advertising help it can get at the moment.
Given that it's the Year of Luigi, we can't help but feel a little sad that Mario's younger brother isn't receiving a toy of his own; although judging by his slender physique, it's probably because he's not the one scoffing down all the burgers.
Would you like Nintendo and McDonalds to release these Super Mario toys in the West? Which Mario character would you like to share your Chicken McNuggets with? Let us know in the comments section below.
[source destructoid.com]