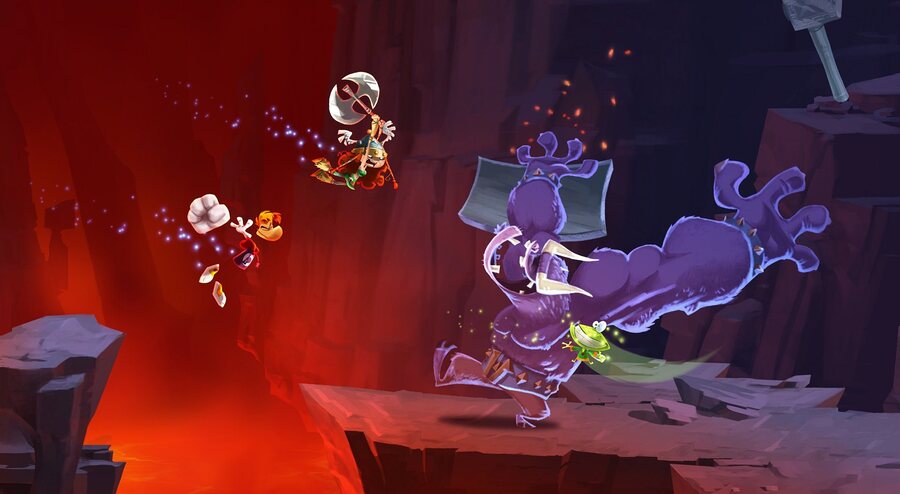 Both Rayman Origins and the new Rayman Legends are games that somewhat stand-out, in the wider gaming industry and as parts of Ubisoft's library. Games packed with colour and slapdash platforming fun are, to generalise a little, typically reserved for Nintendo titles and Indie games, where the philosophy or budgetary requirements often lead development teams away from gritty, mature experiences. In the case of these two latest Rayman games, that's ultimately down to the head of the games' studio, Michel Ancel, an iconic figure not just loved for creating the limbless hero but also the classic Beyond Good & Evil.
In an extensive profile and interview with Eurogamer, Ancel acknowledged the extent to which Legends stands out in the current gaming landscape — particularly multi-platform — and admitted that, stylistically, it's perhaps a risk for the publisher.
You have not seen all the weapons? ... We have knives, guns, a tank... [laughs]

The Ubisoft boss is happy that we're doing something different. Ubisoft's DNA is really connected to the roots of video games, of iconic characters. It's very interesting during meetings with the boss that there is nostalgia for this type of game.
Legends is a risk. When you look at people's everyday lives they're used to eating the same thing - burger, pizza, some other dish. But they're not used to trying new things. Video games are a bit like this. People only play so much, they want to play with others and play the same thing as others. I don't see this as good or bad - it is the tradition, and we're continuing a tradition too. With Rayman we're taking a risk, but at Ubisoft the boss wants us to take risks, experience new visuals, music and gameplay. That's why we began on Wii U, because it was an area of experimentation.
Not for the first time, Ancel also explained that the "protest" images for Rayman Legends were an innocent — on his part — mistake, in that he wasn't trying to make a gesture to his employers.
That morning I arrived at 10, I think because of some party [the night before]. There were two fans like this," he pauses, miming holding the infamous 'Save Rayman' placard. "They said, 'hey Michel! Come take a picture with us!'" The photos quickly appeared online and raised eyebrows within Ubisoft itself - the initial reaction being that he and his studio were the ones protesting the company's decision. Below is the full excerpt.
I felt a bit like it was a trap, which is why in the picture I'm like, 'hmm... what is this?'" He mimics his puzzled face in the photo. "I was wondering if they would use the photo privately, and it turns out no, they released it in public." He sighs. "It was like... they were nice people but I wondered if they just wanted to be famous. That's why I wasn't like 'fight! fight! fight!'" Ancel mimes shaking his fist. "We weren't used to that, that's the first time anyone has turned up here."

A second photo was taken with Ancel's co-workers, but it wasn't until after the visitors had left that anyone in the studio asked if they'd been told to keep the pictures private. "After they left we realised 'have we asked them not to put the picture on Facebook?'" Emile chuckles. "And we were like, 'um, no'."

"It was all for fun," Ancel concludes. "It wasn't like, 'This is a revolution, man! This is video games! This is very important!'" It definitely wasn't him staging his own defiant protest. "No," he tells me, smiling. "No. But it was a lot of fun."
When touring the studio, which is a converted villa in France, the UbiArt engine development tool was shown, which appears to allow level design with simple, intuitive processes. That was clearly a big part of Legends coming together, and reflects a wider Ancel philosophy that technology and tools should facilitate creativity.
The key is the tools you make and the connections you keep within the team. That's one of the reasons we wanted to stop work on Beyond Good and Evil 2 and work on a smaller game. It was to experience this philosophy, to make games in an easier way. Working on a game like that - it's the kind of game where you really need these kind of tools and this philosophy. And we want to continue, by making surprising tools that help make a big game.

It's about giving people the ability to create something just with their own energy. The tools we design are here to make everything more fluid. When a graphical artist has an idea he is able to create this by himself and show it to others - not just with a picture, but with a playable prototype.
We certainly recommend reading the full article, which gives notable insight into the studio and Ancel's ideas on game development. Let us know your thoughts on Ancel's comments below.
[source eurogamer.net]