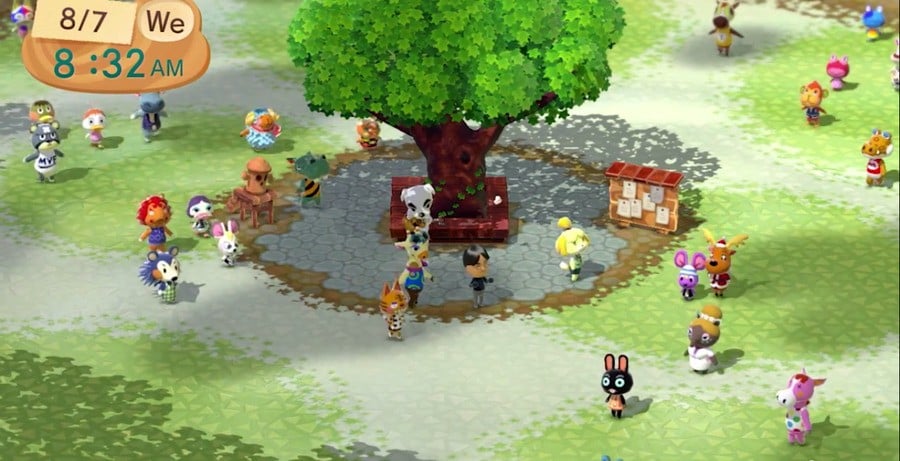 Today's Nintendo Direct broadcasts across multiple territories may have been focused on providing details of previously revealed titles, but there was still the occasional surprise. One of these is the Animal Crossing Plaza on Wii U, which will be available today for free, and serves as a WaraWara plaza-style meeting place based on the hugely popular 3DS title; there'll also be a related Animal Crossing series Miiverse community.
Naturally the residents of this plaza will keep you posted on events happening in the game, but there are ways that you can interact and take part. For example, any screenshots that you take in Animal Crossing: New Leaf can be moved across and posted on the plaza and Miiverse community; all you need to do is put the 3DS SD card into the equivalent slot on the Wii U, and the images are filtered out and can be organised into albums or transferred. This also includes QR codes that can be posted on the Wii U and scanned with a 3DS, while the Miiverse community will allow you to post your transferred New Leaf screenshots, choose favourite animals from the game and post about them specifically, or filter out posts to look at those dedicated to your favourite characters.
It may disappoint some that today didn't bring any more news of a 3DS Miiverse, but that doesn't mean it isn't coming later in the year; this does look like a fun feature, however, and should be available right now or later today, depending on your region. It's also worth noting that in the North American broadcast Satoru Iwata said this will be a "limited time" service until the end of 2014, but he didn't say that in the European presentation.
Are you looking forward to interacting in the Animal Crossing Plaza and Miiverse community?