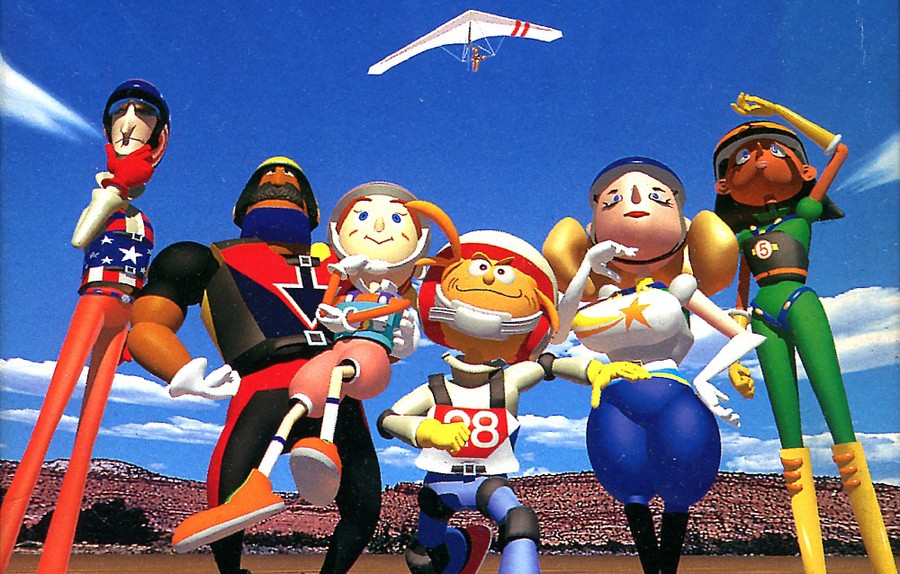 In recent years Nintendo has made a habit of aligning itself with external studios in order to complete notable projects. We've seen fruitful unions with the likes of Sega (F-Zero GX), Capcom (The Legend of Zelda: Minish Cap) and more recently Team Ninja (Metroid: Other M), Next Level Games (Luigi's Mansion 2) and Retro Studios (Donkey Kong Country Returns), illustrating that despite its lofty reputation within the industry, the modern Nintendo isn't afraid to look outside its own internal resources to get the job done. However, back in the mid '90s this kind of policy was far less common, a fact which is evidenced by the intense scepticism that surrounded the development of Pilotwings 64. The 3D flight simulator — which followed on from the much-loved SNES original which launched on the Wii U Virtual Console recently — was to be coded in collaboration with American 'visual technology' studio Paradigm Simulation, a company with no prior experience of producing video games. It's little wonder that dedicated Nintendo fan boys were practically quaking in their boots.
"Nintendo was looking for select companies with 3D graphics experience, and discovered us through their relationship with Silicon Graphics"
A member of Nintendo's fabled 'Dream Team', Texas-based Paradigm wasn't created with interactive entertainment explicitly in mind. "The company was founded in 1990 by Ron Toupal, Mike Engeldinger and Wes Hoffman," explains Dave Gatchel – who acted as Paradigm's Project Manager on Pilotwings 64. "We focused on providing commercial products to assist graphics developers in creating simulation and training applications. We also produced and delivered 'turn-key' applications, such as flight simulators, human factors analysis simulations and 3D visualization applications." The studio's work brought it to Nintendo's attention, although this interest manifested itself long before Pilotwings 64 was in the works. "In 1994 we were approached by Nintendo regarding their new 64-bit console system" continues Gatchel. "At that time, Paradigm developed products based on the Silicon Graphics (SGI) line of workstations. Nintendo was looking for select companies with 3D graphics experience, and discovered us through their relationship with Silicon Graphics. We were first approached by one of our close contacts at SGI to gauge our interest. Once we confirmed that we were interested in the opportunity, SGI set up a meeting with Mr. Genyo Takeda, who was our primary contact at Nintendo. Following that meeting, we started meeting regularly with SGI to study the architecture and work within a software emulator."
The two companies certainly made for an unusual pairing, but just as had been the case when Nintendo approached UK-based Argonaut Software to produce the Super FX chip for the SNES, it was clear that the Japanese giant was interested primarily in Paradigm's expertise in the realm of 3D – a world where Nintendo was still not 100% confident. "At the time, it was clear that Nintendo's interest in us was due to our experience in 3D graphics," admits Gatchel. "We had very little experience developing games and no experience developing console games. Nintendo approached us knowing that we already understood most of the issues related to the 3D technology, and that they would need to help us understand the issues surrounding game design. Also, several of us had previous experience working with CGI during the integration of new hardware, which might have been perceived as an advantage."
However, before a single polygon was rendered in Pilotwings 64, Paradigm had to endure months of gruelling labour without even knowing for sure that they would be selected to continue working on Nintendo's latest machine. "Prior to starting on Pilotwings 64, the team was very small and focused on creating an engine within the N64 emulation system," says Gatchel. "This continued for approximately nine months, at which time we were notified that Nintendo had selected Paradigm as the developer that they would like to work with SGI to integrate the N64 hardware. We sent a team out to SGI for six weeks, consisting initially of four people: Mike Engeldinger (lead software), Wes Hoffman (lead art and visual effects), Mike Panoff (software), and me (project management), and later we brought out Aaron Hightower (audio)." The next big task was to get some kind of tech demo running to display at the forthcoming 1995 E3 show, in order to demonstrate the power of the upcoming console. "We decided to implement a helicopter application for the demo, so the team initially worked on getting this running on the software emulator," says Gatchel. "The custom graphics chips arrived later than expected, leaving ten days to get the application running on the actual hardware, so the final couple of weeks was particularly intense."
"During the production, we learned a great deal from working with Nintendo, not just about game design specifically, but also about producing games in general."
This phase of development was characterized by periods of testing, pushing the new hardware and finding out what it was capable of. "Following the integration effort at SGI and E3 1995, Nintendo started giving us a series of experiments to work on," reveals Gatchel. This research would eventually evolve into the game we know and love today. "We were actually quite a way into development before we knew it was going to be Pilotwings 64," comments Mike Engeldinger. "Nintendo suggested that we think of flying concepts without any mention of Pilotwings. For example, we did several prototypes of flying reptiles, island hopper helicopters, biplanes, and the like." As these experiments grew more and more grandiose, the truth was finally revealed to the team. "After several months of this they let us know that we would be developing Pilotwings 64, with the goal of it being a launch title," says Gatchel.
During development the duties were evenly split between the two firms; Nintendo handled the game design while Paradigm was responsible for the technology. Gatchel explains that they had little reason to complain with the balance of this relationship. "Since it was our first game, we had limited experience as game developers," he says. "Prior to Pilotwings 64 our strength had been high-end 3D graphics, developing tools and applications for the simulation and training industry. As a result, we worked collaboratively with the design staff from Nintendo. Our initial contact was Mr. Takeda, who at the time managed Nintendo's R&D3 group and was in charge of the overall N64 development. On the design side, the lead designer was Makoto Wada, who was a member of Shigeru Miyamoto's design group. During the production, we learned a great deal from working with Nintendo, not just about game design specifically, but also about producing games in general. The schedule was extremely intense and the stakes were quite high for us, but overall it was a lot of fun."
One of the N64's biggest selling points was its analogue controller, which proved to be incredibly innovative at the time. For Paradigm the pad was perfect for what they had in mind for Pilotwings 64. "Our background in visual simulation and vehicle modelling always involved using control sticks, and at the outset we simply designed our vehicles to fly using them," explains Engeldinger. "I don't think we even considered doing it any other way because there simply is no substitute for accurate control without one."
"I remember about halfway through the development when we got a sneak peak at Mario 64...we were shocked at the game play and production quality compared to where we were."
As the schedule became ever more demanding, Gatchel and his team were able to inject a little more influence into the creative side of the project. "Nintendo was clearly leading the design effort; however, they were willing to consider suggestions from the team," explains Gatchel. "In some respects, since the schedule was so tight, it really became necessary for the design and production team to work collaboratively. What sticks out for me was the schedule. Our goal was to be a launch title, and to achieve that it took an incredible effort from the entire team, really the entire company. During the last four to five months, it wasn't unusual for the majority of the team to work through most of the night. Everyone really extended themselves to the limit."
Unsurprisingly, the team began to feel the burn of this punishing development period. "Initially everything related to the industry was so new to us I honestly don't think we felt a great deal of pressure," says Gatchel. "Later, once it became clear that Nintendo was counting on us to deliver a launch title and it would only be Mario 64 and Pilotwings 64 at launch, there was some pressure." This wasn't helped when members of Paradigm's team were shown the game that would ultimately define the N64, and the one they would be launching Pilotwings 64 alongside. "I remember about halfway through the development when we got a sneak peak at Mario 64," says Engeldinger. "We were shocked at the game play and production quality compared to where we were."
However, they needn't have worried. When the game hit store shelves in 1996 the critical reception was overwhelmingly positive, and it went on to shift over a million copies worldwide. Gatchel admits he was somewhat taken aback by the reaction: "Frankly, it was shocking. We were so new to the industry that we really didn't know what to expect when the game was released. It was gratifying at the time that it was so well received. Now, I'm just proud to be able to say I played some role in a product that people still remember fondly. I'm very proud of the overall quality combined with being a launch title. Specific to the game, I think the team did a great job with the graphics, showcasing some of the platform's abilities."
"Nintendo basically taught us the fundamentals of game development and the gaming industry, including the entire development process."
Following the successful launch of Pilotwings 64, Paradigm Simulation was split into two firms – one of which was to focus on tech and the other on video game development. Paradigm Entertainment continued to develop for the N64, producing the average Aero Fighters Assault and assisting Video System with its popular Formula One racing titles, but strangely it never worked as intimately with Nintendo again. "We continued to maintain a close relationship with Nintendo following the release of Pilotwings 64, though not as a first-party developer," explains Gatchel. "From our standpoint, we wanted to grow the business and felt that working with numerous publishers and multiple platforms would help mitigate our business risk. At the time, development teams were small enough that we were able to run multiple productions, and it wasn't uncommon for us to work with as many as three publishers simultaneously." Although a sequel to Pilotwings 64 was mooted in 1997 – with Paradigm handling development duties – it never materialized. "We had a great run as an independent developer, producing some great games and operating profitably every quarter of our existence prior to selling the business," says Gatchel. "We elected to sell the business to Atari in 2000, at which point we were no longer entirely in control of our direction." Following an exodus of staff, Atari offloaded the struggling studio in 2006 to THQ, and sadly in 2008 Paradigm closed its doors.
Despite the sad end to Paradigm story, Gatchel has a surfeit of happy memories. "Working with Nintendo was truly a great experience," he says with a grin. "Overall, Nintendo was one of the most professional and supportive organizations that I've had the pleasure of working with. They introduced us to game development, and were a great mentor on what it takes to produce great products and to survive in the industry." Engeldinger agrees. "It was a pleasure and an honour to work with such thoughtful and dedicated people. Although Mr. Takada provided us with overall vision and core gaming principals - I recall his famous quote to us: 'the player must be king' - Mr. Wada was the one that really shaped Pilotwings 64 though very hard work and much personal sacrifice. Nintendo basically taught us the fundamentals of game development and the gaming industry, including the entire development process. Through Pilotwings 64 we evolved from a boutique application developer to a mainstream game developer; this would not have been remotely possible without the patience and guidance of Nintendo."
This feature originally appeared in its entirety in Imagine Publishing's Retro Gamer magazine, and is reproduced here with kind permission.