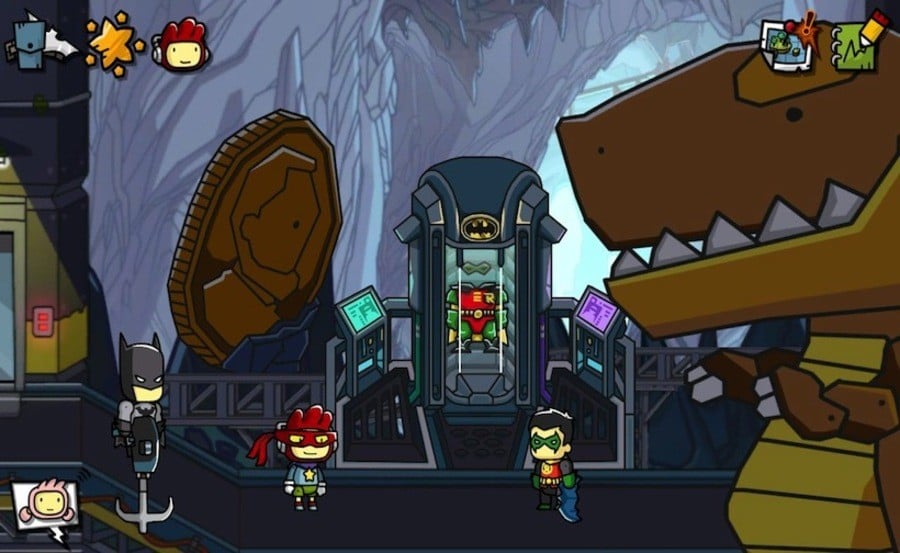 The Scribblenauts series has been popular on DS, 3DS and latterly Wii U — though Europe's still waiting for Scribblenauts Unlimited — and is ideal for testing out the limits of your imagination. The nifty dynamic of creating almost any conceivable object will be incorporated into the DC Universe when Scribblenauts Unmasked: A DC Comics Adventure is released on Wii U and Nintendo 3DS later this year; it's almost guaranteed to make many comic fans smile.
Speaking to Polygon, Scribblenauts Unmasked's senior producer, Caleb Arseneaux, explained that the team had researched to try and include every possible variation of character from DC, as well as a huge range of environments — for example, there'll reportedly be 33 different Batmans and 130 Green Lanterns.
Initially we had 1,200 characters, and then we just kept finding more and more characters and more variations, and eventually we wound up with more than 2,000,

...So when you play Scribblenauts for the first time and you spawn a cat, that's usually when people are like, 'Oh my god, this game has a cat! That's awesome!' Then you type in dog, and the dog appears and starts chasing the cat," he said. "In Unmasked, we have a Red Lantern that is a cat — Dex-Starr — so if you spawn a dog, and then you spawn a cat, Dex-Starr will appear, and when the dog tries to chase him, he'll beat up the dog.
Gamers will be able to share their creations online, and won't have to wait too long to do so. The title's slated to arrive this Fall on Wii U, 3DS and PC, making the Nintendo systems the only home consoles to receive the game.
So, is this one on your must-have list for later in the year?
[source polygon.com, via joystiq.com]