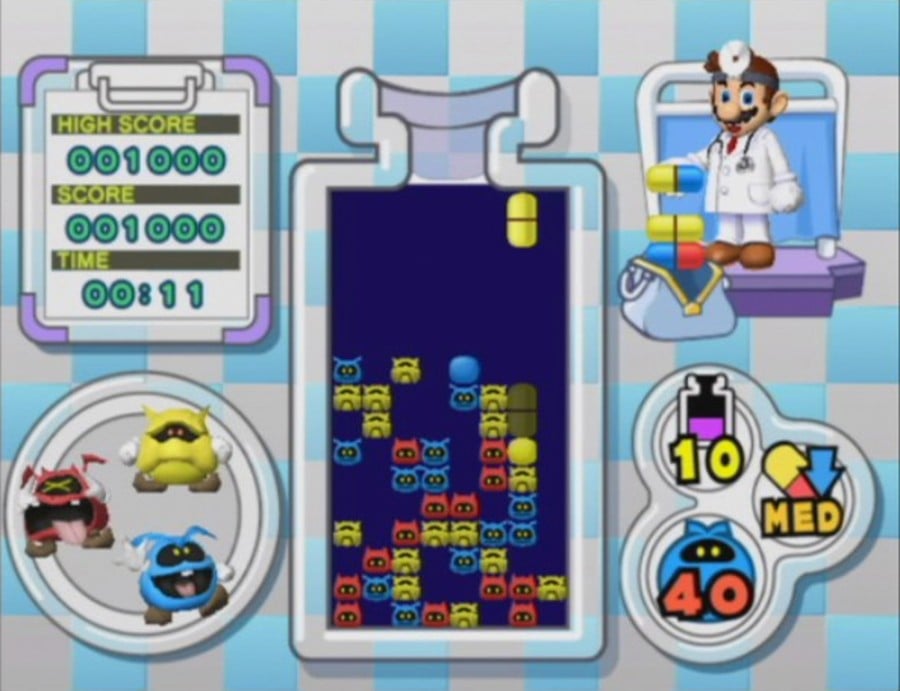 If you are a bit of a sports fan you might want to check out Family Table Tennis. This was released as Okiraku Ping-Pong in Japan. 500 points might not seem like much of a risk but you might want to check out our review before downloading. If you already own Wii Sports then there's little point in getting this, in our opinion.
More from Nintendo's press release:
Nintendo adds new and classic games to the Wii Shop Channel at 9 a.m. Pacific time every Monday. This week's new games are:

Dr. Mario Online Rx (Nintendo, 1-4 players, Rated E for Everyone, 1,000 Wii Points): The doctor is in! Mario™ takes a break from his adventuring ways and once again dons his stethoscope for a new generation of germ-battling mayhem. In addition to the classic mode of using vitamins to exterminate viruses, you'll find two battle modes and an online multiplayer mode where you can hone your skills against players from around the world. Feel like challenging a friend who doesn't have Dr. Mario Online Rx? Then the WiiWare-exclusive Friend Battle Demo is just what the doctor ordered. Or maybe you'd like some help taking on those nasty viruses? Try out Virus Buster, where four players can simultaneously move capsules simply by pointing at them with a Wii Remote™ controller. Any way you look at it, Dr. Mario Online Rx is a prescription for fun that everyone can enjoy.
Family Table Tennis (Aksys Games, 1-2 players, Rated E for Everyone, 500 Wii Points): It's time for some good old family fun, and what's more fun than table tennis? Just like a real family, choose your character from a cast of four, which includes Daddy, Mommy, Sarah and Billy. There are four table tennis-tastic stages where it doesn't matter if you're an indoors or outdoors table-tennis player. Pick your poison from a gymnasium, a forest park, a beach or even an amusement park. Choose from Single or Versus mode, or select a minigame to play. In Versus mode, you and a friend can play against each other to see who is the better table-tennis player. And if Single and Versus modes aren't enough, select between three minigames, which include Target Table Tennis, Thrilling Table Tennis and Matching Table Tennis. The appealing cell-shaded graphics and endearing music, on top of the super-fun game play, will have you and your family playing from morning till night. Get your paddles ready.
If these two games don't interest you then you might want to check out the Virtual Console games this week. Metal Slug (Neo Geo) is out today. It comes highly recommended by VC Reviews if you don't already have the Metal Slug Anthology disc. City Connection (NES) is also up for grabs but it is recommended that you should avoid this unless you put on those nostalgic rose tinted glasses.