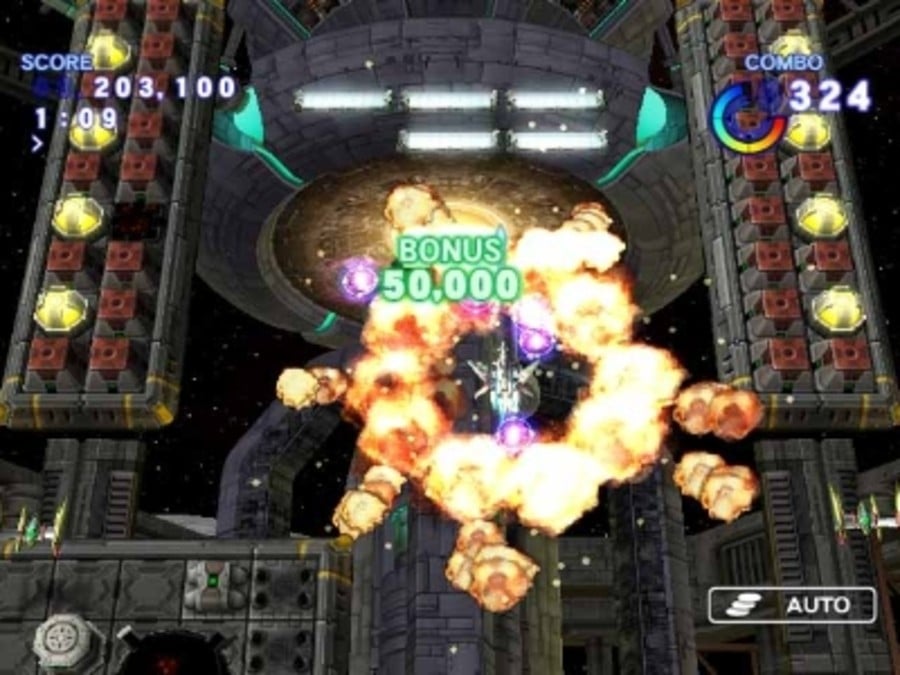 Do you have what it takes to compete and win Hudson's Top 5 Wii Games along with 16,000 Wii Points?
Note: This appears to only be open to American and Canadian Wii owners!
More on the tournament registration page.
Star Soldier R Tournament and Sweepstakes Announced

Sign Up Today on Hudson's Website

"SHOOT NOW, WIN PRIZES LATER"
TOURNAMENT & SWEEPSTAKES FOR STAR SOLDIER R ANNOUNCED

Players Can Sign Up on Hudson's Website Beginning May 27

REDWOOD CITY, CA – May 27, 2008 - Hudson Entertainment, the North
American publishing arm of Hudson Soft, today announced that
registration for both a tournament and a sweepstakes for the recently
launched galactic shooter, Star Soldier R for WiiWare™ on Wii™ begins
May 27, 2008 and will go through June 24, 2008, concurrent with the
contests.
For players who want to see if they can achieve the highest score in
Star Soldier R in the nation, Hudson Entertainment is hosting the
'Star Soldier R "Shoot Now, Win Prizes Later" Tournament &
Sweepstakes', beginning at 12 a.m. May 27, 2008 and runs through 7
p.m. on June 24, 2008. Gamers will have one month to vie for the high
score in Star Soldier R's "5-Minute Mode" where the top players on the
ranking leaderboards have the chance to win prizes. Two rounds of
tournament prizes will be awarded based on players' scores. To sign
up, players must register on the tournament registration page

The first place winners will receive Hudson's Top 5 Wii Games along
with 16,000 Wii Points™, 10th place winners will receive 10,000 Wii
Points, and the players in 16th place will win 4,000 Wii Points. For
the sweepstakes, 10 users will be picked in one random drawing to win
prizes. For more information about the contests please visit the
registration page.
Published by Hudson Entertainment, Star Soldier R is a 2-level game
that features a tournament-style approach in its gameplay which
challenges players to achieve a high score with either a 2-Minute or
5-Minute Mode. Each mode offers quick and exciting gameplay and gives
players just enough time to play through each mode. The 2-Minute Mode
features one stage where gamers have 2 minutes to battle through one
action-packed level while fighting against one giant boss. In the
5-Minute Mode, players have five minutes to work their way through to
fight and defeat another boss through a second level. Though both
modes are time-limited, the added competitive and replay value for
players comes after they earn their scores, which they can post to the
in-game leaderboards and then check out how they compare with other
players in the region, nation, or even the world. The goal is for
players to replay the game over and over again to beat their high
score, improve their ranking, and discover different strategies in
order to earn bonus points in the 2-Minute and 5-Minute Modes. If they
can collect them all, they might have the honor of boasting the top
score in the world!