Description will appear here shortly...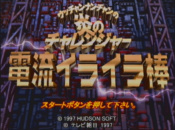 Down to the wire
The Nintendo 64 is fondly remembered for delivering groundbreaking titles such as Super Mario 64 and The Legend of Zelda: Ocarina of Time. However, in amongst the system's relatively small library of games are a few wacky, obscure and out-of-the-ordinary experiences to be had. Sadly, many of us in the West never got to play a...
Hold on there, you need to login to post a comment...