Description will appear here shortly...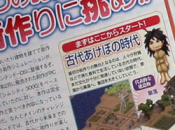 Long-running Japanese publication has the scoop on this interesting update of the classic city building franchise
The latest issue of Japanese videogame magazine Famistu carries an interesting news story regarding the next instalment of the Sim City franchise. Dubbed Sim City DS 2, the game appears to be heavily tailored towards younger gamers with some cute looking townspeople not a million miles..
Hold on there, you need to login to post a comment...