Description will appear here shortly...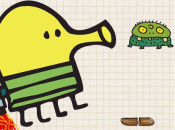 The forthcoming 3DS version gets a companion
A short time ago we reported on the impending release of Doodle Jump Adventures for the 3DS — a console port of the popular smartphone title, Doodle Jump. It has now been confirmed that the DS will also be getting a version of Lima Sky's title, named Doodle Jump Journey. It's a scaled-down offering...
Hold on there, you need to login to post a comment...