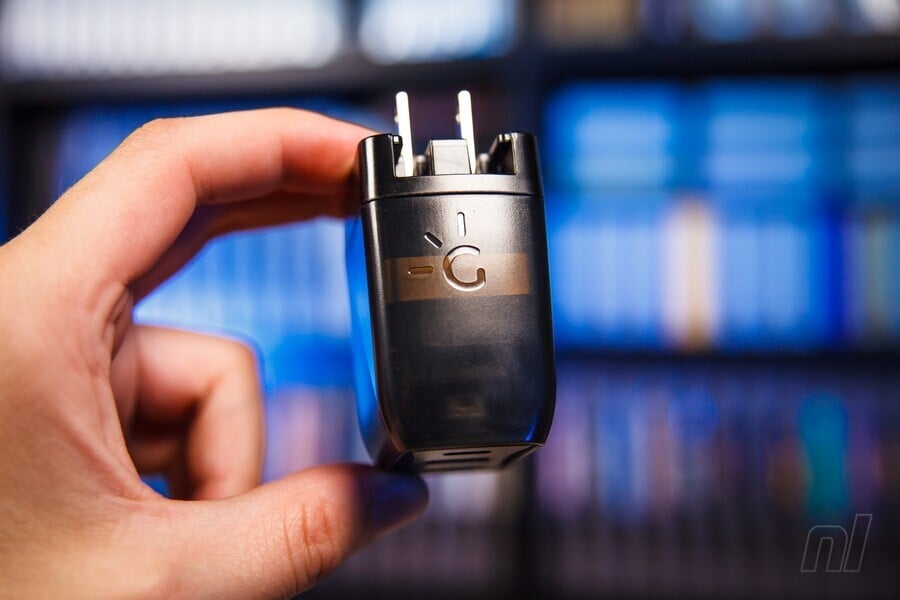 Around this time last year, product developer Genki fired up a Kickstarter campaign for a fairly ambitious Switch Dock/AC Adapter that could fit in the palm of your hand: the Genki Covert Dock. The makers felt that the large and bulky dock like the one that comes with the Switch was unnecessary and so they set out to create something more on-the-go friendly--to make the Switch just that much more portable--and we think the finished product would make Nintendo proud and maybe even a bit jealous.
The Genki Covert Dock is an all-in-one Switch dock and AC adapter that's designed for those who like to take their Switch on-the-go. When we first pulled it out of the box, we were honestly shocked by just how small it is! With the included USB-C Cord attached, the Covert Dock is actually 22% smaller and weighs about an ounce less than an official Switch AC adapter from Nintendo. When standing it up next to a standard Switch dock, it almost makes you wonder why Nintendo didn't go this route themselves. It truly is a marvelous piece of tech.

The Covert Dock features an HDMI, USB-C and USB-A port on one side and foldable prongs on the other that allows it to be connected to a wall for power. The device also comes with additional adapters inside the box that allow it to be used in different regions.

When most people hear talk of a dock that isn't Nintendo branded, they tend to feel a bit wary with all the damage certain docks had caused in the past. But Genki understands this and has made sure that the Covert Dock is compliant with Nintendo Switch standards and power delivery to prevent your Switch from turning into a fancy paperweight with two Joy-Con attached to its sides.
As far as third-party accessories go, we feel the overall build quality of the Covert Dock rivals Nintendo's own standards. It has a nice heft to it, feels durable enough to be tossed in your bag without worry, and is extremely secure when plugged into the wall. Even one end of the included USB-C cable has a right angle, which makes playing and charging your Switch in handheld mode a bit comfier. And yes, this can be used as just a standard AC adapter if you need it as well.
The USB-A port functions just like it would on a standard dock. You can use to connect a Bluetooth adapter, ethernet port, or simply charge another device. The Covert Dock is also compatible with other devices that can output through USB-C, like certain mobile phones and laptops.
A very minor complaint, but since the Switch doesn't have any sort of LED power indicator built-in, it would be nice if the Convert Dock has some sort of light (similar to the Standard Switch dock) to know that everything is plugged in properly and is powered. Obviously, if you have it all plugged in and your Switch is not connecting to the screen when you turn it on, you have an issue, but a little LED indicator light would have been a nice touch.
We also feel a little weird about having our Switch simply lying out while it's connected to the TV, versus having it safely secured in the standard dock. But if you keep it out of arm's reach of children and pets, it shouldn't really be an issue.
If you find yourself dragging your Switch dock over to your friends and families, are a frequent flyer, or are just in the market for an additional dock that won't fry your Switch, then why honestly purchase anything else? The Genki Covert Dock is a top of the line product that will probably have you retiring your standard Switch dock and AC adapter for many reasons. It's an ingenious, high-quality piece of hardware that seems unlikely on paper, but Genki absolutely nailed it.
The Genki Covert Dock is available now for $74.99 over on Genki's website.