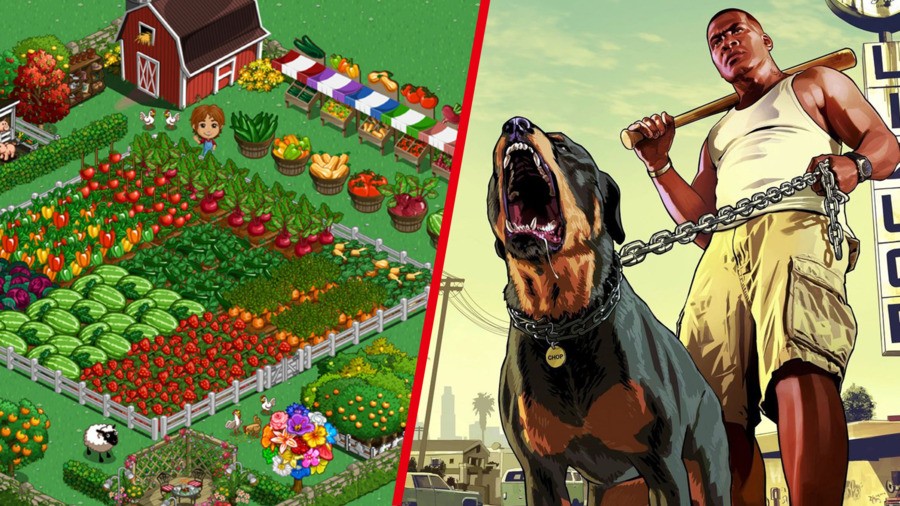 Take-Two Interactive Software is acquiring Zynga in a $12.7 billion deal, the two companies confirmed on Monday, 10th January. That colossal sum includes Take-Two paying $9.86 per share, plus Zynga's debt, in order for the company to make moves into the mobile market.
This deal is now the largest sum of money paid out for an acquisition in video game industry history, surpassing Microsoft's 2020 acquisition of Bethesda for $7.5b, and Tencent's 2016 acquisition of Clash of Clans studio Supercell for $8.6b. Activision Blizzard had a similar deal in 2015 when they bought Candy Crush developer King for $5.9 billion.
Zynga's most well-known games include FarmVille and Words with Friends, although Farmville closed down permanently in December 2020. Take-Two — the third-largest game company in the West after Activision Blizzard and EA — owns 2K, Rockstar, and Ken Levine's new studio Ghost Story Games, so they're responsible for massive series like Bioshock, Borderlands, XCOM, and Grand Theft Auto.
Zynga is also developing Star Wars: Hunters, which will be coming to Switch this year.
Chairman and CEO of Take-Two, Strauss Zelnick, spoke about the deal in an official statement:
"We are thrilled to announce our transformative transaction with Zynga, which significantly diversifies our business and establishes our leadership position in mobile, the fastest growing segment of the interactive entertainment industry."
Frank Gibeau, Zynga's CEO, had similar sentiments to express:
"Combining Zynga's expertise in mobile and next-generation platforms with Take-Two's best-in-class capabilities and intellectual property will enable us to further advance our mission to connect the world through games while achieving significant growth and synergies together."
A lot of business buzzwords, to be sure, but the general sentiment is that T2 is looking to diversify their portfolio with mobile games, and bring their core franchises to mobile. It doesn't hurt that Zynga has a lucrative line in poker, too.
If you really love corporate speak, here's the full statement from the two companies.
Thoughts? What's you favourite business word? Tell us in the comments!
[source ir.take2games.com]