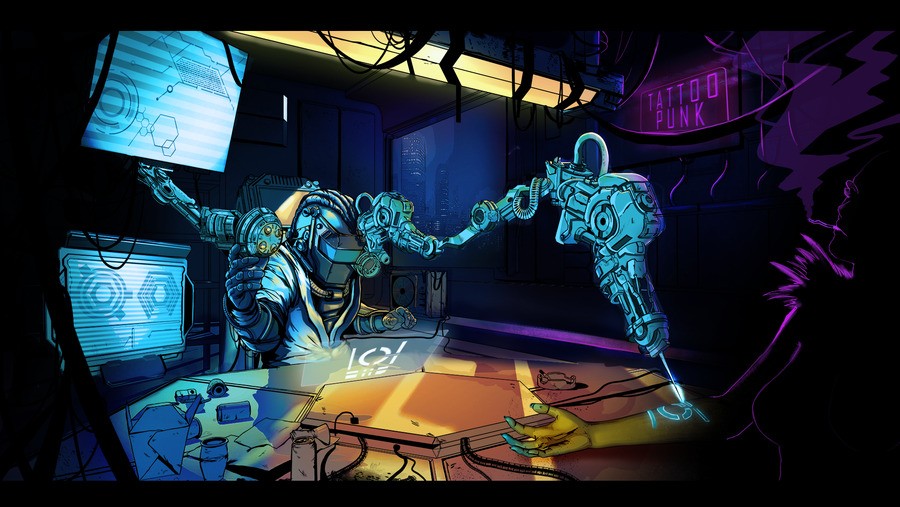 Last year you couldn't swing an augmented cat without hitting another 'cyberpunk' game, as the whole world went nuts for anything set in the not-so-distant future in which the world is full of fancy tech and immoral living. Then the game inspiring all the cyberpunk games had an 'interesting' launch, but hindsight is a wonderful thing.
Still, those vibes aren't completely gone yet, with Tattoo Punk apparently coming to Switch (and Steam) in the 'near future'. It actually looks quite interesting, as you run a tattoo parlour in the future; you'll get to create all the custom Bowser tattoos you want for customers, while also worrying about and running the business.
Below is some blurb and a trailer.
Tattoo Punk is a story-driven, management game where you own the Cyber - Tattoo Studio. You play as Henry, a newly single father trying to create the best Tattoo place in the city overcome with mafia feuds. Customize your studio, make dope futuristic tats, grow your business and brand. Create your own story in a city full of body mods, rotten to the core with longing for cash and fame. Will you be able to balance being a parent with your Tattoo Punk lifestyle?
It could be intriguing; let us know if this is on your radar for its eShop release.