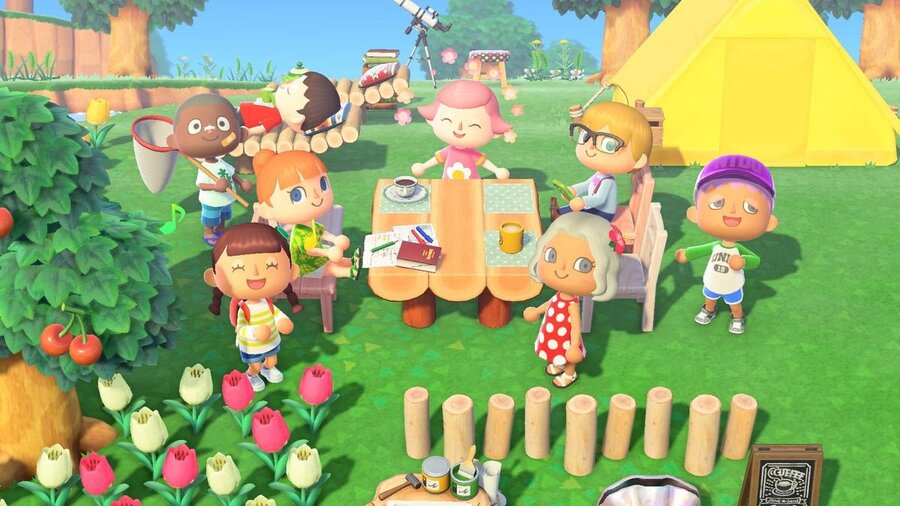 Nintendo has released its financial results for the fiscal year, and they confirm that a whopping 36 games passed one million sales on the system.
Of this list of million-sellers, 22 of them are published by the platform holder and 14 belong to third-party publishers. Of course, many of the games in this category sold well over a million copies worldwide, with Animal Crossing: New Horizons alone bagging 20.85 million sales across physical and digital. These are 'sell-in' figures, so it's the units that have gone out to retailers rather than the firm number that has sold through to consumers.
Evergreen racer Mario Kart 8 Deluxe has picked up a cool 10.62 million sales in the last year, with the limited-time Super Mario 3D All-Stars coming in third with 9.01 million units. According to the results, total software sales grew by a significant 36.8% year on year, to a very healthy 230.88 million units.
Here's Nintendo's list of million-selling first-party games in the financial year 2020/21, covering April 2020 to 31st March 2021, with sell-in sales followed by life-to-date sales in brackets, as per Nintendo's report:
Game
Sales Year-to-date (Lifetime)
Animal Crossing: New Horizons
20.85 million (32,630,000)
Mario Kart 8 Deluxe
10.62 million (35,390,000)
Super Mario 3D All-Stars
9.01 million (9,010,000)
Ring Fit Adventure

7.38 million (10,110,000)
Super Mario 3D World + Bowser's Fury
5.59 million (5,590,000)
Super Smash Bros. Ultimate
5.01 million (23,840,000)
The Legend of Zelda: Breath of the Wild
4.86 million (22,280,000)
Super Mario Party
4.69 million (14,790,000)
New Super Mario Bros. U Deluxe
3.84 million (10,440,000)
Pokémon Sword and Pokémon Shield
3.73 million (21,100,000)
Super Mario Odyssey
3.42 million (20,830,000)
Luigi's Mansion 3
3.26 (9,590,000)
Clubhouse Games: 51 Worldwide Classics
3.14 million (3,140,000)
Paper Mario: The Origami King
3.12 million (3,120,000)
Hyrule Warriors: Age of Calamity*
3.07 million (3,070,000)
Splatoon 2
2.08 million (12,210,000)
Pikmin 3 Deluxe
2.04 million (2,040,000)
Super Mario Maker 2
1.67 million (7,150,000)

Xenoblade Chronicles: Definitive Edition
1.52 million (1,520,000)
Pokémon: Let's Go!
1.31 million (13,280,000)
Mario Kart Live: Home Circuit
1.27 million (1,270,000)
The Legend of Zelda: Link's Awakening
1.11 million (5,490,000)
*Does not include Japan sales as Koei Tecmo publish the game in that territory
It wraps up a hugely impressive year for the Switch and Nintendo's broader business, with the company no doubt seeking to maintain that momentum in the coming year.
Impressed by that list? Let us know which of those sales figures have been bumped by you below.
[source nintendo.co.jp]