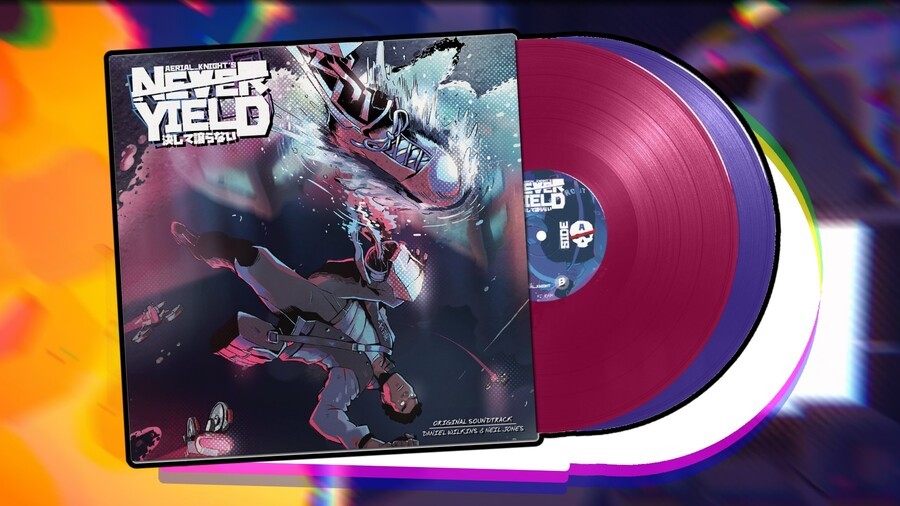 It's a big day for Aerial_Knight, AKA Neil Jones, whose debut Switch game Aerial_Knight's Never Yield comes out today. We spoke to him a while back about why he decided to slap his online handle on the game, amongst other things, and a key takeaway from his time in the industry was that he's often been pushed aside by game studios — "I had about three real interviews in about seven years of looking," he told us.
The launch of Aerial_Knight's Never Yield isn't just on the Nintendo eShop and other platforms — he's set up a whole host of tie-ins to coincide with the game's release, including an AMA on the Nintendo Switch subreddit (10pm GMT/6pm ET), a pink-and-purple vinyl print of the soundtrack by Daniel Wilkins, and a giveaway in partnership with game merchandising company The Yetee that includes a custom-printed Nintendo Switch. Like we said, it's a big day! That's a lot of stuff!
You can grab the soundtrack here on Bandcamp, Apple Music, Spotify, and other services, the vinyl on Black Screen Records, and you can enter The Yetee's competition to win the custom Switch here, although make sure to note that it's North America only.
If you're curious, definitely check out our Aerial_Knight's Never Yield review — the game is now available on the eShop for £11.99 / $11.99.
Have you got Aerial_Knight's Never Yield on your pre-orders list? Will you be playing it today? Let us know in the comments!