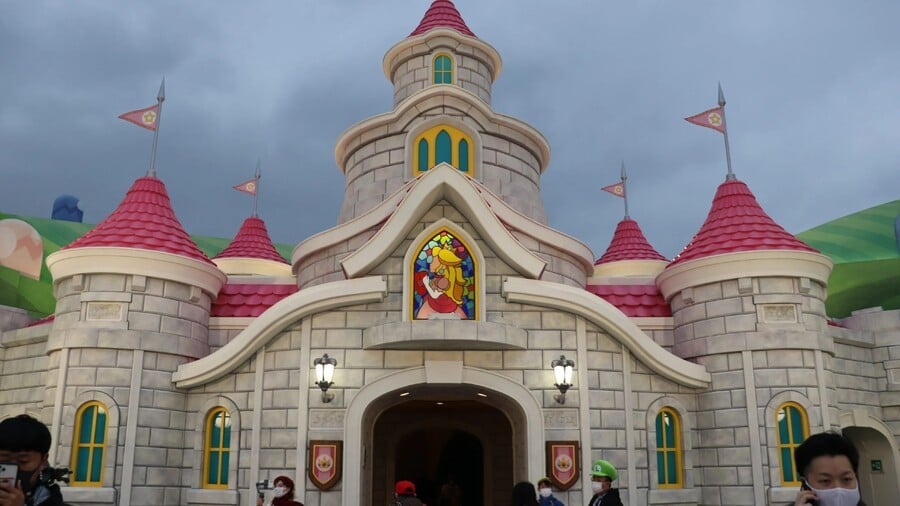 Japan's Super Nintendo World theme park opens this week, and although its Universal Studios Orlando sibling just got kicked back to 2025, fans will be able to visit from the 18th March. In anticipation of the park's gates opening to the public, Video Games Chronicle has published a series of articles about the place.
The review calls the park, which costs 8,000 yen ($73 / £52) to enter for a day, "just as joyful" as playing a Super Mario game, praising the imagination and attention to detail running through the park's Easter Eggs, and the app that brings it all to life.
Unfortunately, VGC notes that the rides "don't quite live up to the quality bar set by the park itself", although they are fun, thrilling, and "a definite success". These rides can be "failed", meaning that you could spend 2-3 hours waiting in line for a ride only to goof it up and miss out on the rewards, which is a shame. The Mario Kart ride in particular - with a queue so long it's bigger than the park itself - is apparently a good time, but less of a racer and more of an AR on-rails shooter.
Travelling to the theme park is simple, but VGC tells people hoping to visit that it's easier to stay in nearby Osaka, not Tokyo. There is a train running from Osaka Station directly to Universal Studios, and sponsored Nintendo ads on the trains will make it hard to miss where to go.
Overall, VGC calls the park's design an "incredible vista of colours and movement", saying that "there's no area inside the park that doesn't feel handcrafted and totally convincing." Particular praise goes to the perspective tricks that make the small footprint of Super Nintendo World feel bigger than it is, and that's not surprising - theme park architects have been using forced perspective for decades to make their guests feel like magic is happening around them.
The Super Nintendo World Power-Up Band is an optional purchase for visitors, costing 3,200 yen ($29 / £21), with six different designs: Mario, Luigi, Yoshi, Toad, Peach, and Daisy. Your choice of band determines the "team" you are on, and lets you unlock various mini-games around the park. The bands function as amiibo for some games, too - so you'll want to take them home with you.
The smartphone app lets you experience a lot of the park's interactive elements, as well as being the way to track how many of the park's 170 Stamps you've collected (and VGC has an article on how to get each stamp, for avid trophy hunters). You can even punch the ? Blocks for points!
Regarding COVID safety, VGC is a little concerned - a lot of the interactivity of Super Nintendo World requires both touching things and standing very close to other people. Although staff are on hand for wiping down everything, and hand sanitiser is readily available, VGC says that the park "definitely wasn't designed with the current pandemic in mind."
Overall, it seems like Super Nintendo World is good value for money, especially since the entry price also gets you access to the entirety of Universal Studios Japan. The food and merchandise are pricey, but they always are in a theme park - and it may well be worth the cost for the novelty of eating noodles out of a Koopa Shell.
Sadly, Japan is closed to foreign visitors right now, so unless any of you are already in the country (lucky) we'll all have to wait until this darn thing is over.
You can also check out VGC's merch guide, a comprehensive guide to which food is worth buying, and a walkthrough of how to find all the hidden keys across the park, which are required to take on Bowser Jr.
Has this cemented your need to visit the park, or are you fine with waiting until it dies down a little? Let us know in the comments!
[source videogameschronicle.com]