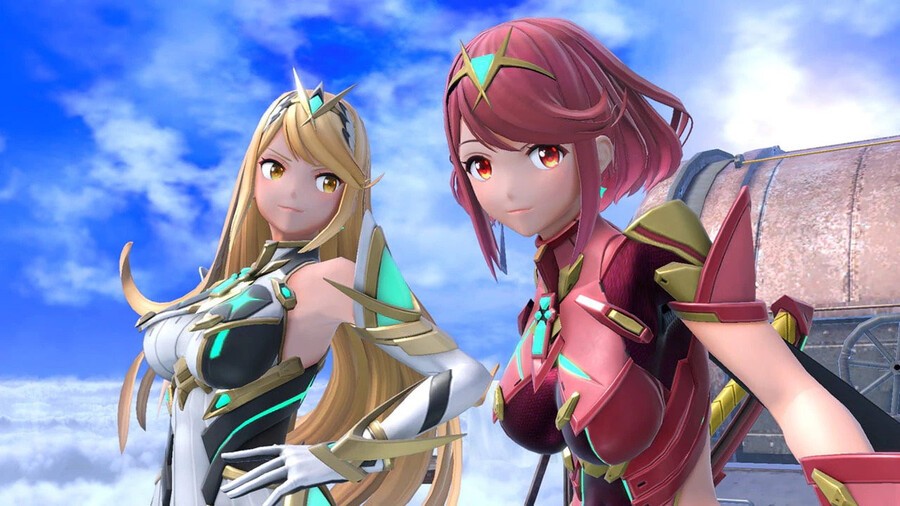 If you've been looking forward to playing as Super Smash Bros. Ultimate's newest fighter, Pyra/Mythra from Xenoblade Chronicles 2, you won't have long to wait: the pair arrive later today for those in North America, and tomorrow for players in Europe.
The news was delivered by series director Masahiro Sakurai, who today delivered a deep-dive on the new character duo in a 'Mr. Sakurai Presents' video. The showcase also revealed the existence of new Mii Fighter costumes based on Monster Hunter and Ghosts 'N Goblins.
Pyra and Mythra are technically one fighter on the selection screen, but players can alternate between them at any time during battle. Pyra specialises in power, while Mythra excels in speed. By changing between the two fighters, players can juggle attacking with powerful abilities using Pyra and swiftly leaping around the battlefield with Mythra. This strategic dual dance makes Pyra/Mythra a unique fighter in the Super Smash Bros. Ultimate line-up.
Pyra/Mythra is the fourth fighter from the game's Fighters Pass Vol. 2, following the arrivals of Min Min, Steve/Alex, and Sephiroth. Two more fighters are still yet to be revealed for the pass.
Will you be giving Pyra/Mythra a whirl in Smash? Are you happy with this fighter choice? Let us know in the comments below.