It's not long now until the 23rd of March launch of Story of Seasons: Pioneers of Olive Town, and Marvelous Japan have been sending out copies to streamers andYouTubers in an effort to reveal a little more about the game (h/t Fogu).
Two Let's Play channels, HikakinGames and SeikinGames, have given their insights into the upcoming farming and romance simulator with videos showcasing the customisation, decoration, crafting, and animal husbandry options in the game.
Since these are Let's Plays, the videos both show the beginning stages of Pioneers of Olive Town, with early upgrades and abilities being the focus. It looks like the developers have taken a few cues from Stardew Valley's improvements to the genre, as well as various quality of life improvements.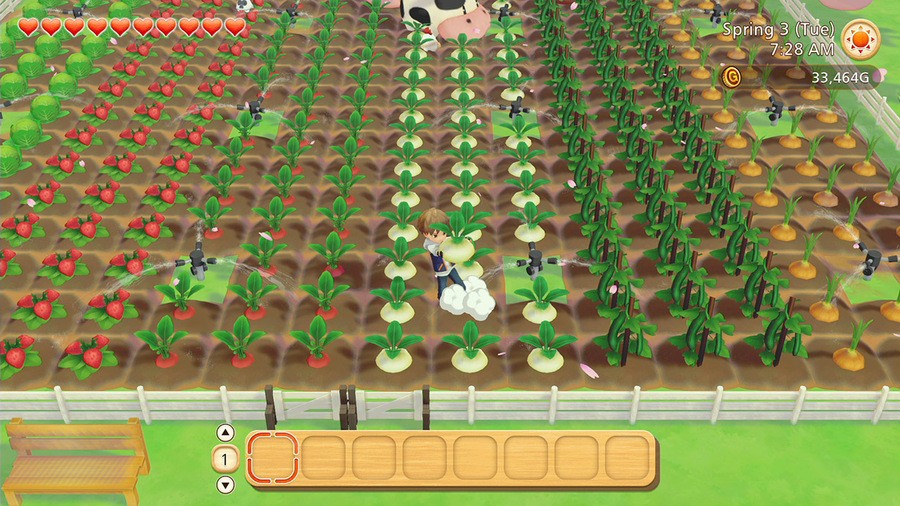 There are some fun discoveries to be found in these videos:
Your farmer starts with a tent, and has to upgrade to a house using gathered materials
It's possible to fish in puddles when it rains
Photo Mode lets you take pictures of your cute chickens
Mines now feature a pop-up mole who drops items when you hit him
The mine works a lot like past games - the ladder to the next level is often hidden under rocks
Harvest sprites (those things that look like eggs with faces) can be found in special locations as you progress
Fishing looks like it works a bit like the Stardew Valley mini game
Milking and shearing no longer require special tools - you just press "A" next to the animal
Your first barn and coop are already on the farm - they just need to be fixed up
Wild chickens and cows can be befriended and added to your livestock (free animals!)
There's a lot more info in the videos - combined they make over an hour of footage - so if you can't wait another month to find out all the secrets of Pioneers of Olive Town, go check them out - HikakinGames' video has two guys chatting about the early game, and SeikinGames' video features him and an off-screen woman exploring the world a little further in.
[source fogu.com]