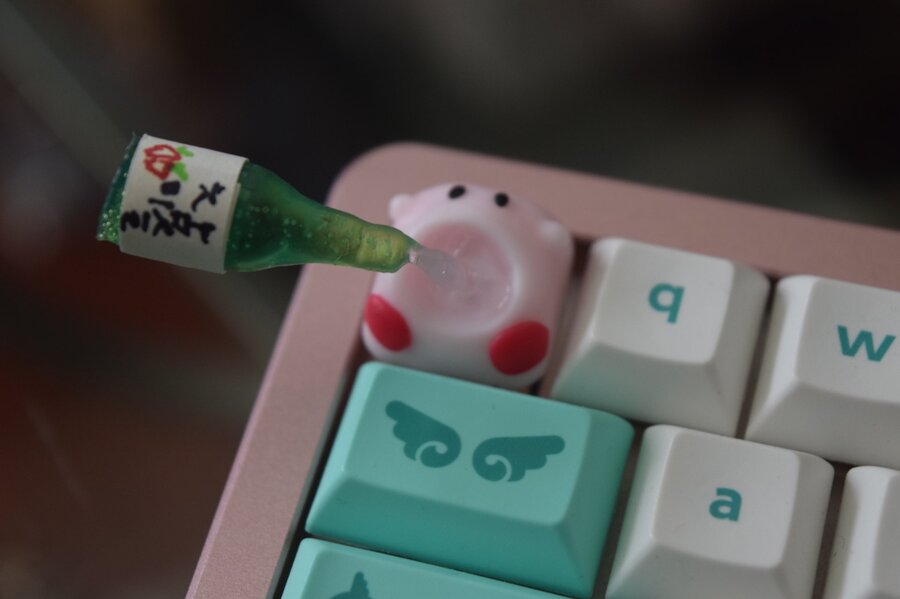 Between Kirby keycaps and Froggy Keyboard, we're about to have a very cute (and very hard to use) desktop setup. Keycap artisan Tiny, who you may know from her TikTok, where almost 3 million followers have watched her making tiny food replicas for keyboards, has a history of making Kirby keys. She's made Funko Pop Kirbies, Big Mouth Kirbies, and even Kirby butt.
Her newest Kirbventure is a Kirby that's drinking inadvisable amounts of soju, a very delicious Korean alcohol that people normally drink by the shot, not the bottle. The key isn't for sale, since Tiny says she's just "playing around with different ideas", but even if it was, how do you press it?
Does it matter? You can just bung it on whichever key you don't use, and then you'll have wee Kirby and his tiny alcohol problem to keep you company all day long. We recommend F8. Get it? Because... Kirby eats things...? Yeah. Listen, it's Monday. We're sleepy. Back off.
[source twitter.com]