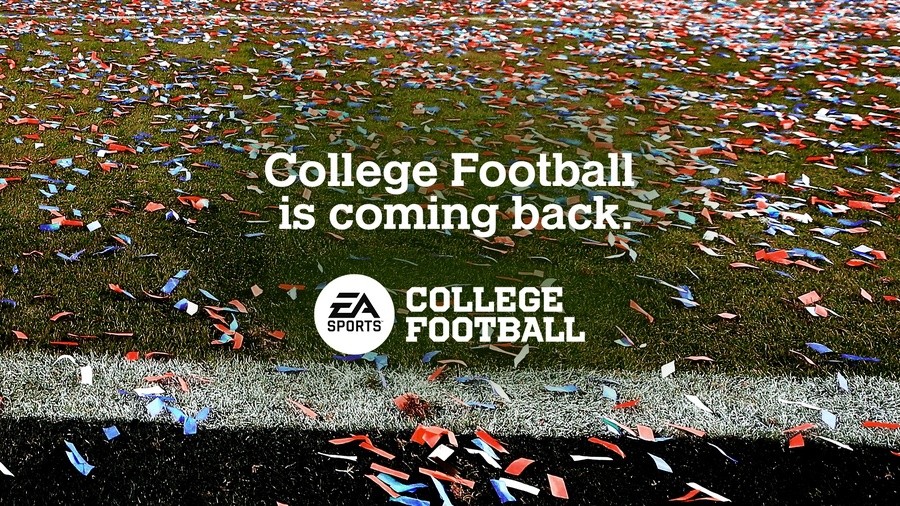 College football is a big deal in America, and while star players don't get paid - they receive free tuition, housing, training, and equipment - they bring in hundreds of thousands of dollars in revenue for the college they play for. Each. Sure, it's not as big as the big leagues, like the NFL, which is so popular that their annual Super Bowl championship has trickled into Rocket League and Animal Crossing, but it's still big enough that EA used to make games about it.
Way back in 2013, EA released NCAA Football 14, the last in their college football series. The game featured the likenesses of real players without authorisation or compensation, which led to a $60 million class-action lawsuit and the eventual cancellation of the series. Since then, college football has been relegated to smaller appearances in Madden games.
EA has announced today that they plan to reboot the series under a new name: EA Sports College Football, which will not feature the names, images, or likenesses of any student athletes, although they do have the rights to over 100 logos, stadiums, uniforms, and gameday traditions.
The NCAA's rules state that players are not allowed to be paid for the use of their likenesses, image, or names, so this move, and the the new title, are intended to ensure that EA doesn't run afoul of any policies again (and pay through the nose for it). The NCAA is considering reversing this rule, but the latest news is that they delayed the vote on the matter which was due to take place in January. If the rule is reversed, and players are allowed to be compensated for their likeness, then they could be included - but in a report by ESPN, the EA Sports Vice President and General Manager, Daryl Holt, said that the studio is merely hoping to "keep tabs on everything as it develops."
Although no consoles have been announced for the release of EA Sports College Football, Holt also said that the game wouldn't be ready any time this year, so it's likely very early on in development. They're still "building a team," says Holt, "pulling the team together both internally and externally to make a great game."
We highly recommend Owen S. Good's in-depth coverage of the story if you want even more details.
Do you have fond memories of NCAA Football games? Reminisce with us in the comments.
[source polygon.com, via espn.com, businesswire.com]