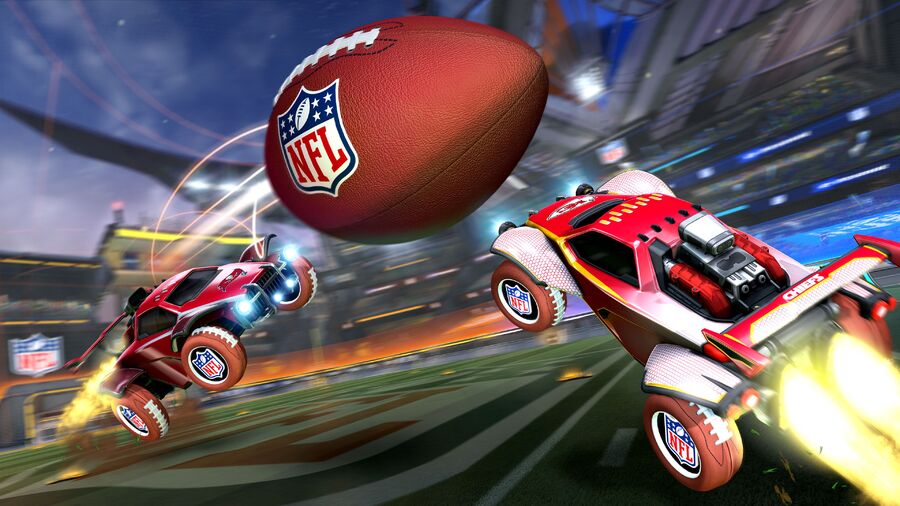 What says "American Football" more than a bunch of cars playing, er, the other type of football? Don't think about it too hard, but Rocket League is kicking off (heh) a whole new game mode in celebration of the NFL Super Bowl LV.
Starting from February 2nd and ending on February 8th, a new game mode called Gridiron will be available. The pitch will be altered to look like an American Football field, complete with hash marks and the NFL logo at the 50-yard line.
The game is 4 on 4, and the ball is now a pigskin. Touching the ball attaches it to the roof of your car (just like real American Football), and the carrier may single jump, but not double jump, which drops the ball.
Passing the ball involves either dodging, or letting another player touch the ball. Each goal is 3 or 7 points - 3 points if the ball crosses the goal line, but 7 points if a player carries it in themselves. Own goals are three points regardless of how the ball gets in there.
Alongside Gridiron, players will also be able to complete new Event Challenges to unlock the "Gridiron Guru" title, NFL wheels, and 20,000 XP. There will also be an NFL Fan Pack, which costs 800 credits and gets you Octane Decals of all 32 teams in the NFL, so you can support your favourite. Bortleeeees!!!
[source rocketleague.com]