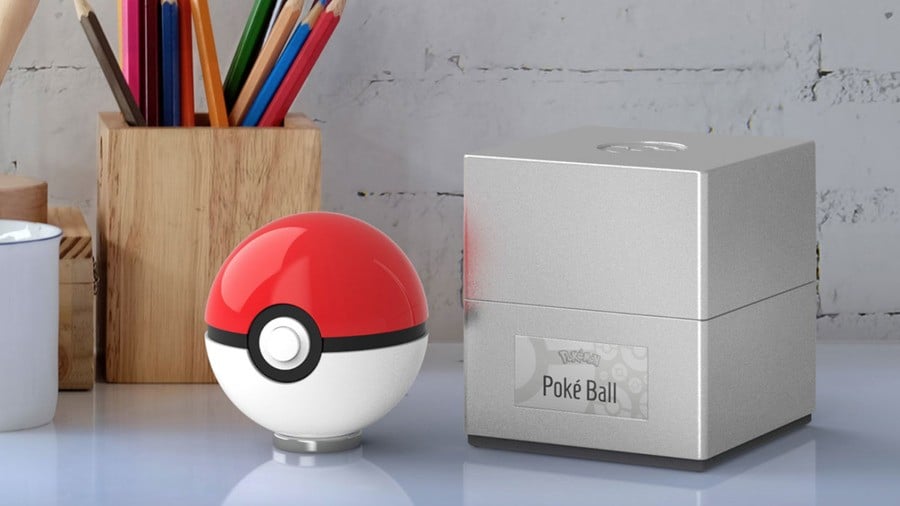 The Pokémon Company International is set to launch a new set of collectable Poké Ball merchandise next year.
Called the 'Die-Cast Poké Ball Replica Series', the range will include "premium replicas" of the iconic Poké Ball, Great Ball, Ultra Ball, and Premier Ball. They're being made in partnership with The Wand Company and will launch throughout 2021.
The Poké Ball is available to pre-order as we speak and will launch on next year's Pokémon Day, 27th February. It's a pretty pricey little beast, coming in at a spicy £99.99 (other retailers available here), but if you order from Zavvi, you'll also get a free t-shirt thrown in.
Here's the free t-shirt you can claim from Zavvi when you order the Poké Ball:
"Equipped with proximity-sensing technology, the Die-Cast Replica's button glows when it senses motion; pressing the button changes the light color or starts a Pokémon-catching illumination sequence. Ideal for collectors, each replica comes with a presentation case—authenticated by a uniquely-numbered hologram—and a polished stainless steel ring that provide multiple ways to properly protect and display the product. Fans will also enjoy multi-colored lights when opening the lid of the case, which can be controlled through a touch-sensitive metal plaque on the front of the case."

- Quality materials: Display-grade replica with a finely detailed metal shell and a deeply coloured, high-gloss lacquer finish
- Engaging: Beautifully brought to life with touch and proximity sensing
- Immersive: Brightly glowing button and animated, multicolour case illumination
- Display grade: Opening the presentation case lifts the Poké Ball for display
- Seriously collectible: The first of a range of premium collectible Poké Balls, each one uniquely numbered and officially licensed by The Pokémon Company International
- Hidden accessory: Highly polished stainless steel display ring
In addition to the four designs mentioned above, another "special" Poké Ball replica will also arrive exclusively at the Pokémon Center in the US and Canada later down the line. Intriguing...
It sure does look lovely, but that's quite the price tag. Let us know if you're planning on treating yourself to one of these with a comment below.