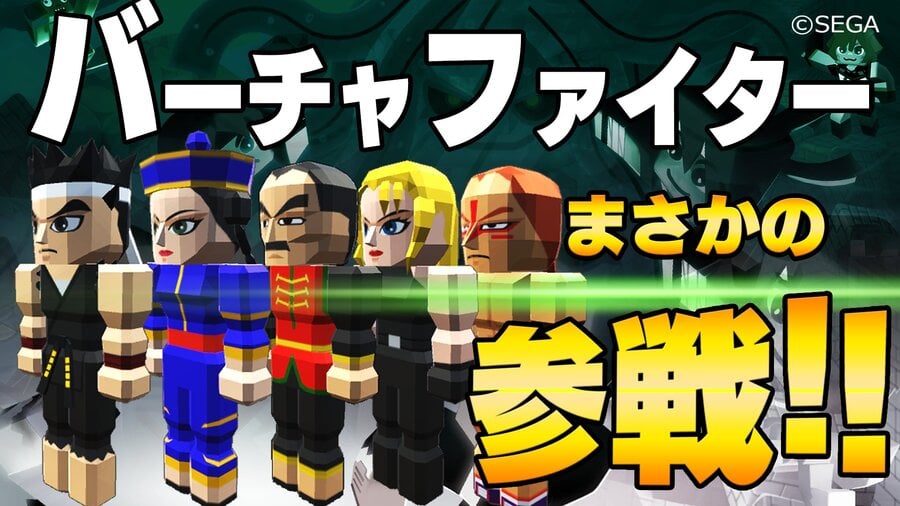 As fans of SEGA's old school output, we've had some real gems to enjoy on Switch - mainly in the form of the SEGA Ages series which recently finished up with the excellent Herzog Zwei. Fighting fans have had their fingers crossed that emulation experts M2 might turn their attention to the Virtua Fighter series at some point, although there's been no indication that the 1993 arcade game is Switch-bound.
Well, we can confirm that characters from the seminal polygonal fighter are finally coming to Nintendo's console!... although perhaps not in the form fans were expecting or hoping.
The official Japanese Twitter account for party fighting game Goonya Fighter has revealed that Virtua Fighter characters will be appearing via a SEGA crossover:
If you missed it, Goonya Fighter is a four-button fighter released for Switch back in July 2019 and a cursory visit to the eShop shows that developer Mutan has plenty of DLC item and character add-ons for the game. Looking at the image above, it appears that Akira Yuki, Pai Chan, Lau Chan, Sarah Bryant and Wolf Hawkfield from SEGA's series will all be available in the future (presumably in a single character pack, although exact details and the timetable of this release are unknown at present).
While it might not be the Virtua Fighter announcement series fans were hoping for, this collaboration looks like a fun crossover. The SEGA Ages line has come to an end on Switch, but developer M2 is still keen to collaborate with SEGA, so perhaps hopes of getting this series on Switch aren't dead in the water just yet. After the bang-up job the team did with Virtua Racing, we'd jump at the chance to get our hands on more SEGA classics on Switch.
Have you played Goonya Fighters? We're afraid it passed us by in the deluge of Switch eShop releases last year, but let us know if we're missing out on a gem below.
[source twitter.com, via segabits.com]