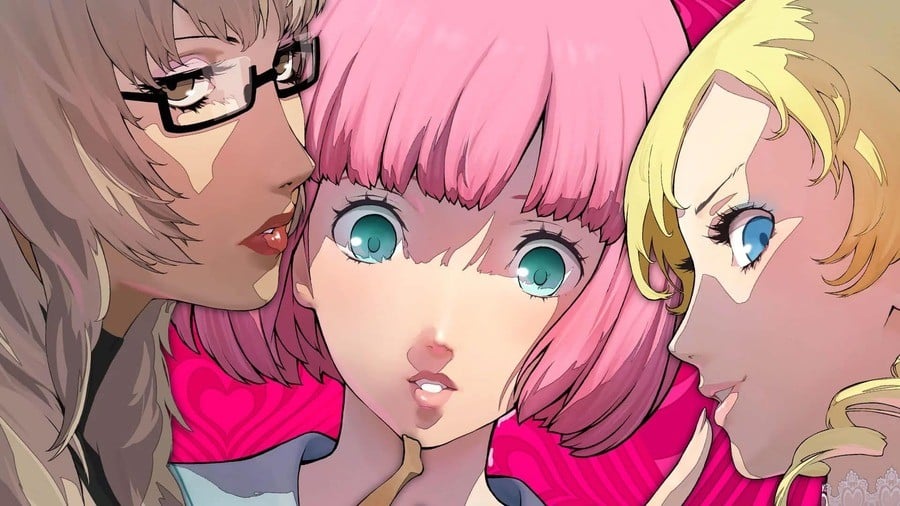 The latest Nintendo Download update for North America has arrived, and it's bringing new games galore to the eShop in your region. As always, be sure to drop a vote in our poll and comment down below with your potential picks for the week. Enjoy!
Nintendo Switch

Catherine: Full Body (Atlus, Tue 7th July, $49.99) Our indecisive protagonist, Vincent, has been with his long-time girlfriend, Katherine, for five years. But instead of taking the next step into marriage, Vincent finds himself in an affair with the provocative blonde bombshell, Catherine! Thrown into discord by his own infidelity, he finds solace in the innocent Rin – further complicating matters. Adding to Vincent's dilemma, he begins having nightmares that force him to climb for his life. . . Will he survive the trials and tribulations of love, or fall to temptations?
Switch eShop
Superliminal (Pillow Castle, Tue 7th July, $20.00) As you fall asleep with the TV on at 3AM, you remember catching a glimpse of the commercial from Dr. Pierce's Somnasculpt dream therapy program. By the time you open your eyes, you're already dreaming - beginning the first stages of this experimental program. Welcome to Superliminal.
Vigor (Bohemia Interactive) Become one of the first Nintendo Switch Outlanders! Sign up for the limited Closed Beta: vigorgame. com/switch Warning: the Closed Beta doesn't represent the final state of the product. Shoot your way out of encounters for 6-12 players Loot precious resources and valuable items Build your shelter and vital equipment. Become the courageous Outlander in post-war Norway.
Arcade Archives Wiz (HAMSTER, Thu 25th June, $7.99) Wiz is an action game released by SEIBU KAIHATSU in 1985. Play as Wiz, a wizard who controls 8 types of Magic to fight from the Depths, to the Land Realm, and finally into the Sky Realm. Defeat the monsters standing in your way, and make it to the Sky Realm to face off with a dragon.
Being Stronger While Playing! SilverStar Go DX (SILVERSTAR, Thu 25th June, $39.99) Let's learn in Go class! 2,855 problems in total! The definitive software for learning Go including the rules and terms of Go! ! Explanation and exercise. Learn the basics and advance in two ways! Beneficial for Go novices as well as for beginner and intermediate players looking to increase their skills!
Biped (Postmeta, Today, $14.99, Today, $13.49) Biped is a coop action adventure game with a strong focus on moment-to-moment collaboration between 2 players. Two little bipedal robots, Aku and Sila, will walk side by side and embark on a fun and bonding journey. You control the robot's two legs using two sticks. This allows you to perform various moves—from simple walking and sliding to more advanced actions, like operating machinery or cutting wood.
Clash Force (Ratalaika Games, Fri 3rd July, $4.99) The Evil Crackman and his minions are causing mayhem, and only Clash Force is up to the task of stopping his fiendish plans! GuideVoom, Scorpido, or Echid through forest bases, hydrofied deserts, underground mines and eventually to Crackman's Flying Fortress where the final battle will unfold! Dodge enemies, shoot your foes, and collect better powerups to reach Crackman's fortress and save the day in this love letter to classic 8-bit run-and-gun action games and 80s cartoons! Can you save the day?
Couch Co-Op Bundle Vol. 2 (Digerati, Today, $45.99) It's time to get cosy with your best bud again for another round of unmissable co-op action. This bundle contains the following games, all of which feature local/couch co-op (as well as single-player modes): Black Paradox: A fast-paced roguelite shoot 'em up with vibrant pixel art and a synth-wave soundtrack.
Digerati Indie Darling Bundle Vol. 3 (Digerati, Today, $50.49) Four fantastic indie favourites from Digerati! This bundle contains Omega Strike, Shikhondo - Soul Eater, Nefarious, and 1979 Revolution: Black Friday. Omega Strike: Defeat Doctor Omega and his mutant armies in this gorgeous pixel art metroidvania.
Dune Sea (Joydrop, Tue 30th June, $9.99) Dune Sea a side-scrolling adventure goose game that lets you fly like a bird. In Dune Sea, you guide a migrating bird that got separated from its flock due to a catastrophic event. In order to survive, you need to fly across beautiful landscapes of strange and foreign lands while collecting items and avoiding predators.
eCrossminton (Daydream Software, Fri 26th June, $14.99) Sport videogame based in crossminton, an emerging racquet sport where the players play in two separated fields without net and using a custom flyer and racquets. It can be played as single 1 vs 1 or doubles 2 vs 2.
Gerty (Ultimate Games, Mon 6th July, $12.99) Gerty is a top-down rogue-lite twin-stick shooter with fully destructible environment. Carve your own path through replayable procedurally generated levels and create tactically advantageous situations to eliminate the alien threat in intense, tough but fair, action packed gameplay. Mine Juice crystals to upgrade your gear, discover alien structures, and eliminate the source of the alien threat in singleplayer or local co-op mode.
Ghost Grab 3000 (Matthew Glanville, Fri 3rd July, $4.99) A challenging arcade score-attack game with a unique mechanic. THE GRAPPLE BEAM. Chain together ghosts with your energy beam, then destroy them all at once to earn points. The longer your chain, the bigger your score multiplier. Destroy endless waves of increasing difficulty, navigate a frantic phantom bullet hell, and unlock 'Robot Mods' to help you climb the leaderboards.
Grisaia Phantom Trigger 01&02 (PROTOTYPE, Thu 25th June, $19.99) After Yuuji Kazama and the gang's battle to the death several years ago, the girls reunite at Mihama Academy, which has been reinstated as a 'specialist training school'. The characters enter a new chapter in this renewed series that takes place in the same world as The Fruit of Grisaia! This thrilling story that unfolds at the reborn Mihama Academy will undoubtedly excite not only those who have played previous releases, but those who are new to the series as well!
Infini (Nakana.io, Fri 3rd July, $12.00) "I bashed my head on its walls and found something beautiful. " - Kotaku As Hope drifts deeper into Infinity, Reality begins to suffer. There doesn't seem to be any way out, and Hope is by nature doomed to carry on. Challenge your mind to help him out. Master the innovative camera manipulation mechanic to change your perspective and discover new mazes, abilities and characters such as Time, War, Fatality or Technology - who can be helpful allies or deceitful foes in this 8-hour long story-driven puzzle adventure.
Infliction: Extended Cut (Blowfish Studios, Today, $19.99) Wander through an interactive nightmare set within the confines of a once-happy household. Piece together the mystery behind a harrowing series of events while struggling to survive encounters with an entity that relentlessly stands in the way of finding absolution. Explore a home crystalised by tragedy and uncover the heartbreaking secrets hidden within messages, artwork, household objects, and other vestiges of domestic life.
Keen: One Girl Army (Phoenixx, Today) Keen is a sliding puzzle game with turn-by-turn tactical combat and a hint of adventure! Unveil Kim's story as she tries to save the day! Discover secret items, unlock secret levels and get special powers! Slash your way through several unique enemies! Also...boss battles! BIG, maze-like dungeons, spanning from mysterious forests to top-secret underwater labs!
Pool Slide Story (Kairosoft, Today, $14.00) Splish, splash, splosh! The time has come to create some waves and open your very own wet, wonderful (sometimes whacky) water park! Hear that? That's the sound of super-slippy pool-slide shenanigans. You want in? Of course you do. Expand your water park, adding exciting facilities, and become the talk of the town. Your visitors will take selfies at your park, generating free publicity for you!
Singled Out (Matthew Glanville, Fri 3rd July, $4.99) In Singled Out you must identify your target in a crowd of alien weirdos before time runs out. The quicker you are, the higher you score! 1. You have 10 seconds to shoot the GALACTIC SUPERCRIMINAL. 2. Identify the target using the 3 descriptions provided. 3. Only one person in the crowd has all 3 traits. Don't shoot the wrong one! Singled Out is a short, simple but challenging arcade game where the goal is simply to beat your high score, climb the leaderboards, or last as long as you can.
Starlit Adventures Golden Stars (Rockhead Studios, Fri 3rd July) Go on epic adventures that will have you explore fantastic worlds, fight nightmarish enemies, collect dazzling treasures, and solve brain-teasing puzzles using an array of Special Suits!
Swarmriders (QUByte Interactive, Tue 30th June, $1.99) 400 years before the events of UBERMOSH:BLACK, the Blade Saint was just a mercenary gunner, shredding eyes on the backseat of a bike. A "machine gun swarm surfing minigame". Players can expect a few minutes of elegant gameplay, responsive controls and a heart-pumping original soundtrack.
The Otterman Empire (Tri-Heart Interactive, Today, $25.99) You must gear up, strap on your jetpack and travel across the galaxy in havoc causing, party game mayhem! With rapidly changing game modes, 8 customisable characters and game changing hazards, no round of The Otterman Empire will ever be the same!
The Wanderer: Frankenstein's Creature (ARTE, Today, ) Play as the Creature, a wanderer without memory or past, a virgin spirit in a completely fabricated body. To forge the destiny of this artificial being who is ignorant of both Good and Evil, you will have to explore the vast world and experience joy and sorrow. Dr. Frankenstein's founding myth is once again revealed in all its glory through the innocent eyes of his creature. A thousand miles from the horror stories, here is a sensitive wander in the shoes of a pop icon.
Zombies ruined my day (Rendercode Games, Sat 4th July, $3.99) Survive in a hostile environment using all sorts of weapons. Defend your position with barricades, blow up groups of zombies with grenades, sweep the area away with a Gatling and more! All in a fully action packed game with colorful backgrounds and fearsome monsters. Show us that you're more than a snack for zombies!
So that's your lot for this week's North American Nintendo Download. Go on, be a sport and drop a vote in the poll above, and comment below with your hot picks!