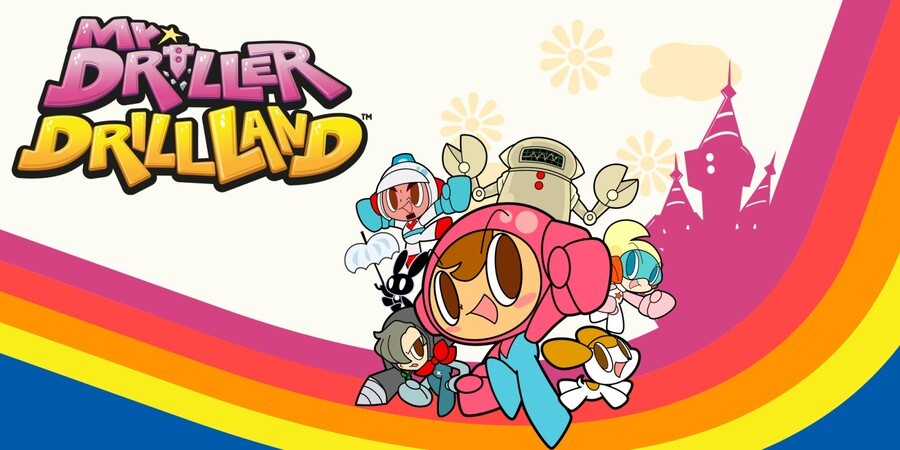 The latest Nintendo Download update for North America has arrived, and it's bringing new games galore to the eShop in your region. As always, be sure to drop a vote in our poll and comment down below with your potential picks for the week. Enjoy!
Nintendo Switch

The Legend of Heroes: Trails of Cold Steel III (NIS America, Tue 30th June, $59.99) Rean Schwarzer uncovers a dark plot that threatens his homeland. To face their enemies, he must prepare a new generation of heroes as an instructor at a new branch campus and guide them towards victory.
Switch eShop
Pokémon Café Mix (Nintendo, Tue 23rd June) Link together Pokémon icons to clear puzzles as you work to build up your very own café in Pokémon Café Mix, a free-to-start game for the Nintendo Switch system! Meet the goals for each puzzle before you run out of turns—link a certain number of icons, get a high score, or even destroy sugar cubes to serve up Pokémon-themed menu items. Meet and grow your café staff of charming Pokémon eager to help Recruit Pokémon to help out at the café (in their adorable uniforms) by building friendship and expand your café and menu offerings by completing puzzles.
Mr. Driller: DrillLand (Bandai Namco, Today, $29.99) The popular action puzzle game "Mr. DRILLER DrillLand" makes its Western debut on the Nintendo Switch! You're invited to a secret amusement park known as "DrillLand" – 500 meters underground! Explore and conquer the five "attractions" with simple, yet exciting, gameplay that guests of all ages can enjoy!
The Almost Gone (Playdigious, Today, $14.99) Poised between life and death, isolated and alone, you must unravel the poignant truths that led to your fate. Dig beneath the beautifully rendered façades and interiors of an ordinary suburban lifestyle to discover a contemporary tale crafted by an award-winning author.
A Summer with the Shiba Inu (Ratalaika Games, Fri 26th June, $9.99) When Syd the Shiba Inu returns to Shiba Island after a ten-year absence, she sets off a chain of events that overturns the lives of all the dogs she had left behind. She gets back in touch with her old friend, Max, and along the way meets a mysterious Labrador retriever named Quei-Li.
Arcade Archives VS. Baseball (HAMSTER, Fri 19th June, $7.99) "VS. BASEBALL" is a sports game released by Nintendo in 1984. Capturing the very essence of what makes baseball fun, the game has influenced many other baseball games made since. While somewhat simple, the game boasts many features such as pitch selection and base stealing.
Behold the Kickmen (Ant Workshop, Thu 18th June, $3.99) BEHOLD THE KICKMEN is a football game made by someone who has no understanding of, or interest in, what is affectionately known as "The Wonderful Game". Start at the bottom of the Big Boring British Football Spreadsheet system and grind your way up, gruelling match after gruelling match, to become the best at the football that anyone's ever seen, and win the World Cup for your mantelpiece.
Blair Witch (Bloober Team NA, Today, $29.99) Inspired by the cinematic lore of Blair Witch, experience a new story-driven psychological horror game that studies your reactions to fear and stress. Your darkest fears will awaken in these woods. It's 1996. A young boy disappears in the Black Hills Forest near Burkittsville, Maryland. As Ellis, a former police officer with a troubled past, you join the search. What starts as an ordinary investigation soon turns into an endless nightmare as you confront your fears and the Blair Witch, a mysterious force that haunts the woods…
Brigandine: The Legend Of Runersia (Happinet, Today, $49.99) Conquer the continent in this grand strategy simulation game The continent of Runersia is home to six major powers with more than 40 bases, 100 knights, and 50 types of monsters. Select a ruler, compose your platoons of knights and monsters, and march to claim enemy bases. The player chooses how they will battle, so devise the best strategy to lead your nation toward continental conquest. How will your legend unfold?
City Driving Simulator (BoomBit Games, Fri 26th June, $11.99) A new and exciting car driving game that lets you try out a plethora of different vehicles in a beautiful city! Drive a car, a bus, fill up your tank at a gas station and more!
Collar X Malice (Aksys Games, Today, $39.99) A dangerous shadow organization launches a campaign of fear and violence in the city of Shinjuku, pushing society to the brink of chaos. As a young police officer tasked with restoring order, you become the target of an attack and have a poisonous collar attached to your neck. With the situation spiralling out of control and time running out, five mysterious strangers appear to aid you in your quest for the truth.
Grimshade (UTC ASTERION, Today, $24.99) Grimshade tells the story of the company of heroes, by a twist of fate involved in the cycle of events unfolding in the world of Ree'fah. Numerous dreadful monsters infested the forest around the city of Brann and high walls could no longer protect residents from the attacks.
HexON (QUByte Interactive, Tue 23rd June, $0.99) HexON is a relaxing puzzle game where you connect magnetic pieces to a hexagonal board. In each level, you have a different board and set of pieces. You need to plug all pieces to the board to complete each level. No piece can be left unplugged. 40 hand-crafted levels; original soundtrack to help you relax while solving the puzzles; a game for everyone who likes jigsaw puzzles and gridlock games; can you find out the exact configuration that will complete the board?
Iron Wings (Naps Team, Today, $14.99) Player takes on the role of the two pilots, Jack and Amelia, as they attempt to take down Nazi aerial menace across a rich campaign of missions, each with numerous objectives and enemies as well as side objectives. While fast-paced action goes you will also have to consider some strategy, assigning your partner primary objectives to shoot down, in order to succeed.
KUUKIYOMI 2: Consider It More! - New Era (G-mode, Thu 18th June, $4.99) You do not have to worry about the people around you as you consider the situation. The new diagnostic game about reading a room, "Consider It", has a new subtitle and is now coming to the Nintendo Switch. The basic rule of reading the situation and moving the red item on the screen remains the same as the old game, but with all-new situations to consider.
Miden Tower (KEMCO, Today, $14.99) Miden Tower is a fantasy RPG with a compelling and dramatic story. After Miden Tower is invaded by the Alroval Empire, the mages who call it home find themselves cornered on its upper floors. This sets in motion a series of tragic events that lead to a counteroffensive being launched to take back the tower and to get revenge for the wrongs committed against them.
Octonaut - The world has been taken over by an alien invasion. On the eve of destruction, humanity calls out for help!
Pachi Pachi On A Roll (Dolores Entertainment, Today, $6.99) Dress up for the occasion, complete all missions, fight giant UFOs, defeat dragons, and rob a train, to get the highest score possible in this fun mix of pachinko and pinball.
Ploid Saga (Nape, Today, $11.99) In PLOID SAGA you play with the PLOIDS Alpha and Omega, wich are the evolution of the human race by merging technology with its DNA. You have 3 adventures in the saga with different playstyle: In V. O. I. D. +, our planet is invaded by a race from another galaxy, which destroys everything it touches to become thus with absolute power.
Poopdie - Chapter One (Bulbware, Today, $5.00) Mold and manage your own Poops! Upgrade them with unique skills. Fart ancient spells. Defeat evil Samron and his army of Buttcreatures. Read our Poopdie - Chapter One review.
Quell Zen (Fallen Tree Games, Sat 27th June, $7.99) This serene puzzler has you guiding raindrops through a series of colorful mazes. Enhanced by atmospheric orchestral music, the game's subtle, sophisticated mechanics evolve as you navigate its many levels, delivering an absorbing experience that's familiar but always fresh. Set against a narrative of a Japanese family divided, Quell Zen will take you on an unforgettable journey. Step inside this beautiful world today.
Star Wars Episode I: Racer (Lucasfilm Games, Tue 23rd June, $14.99) The fan-favorite racer is back featuring motion controls! Take control of a podracer speeding through flaming methane lakes, Tusken Raider assaults, anti-gravity tunnels, and much more in a pulse-pounding, do-or-die fight to the finish line.
Sudoky (Nestor Yavorskyy, Fri 26th June, $2.99) Sudoku - is a logic-based, combinatorial number-placement puzzle. The objective is to fill a 9×9 grid with digits so that each column, each row, and each of the nine 3×3 subgrids that compose the grid (also called "boxes", "blocks", or "regions") contains all of the digits from 1 to 9.
Tcheco in the Castle of Lucio (Fantastico Studio, Sat 20th June, $4.99) Tcheco in the Castle of Lucio is an 8-bit, 2D platformer. It's a challenging, non-stop action experience that incentivizes quick thinking, platforming precision and memorization. Like older 8-bit games, it's a game that's meant to be replayed over and over again until mastered. Quick reactions and timing are necessary for success in the game.
The Forgotten Land (Rokaplay, Today, $14.99) Along with your friends you embark on a quest for the legendary "Forgotten Land". Your adventure begins! "The Forgotten Land" is a turn-based "Combat & Puzzle Match 3" with streamlined RPG and Management elements. Set up a sheltering camp, improve your teams' abilities and unlock tactical bonuses. Show your skills and prepare your strategies! Improve your heroes' strengths with care and put their special powers to tactical use to prevail in battle. Are you ready?
the StoryTale (Redblack Spade, Tue 30th June, $11.99) Once upon a time, a Little Princess who didn't want to be a queen, slipped out of a palace in search of a mysterious amulet. She believed that the amulet would give her magical powers and help to become a real sorceress. Meanwhile, the Immortal Prince of the neighbor kingdom, having heard about the princess' disappearance, bravely sets off to find her, armed with cursed weapons and breaking through the horde of goblins.
Towaga: Among Shadows (Forever Entertainment, Today, $14.99) Sake of your tribe lies solely in your hands Towaga: Among Shadows is an action -shooter game, in which the sake of your tribe lies solely in your hands. Your focus, accuracy, and patience will be put to the ultimate test as you cleanse the world from its curse. Defeat legions of foes with your spells, upgrade your skills, unlock new abilities to fit your playstyle, and delve into the mysterious past of the island of Az'kalar!
Tower Of Time (Digerati, Today, $24.99) Lead the ultimate party of heroes into the Tower of Time, a vertical battleground filled with lore, mystery, and combat. Combining the nuances of classic RPGs with challenging tactical combat, Tower of Time transforms each battle into a puzzle of magic and mettle. Slow or pause time to plan your every move: strategically place your warriors, control the battleground with precise spells, counter incoming waves with devastating manoeuvres.
Truck and Logistics Simulator (Aerosoft, Today, $25.99) Take control of more than 20 unique vehicles to perform complex loading tasks and deliver the diverse cargo directly to your customers. Master all the individual logistics vehicles like forklifts, cranes, telescopic handlers, wheel loaders and many more to load up your vans, pickups and heavy trucks. Dive into the progressive career mode and accomplish challenging missions to buy new vehicles, upgrade your vehicle fleet and take on the real heavy loads.
Ultracore (ININ Games, Tue 23rd June, $22.99) Ultracore is an authentic Run 'n Gun 16-bit game, a true love letter to classic 2D action games with intricate level design, tons of secrets to discover and numerous mid- and end-bosses. Originally developed in the '90s by the legendary game studio Digital Illusions!
Unitied (Peter Hijma, Today, $2.99) Unitied is a minimalistic & relaxing puzzle game. The simple goal is to finish all blocks. You do so by moving all blocks in one direction: up, left, down or right. The blocks have to use each other to be able to finish. There are 50 levels.
Urban Flow (Baltoro Games, Fri 26th June, $14.99) Urban Flow is a game about the subtle beauty of city streets filled with cars moving in perfect harmony. But such order does not happen all by itself - the city needs YOU to control the traffic lights and to make sure everything goes smoothly. That means no crashes, no jams. Everything will run perfectly - as long as you stay focused!
Urban Trial Tricky (Tate Multimedia, Today, $14.99) Become a crazy trickster! Hold on to your seat and pull off the most savage tricks and combos on your motorbike. Ride free, spin in the air, move back and forth and let yourself be carried away by the exciting, fast-paced gameplay, colorful visuals, and smooth controls.
Yes, Your Grace (No More Robots, Fri 26th June, $19.99) In this kingdom management RPG, petitioners will arrive in the throne room each turn to ask for your advice and assistance. Decide whether to help them with their problems or to conserve resources for more important matters.
DLC
Min Min From ARMS Joins the Fight in Super Smash Bros. Ultimate – From her humble beginnings as a ramen-loving employee at the Mintendo Noodle House, Min Min has grown into a champion fighter. On June 29, she enters the battle as the newest playable character in the Super Smash Bros. Ultimate game. Min Min's extraordinary reach and versatile tools enable her to unleash a new range of fighting strategies in the game. The purchase of Min Min's Challenger Pack for $5.99 also includes the Spring Stadium stage and 18 newly added music tracks from the ARMS game. Fighters Pass Vol. 2, which includes Min Min and five more Super Smash Bros. Ultimate fighters currently under development, is also available for purchase for $29.99.
So that's your lot for this week's North American Nintendo Download. Go on, be a sport and drop a vote in the poll above, and comment below with your hot picks!