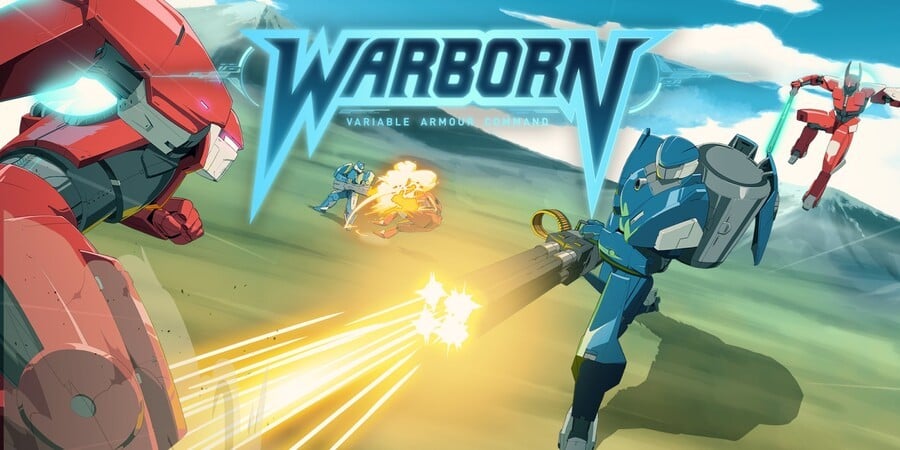 The latest Nintendo Download update for Europe has arrived (yes, a bit late), and it's bringing new games galore to the eShop in your region. As always, be sure to drop a vote in our poll and comment down below with your potential picks for the week. Enjoy!
Switch Retail eShop - New Releases
1971 Project Helios (RECOTECHNOLOGY, 9th Jun, £35.99 / €39.99) - 1971 Project Helios is a turn-based strategy game which combines modern warfare military tactics and close combat. Firearms and vehicles are scarce, conflicts and hostilities have no end, and the terrible freezing cold annihilates friends and foes in its path. The campaign sets in a frozen world, in which eight people – each one with its own problems and interests – join in a sort of temporary alliance, to find one particular person: Dr Margaret Blythe. Along their way they will have to avoid raider attacks, investigate military headquarters, and infiltrate into the territory of a dangerous anti-technological religious sect.
Firefighters - Airport Heroes (UIG Entertainment, 11th Jun, £35.99 / €39.99) - The successful simulation series (including "Firefighters - The Simulation", "Firefighters: Plant Fire Department") is starting a new round. In Firefighters - Airport Heroes, players become everyday heroes in the very place where we feel most vulnerable: the world's airports. Terrible engine fires, a hell of flames in the passenger terminal, crashed helicopters or collapsed parts of buildings require the skilful use of fire engines, fire extinguishers and special tools. Players expect dramatic situations - every mission counts! Lives must be saved!
Warborn (Pqube, 12th Jun, £19.99 / €24.99) - Rise up and deploy for battle in the Variable Armour, a technologically advanced suit of war. As the political climate between factions is thrown out of balance and the solar system is engulfed in conflict, lead your strike force of deadly mecha towards victory in turn-based tactical combat. Choose from four commanders, each representing a different faction and bringing with them their own unique power, traits and play style. Think tactically as you move your units, clash with rival mecha, and watch the outcome in dramatic battle sequences inspired by '90s Japanese animation.
Switch eShop - New Releases
Ancestors Legacy (Destructive Creations, 11th Jun, £31.99 / €34.99) - Ancestors Legacy is a history-inspired real-time strategy game influenced by historical events in the Middle Ages. The game combines resource management and base building with large-scale, squad-based battles across vast battlefields. Experience medieval bloodshed like never before, thanks to the cinematic action camera that puts you right in the middle of the battle at the press of a button.
Arcade Archives SUNSET RIDERS (£6.29 / €6.99) - The game takes place in the American Old West during the 19th century. Four gunmen are out to claim the grand prize linked to SIR RICHARD ROSE.
Enjoy this exhilarating Western with simple controls. "Our guns say as much as our mouths." The "Arcade Archives" series has faithfully reproduced many classic Arcade masterpieces. Players can change various game settings such as game difficulty, and also reproduce the atmosphere of arcade display settings at that time. Players can also compete against each other from all over the world with their high scores.
Cosmic Defenders (Natsume Inc., 11th Jun, £8.99 / €9.99) - Cosmic Defenders is a 2D fast-paced revolving shooter about a group of unconventional heroes who use the powers of nature in order to stop chaotic aliens from taking over the universe. Cooperate with other guardians, protect the galaxy from the wicked, and restore peace in three game modes: Story Mode, Survival Mode, and Versus Mode.
Demon's Tier+ (COWCAT, 9th Jun, £8.99 / €9.99) - Enter the dungeons of King Thosgar and destroy his demonic minions! Combining the best elements from Xenon Valkyrie+ and Riddled Corpses EX, this is the latest game in the Diabolical Mind trilogy!
Dots 8 (Nestor Yavorskyy, 12th Jun, £0.89 / €0.99) - Dots 8 is an abstract strategy game, played by two or more people. The game is superficially similar to Go, in that the goal is to "capture" enemy dots by surrounding them with a continuous line of one's own dots. Once an area containing enemy dots is surrounded, that area ceases to be playable.
Evan's Remains (Whitethorn Digital, 11th Jun, £5.59 / €6.19) - Evan's Remains is a mystery-thriller puzzle adventure about finding a missing boy: Evan. The game combines logic-based platform puzzles with visual-novel style narrative inspired by Japanese graphic adventure games.
Glass Masquerade Double Pack (Digerati, 11th Jun, £9.89 / €10.99) - This bundle contains Glass Masquerade and Glass Masquerade 2: Illusions – beautifully artistic and calmly challenging puzzle games from developer Onyx Lute. Enjoy these two highly acclaimed games as you piece together over 50 intricately designed jigsaws at your own relaxed pace.
HALF DEAD (LLC ROOM710GAMES, 12th Jun, £4.04 / €4.49) - Half dead is a multiplayer sci-fi game about a violent TV show. The players' goal is to survive in a network of rooms full of traps.
House Flipper (Ultimate Games, 12th Jun, £19.11 / €21.24) - House Flipper is a unique chance to become a one-man renovation crew. Buy, repair and remodel devastated houses. Give them a second life and sell them at a profit! Repair mechanics What you've got at your disposal is a set of tools and parts. Use them to hammer, drill, nail and screw things together, and do whatever is necessary to fit, fix or clean up stuff.
Jacks or Better - Video Poker (eSolutions Nordic, 12th Jun, £6.79 / €7.49) - Enjoy the Casino Experience! Simple and clean design. Fast and easy gameplay. Gamble your winnings. View statistics. Climb the Leaderboard and earn bragging rights.
Jump King (Ukiyo Publishing, 9th Jun, £10.99 / €12.99) - Jump King is a tough as nails, tongue-in-cheek platforming game that challenges players to ascend a colossal tower to rescue the mythical "Smoking Hot Babe" at the top. In this Tactical Leaping Adventure, players must set themselves in the desired position, charge their jump, aim, then let gravity do its thing as they make each nerve-wracking leap. Should they be the right and true king of jumping, they shall land on a ledge.
Kissed by the Baddest Bidder (Voltage, 11th Jun, £19.99 / €24.99) - The Story Working at Japan's first hotel & casino, you stumble upon a black-market auction and end up as one of the items for sale. "I'll let you decide who buys you." Five men place the winning bid, and now you're completely at their mercy…
Lost Horizon 2 (Koch Media, 11th Jun, £5.49 / €7.49) - How far would a father go to save his daughter's life? If his name is Fenton Paddock, very far: when the British Army scout learns of the kidnapping of his daughter Gwen during a mission at the Suez Canal in 1956, he and Nazi hunter Anna embark on a dangerous mission far beyond the Iron Curtain. Ultimately, not only does he have to prevent the Cold War from becoming a hot one, he is also faced with the choice of sacrificing his own life for that of his daughter.
Magazine Mogul (Kairosoft, 11th Jun, £11.69 / €13) - Take charge of your own magazine! It's up to you to turn heads and help your community grow through the power of the press! It all starts with compelling coverage. Brainstorm story ideas and angles with your editorial team, then deploy staff to put those ideas into print. Hit the streets for info and you just might snag the hottest scoop of the year!
Pack Master (Forever Entertainment, 11th Jun, £4.04 / €4.49) - What is more refreshing than the feeling of a nice, perfectly organized suitcase? Relive that relaxing feeling over and over again as you get ready to travel with Pack Master. Your one simple challenge is to fill your suitcase with the myriad objects provided. All at once easy and increasingly frustrating. Travel around the world to international cities and solve special puzzles created specifically for each of them.
Pew Paw (Drageus Games, 12th Jun, £3.14 / €3.49) - Luckily, you have a third teammate: an old machine gun that you can upgrade for more twin-stick shooting frenzy! You'll need to search the infested city for items required to craft new parts for your weapon and improve its damage, precision, firing speed, ammo capacity... The map is randomly generated each time you play, but always full of zombies with different abilities and equipment. Some shoot rockets, some try to intoxicate you, some place nasty mines on the ground and then there are the final bosses as well, but we'd rather not spoil that.
Pity Pit (eastasiasoft, 11th Jun, £3.59 / €3.99) - Procedural 2D platforming goes vertical as you dig, mine, craft and bomb your way downward! Take the role of Oratio, a Dwarf who enjoys hanging around the mines with his dear wife, until a demon spawns from a nearby pit and carries her away! Now it's a race through the mines to get her back. Can you save Gwendoline from the Devil Johnson?
Project Warlock (Crunching Koalas, 11th Jun, £12.99 / €14.99) - One man and his guns. Become a mysterious Warlock who embarks onto a dangerous mission to eradicate all evil. Put your finger on the trigger and travel through time and space to wreak havoc like in the golden days of fast-paced, adrenaline-pumping first-person shooters, hooking you for hours of super fun carnage. Let's rock and roll! Explore 60 vast levels in five settings, from frozen Antarctic base to the sands of Egypt to the medieval castles' courts and graveyards. Find keys to unlock passages, reveal secret caches with ammo and gold, use lifts and hidden buttons to access new areas. - Read our Project Warlock review
Remnants of Naezith (Tolga Ay, 12th Jun, £8.99 / €9.99) - Feel the acceleration in this fast-paced grappling hook platformer, Remnants of Naezith. It focuses on having freedom of movement, solid character control and not having any speed limitations. The fun of swinging with grappling hooks and the amazing feel of acceleration makes a great combination in this game. You play as Kayra, a human who shares his body with the soul of Naezith, the ancient thunder dragon. With the powers granted to him by the dragon, Kayra will destroy the Remnants of Naezith, enchanted fragments of the dragon's body, to prevent anyone from exploiting their power for evil.
Rogue Robots (Rust0 Games, 12th Jun, £12.59 / €13.99) - The fate of the whole of mankind is in your hands. Are you brave enough to take on the mission? New, action-packed, adrenaline-filled rogue-lite shooter to blast your mind of the planet is here! From the makers of legendary Drunk-Fu and Spareware, we're here to introduce to you the sequel of Spareware.
Roulette at Aces Casino (£7.99 / €7.99) - Enjoy Los Vegas style Roulette at Ace's Vegas Casino! Play on both European and American Roulette tables! Practice your skills and track your bets! Big wins will keep you coming back for more! Play on classic Roulette casino tables or have some fun with Ace's Casino special Ghost Table! Test your luck and become a Roulette pro at Ace's Vegas Casino!
Ship Sim 2020 (£13.49 / €14.99) - Welcome to the most exciting and realistic ship simulator game - Ship Sim 2020! Sail around the Mediterranean sea as the captain of a 400-meter oil tanker, a gigantic cargo ship or a luxurious cruise ship. Navigate your ship in a realistic and detailed open-world map and complete missions in many of the iconic port cities around the Mediterranean. Ship Sim 2020 has everything you ever wanted in a ship simulator game. There are over a dozen ships to start with, each detailed and realistic, with many outside, interior and deck cameras.
Spacejacked (Ratalaika Games, 12th Jun, £7.99 / €7.99) - Spacejacked is a super fast-paced ARCADE TOWER-DEFENSE. Play as Dave, a lone technician tasked with protecting his spaceship from being overrun by aliens while it prepares to warp into hyperspace. Players who seek to experience a blend of action shooter and tower defense will enjoy this game!
Super Toy Cars 2 (Eclipse Games, 12th Jun, £7.99 / €9.59) - Super Toy Cars 2 is a fast-paced arcade racing game where you control miniature cars that speed through amazing tracks made of supersized everyday objects. In Super Toy Cars 2 you will race cool toy cars, alone or with friends, across crazy tabletop tracks made of everyday objects that take on a new dimension. In this world a sausage is the size of a bus, a burger is the size of a small swimming pool and you may encounter dangerous toy scissors cutting their way through the middle of the track.
Switch eShop - Demos
Switch eShop - Pre-Orders
Yes, Your Grace (No More Robots, pre-order from 12th Jun)
Switch eShop - Special Offers
DLC / Add-On Content
Nintendo Switch games with new DLC this week:
WorldNeverland - Elnea Kingdom
So that's your lot for this week's Nintendo Download. Go on, be a sport and drop a vote in the poll above, and comment below with your hot picks!