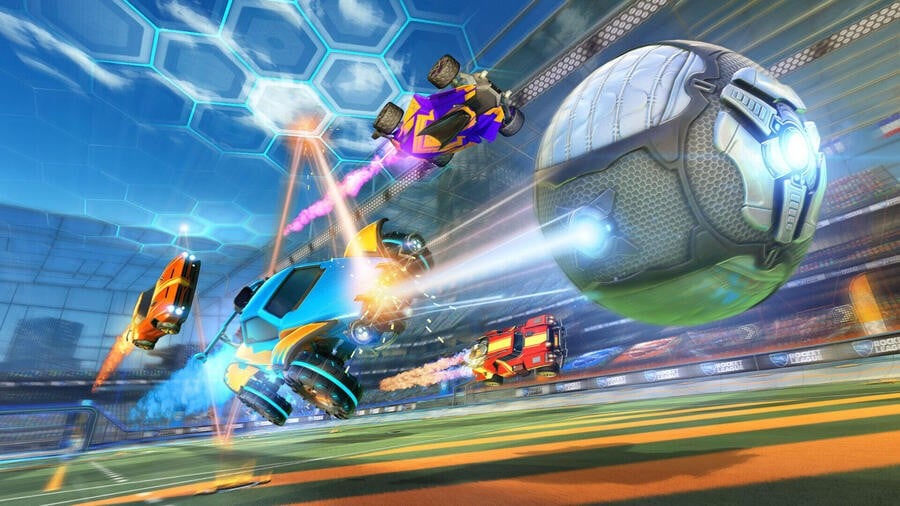 Details for Rocket League's next limited-time mode have been revealed, and this time players can expect to take part in a friendly game of 'Boomer Ball'.
Thankfully, this isn't a terrible "ok boomer" reference, but rather a series of settings designed to add plenty of speed and franticness to the game. The mode was actually first popularised by Rocket League's creative community and will serve as the third Limited Time Mode featured during the game's Modes of May series.
It'll be appearing in-game starting tomorrow. Here are the details:
Boomer Ball plays with mutators to put a high-flying, lightning-fast twist on 3v3 soccar. Boost amount is unlimited and is now 1.5x stronger than typical boost. That means it launches you farther and faster than the standard boost you're used to. The ball speed is set to super fast, bounciness is increased to super high, and ball physics are super light. Touch the ball and see just how far and fast you can launch it! Other than that, standard soccar rules apply.
And here are the times you'll need:
Boomer Ball is live Thursday, May 14 - Monday, May 18 from 5 p.m. BST (6:00 p.m. CET) - 5 p.m. BST. (6:00 p.m. CET)
Do you still enjoy the odd round of Rocket League? Do you play regularly? Let us know with a comment below.