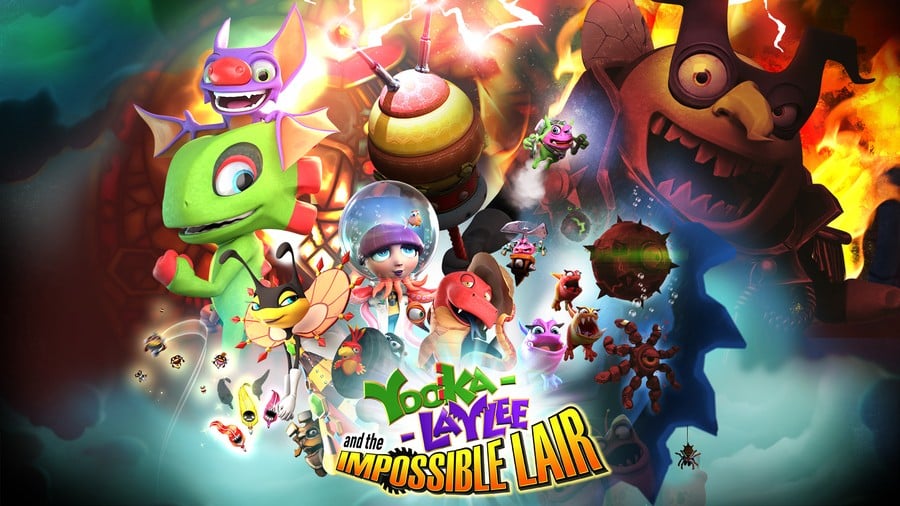 The folks over at Playtonic Games have unleashed several announcements for the Yooka-Laylee series of games, including an important update for Yooka-Laylee and the Impossible Lair.
The first announcement regards Impossible Lair's erm... impossible lair, with a new update allowing players to dial down the difficulty if they're struggling to overcome its mighty challenge. By adding a 'State Change' to the lair, you can now flip the switch and choose how you want to tackle the stage. Here's how each option works:
Not So Impossible Lair
Each section now ends with a Checkpoint (Checkmates, technically). Checkpoints save your best "Bee Shield score", meaning you can choose which sections to start from, practice and improve on! Using these checkpoints is entirely optional.
Impossible Lair
No Bee Shield, no Checkpoints! The "Golden Try" Tonic can now be earned this way – no new save file required.
A second update for the game, coming on 14th April, sees an entire 8-bit soundtrack included within the game itself. You'll be able to access it in the pause menu, but you'll also be able to stream it on Spotify and Apple Music.
Finally, Playtonic has also revealed that from the 9th - 19th April, if you own the original Yooka-Laylee on Switch, you can purchase Yooka-Laylee and the Impossible Lair at 50% off. Nice.
Liking the sound of these new additions? The Impossible Lair really is a challenge, so having the option to make it just a touch easier sounds very welcome to us.
[source playtonicgames.com]