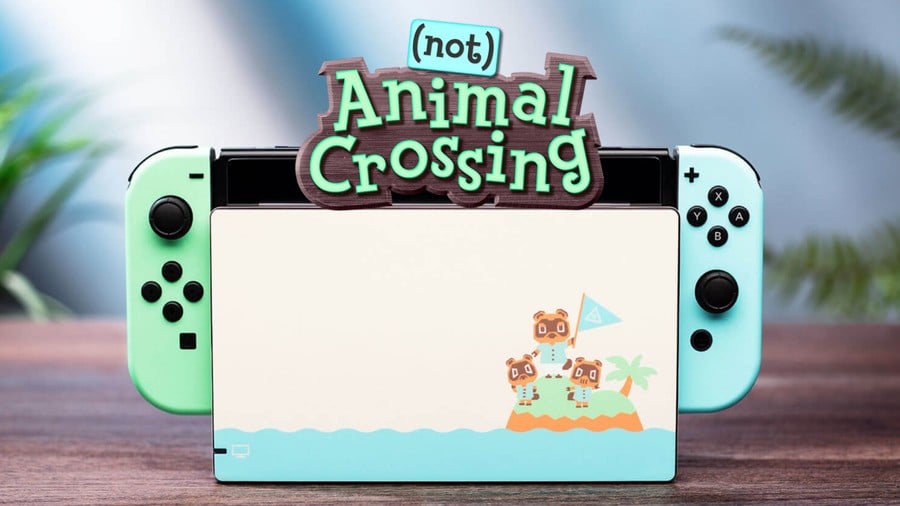 Accessory maker dbrand has released a collection of hardware skins called '(Not) Animal Crossing', an alternative to Nintendo's very own official Animal Crossing: New Horizons Switch console that looks, well... Different.
As you'll be aware if you've been trying to get your hands on one, the real Animal Crossing Switch bundle is particularly hard to come across right now. Aiming to cash in on the situation, dbrand has created a lookalike version should you be feeling desperate.
"Failure runs in your blood," the product description says. "That's why you live out fantasies of success in a video game designed for children. It's also the reason you failed to acquire a limited-edition Animal Crossing Switch. Well - that's one of the reasons. The other is that we bought them all. Now, the handful we missed are being marked up by hundreds of dollars". A pretty bold marketing angle, huh?
For $39.95, you can get all of the following things (and there are even some extra add-ons available for your Pro Controllers):
Seafoam Green Left Joy-Con Skin (Precision Fit)
Seafoam Green Left Joy-Con Skin (Standard Fit)
Sky Blue Right Joy-Con Skin (Precision Fit)
Sky Blue Right Joy-Con Skin (Standard Fit)
(not) Animal Crossing Dock Face Skin
(not) Animal Crossing Dock Accent Skin
Microfiber Cloth
The product page even goes as far as to mention any possible lawsuit. Get a load of this:
"Take a close look at the design on the face of this Switch dock. Is it copyright infringement? Lawyers we paid to say "no" said "no." Lawyers not on our payroll disagree. That's the exact gray area we're counting on to get loads of free lawsuit-related press. Oh - and even if that legal battle with Nintendo never comes to pass, you'll still have a near-perfect parody of the most popular limited edition Switch on the market. (not) Animal Crossing: It's like Animal Crossing, but (not)."
Funny? Silly? A little bit of both? Share your thoughts with us in the comments below.