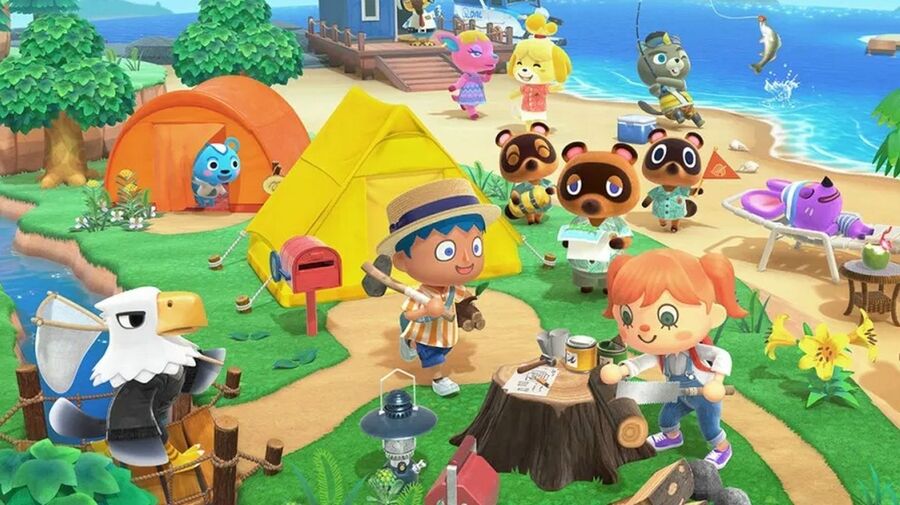 The latest Nintendo Download update for North America has arrived, and it's bringing new games galore to the eShop in your region. As always, be sure to drop a vote in our poll and comment down below with your potential picks for the week. Enjoy!
Nintendo Switch
Animal Crossing: New Horizons (Nintendo, Fri 20th March, $59.99) In Animal Crossing: New Horizons players embark on an ultra-exclusive Nook Inc. Deserted Island Getaway Package and enjoy a peaceful existence full of creativity, charm and the freedom to roll up their sleeves and make their new life whatever they want it to be. Players can collect resources they can craft into everything from creature comforts to handy tools as they set up a homestead they can decorate freely, both inside and out. Read our Animal Crossing: New Horizons review.
Switch eShop

Exit the Gungeon (Devolver Digital, Tue 17th March, $9.99) Exit the Gungeon is a bullet hell dungeon climber immediately following the adventures of the misfit 'Gungeoneers' and their journey for personal absolution in Enter the Gungeon. The Gungeon has become a paradox and is collapsing! Armed with an ever-changing weapon, an insatiable need to loot, and the trusty dodge roll, each of our heroes must ascend and escape via their own unique route of increasingly perilous elevators.
Sky Racket (Double Dash Studios, Tue 17th March, $14.99) Sky Racket is the world's first Shmup Breaker, mixing the classic genres of shoot 'em ups and block breakers! Blast bullets back at baddies while flying over whimsical worlds filled with vivid, kooky colors! Grab your laser tennis racket, a stylish scarf and your best buddies to battle a horde of fluffy enemies trying to blow you up back to the ground.
Doom 64 (id Software, Fri 20th March, $4.99) Celebrate DOOM's 25th anniversary with DOOM 64, originally released on Nintendo 64 in 1997. Take the fight to Hell at home or on-the-go with DOOM 64's triumphant return to Nintendo Switch! Fight against demons in your crusade to hunt down the Mother of Demons and stop Hell's invasion. As you battle through more than 30 action-packed levels, be on the lookout for enhanced weapons and secrets to help you put an end to the demonic threat.
Arcade Archives FORMATION Z (HAMSTER) - 'FORMATION Z' is a shooting game released by JALECO in 1984. Pilot the transforming battle robot 'IXPEL' to defeat the mobile enemy base Gezerium. Switch between aerial and terrain formations and use the pulse laser to take down regular enemies, reserving your big bang attacks for striking down weapons of mass destruction.
Beyond Enemy Lines: Essentials (Polygon Art, Today, $9.99) Beyond Enemy Lines: Essentials continues the trilled and intense combat experience from Beyond Enemy Lines: Covert Operations with a new campaign, additional Single Missions and weapons to utilize. Think your way in, observe the enemies and sneak into their base. Rescue an as hostage held agent from an unknown arms dealer, adapt to changing weather conditions, and use the the darkness of the night to your favor in this unforgiving, intense experience where skill and tactical decisions matter!
Bug Academy (Ultimate Games, Mon 23rd March, $12.99) The Bug Academy consists of a series of lessons in which we overcome challenges based on logic and the physics system. They have to face various tasks - including delivering parcels, repairing damaged installations, building bridges, extinguishing fires, as well as playing musical instruments, painting, dancing, and even flying into space; all within the bounds of a physics system which, of course, leads to many funny situations.
Colorgrid (QUByte Interactive, Tue 24th March, $0.99) Find the correct positions for your lasers and mirrors to get the right mix of colors in each material. - 70 hand-crafted levels with increasing complexity. - Originally composed music to help you focus and relax while solving the puzzles - Learn the basics of color mixing to solve the levels.
Deep Sky Derelicts: Definitive Edition (1C Entertainment, Tue 24th March, $24.99) In a grim dystopian future, where mankind has scattered across the galaxy and the human society has split into two distinct classes, you are a poor stateless outcast forced to live off scraps from derelict alien stations and ships in the outer space.
Dezatopia (Hanaji Games, Today, $19.99) Strange and unusual creatures inhabited Earth's underground, unknown to humankind. This was until Momoko, a fashion-obsessed high school girl, accidentally discovered them. Together, they plotted to combine the civilizations above and below the surface to create a new world: Dezatopia.
Diabolic (Drageus Games, Fri 20th March, $4.99) This Slasher RPG takes you to a dark fantasy world where hordes of monsters now rule over a once prosperous land. Fight them with a dynamic and intuitive combat system and level up your skills to defeat all 10 levels and the final Dragon-boss. There are various enemies, each requiring a different approach from you.
Factotum 90 (Rainy Frog, Today, $7.99) A Nintendo Switch Online membership (sold separately) is required for Save Data Cloud backup. You're in deep space and something's collided with the ship. Main power is offline and you're trapped. It's lucky you have access to this terminal. It's a little old but with these two deck robots and some clever thinking, you might be able to get power back online and save the day.
Ghost Sweeper (7 Raven Studios, Today, $4.99) After many centuries the dark lord is resurrected from his ashes, coming back to his castle and cursing the lands all around! Now many ghosts and undead wander freely haunting every place, giving to the people only one option, escape! But when the hopes seem to fade away... usually the heroes appear!
Hyperspace Delivery Service (Zotnip Games, Tue 24th March, $9.99) You've been hired by the Hyperspace Delivery Service to make a delivery to planet Miridian V. Located on the other side of explored space, the trip to Miridian V will be a dangerous yet lucrative journey full of mad robots and unpredictable stellar phenomenon. Can you and your crew survive the trip? Will you die from the dreaded Telunian flu?
Indie Puzzle Bundle Vol 1 (Digerati, Today, $39.99) Entertain your brain with four perfectly perplexing puzzle games! This bundle contains Glass Masquerade, Letter Quest Remastered, Pipe Push Paradise, and Slayaway Camp: Butcher's Cut. Glass Masquerade: Complete beautiful and intricately designed stained-glass jigsaw puzzles. No time limits. No stress.
Ittle Dew 2+ (Nicalis, Today, $29.99) Ittle and Tippsie crash onto yet another island filled with loot, puzzles and mysterious inhabitants! They immediately set out to steal eight pieces of a raft from increasingly improbable locations including beaches, prairies, an art exhibit and some dude's basement. Read our Ittle Dew 2+ review.
Lust for Darkness: Dawn Edition (SimFabric, Fri 20th March, $14.99) A special edition of the psychological horror of seeking satisfaction on the border of two intertwining worlds. An intriguing plot with erotic and occult themes guides the player's character through the Yelvertons' Victorian mansion and a perverse land inspired with Lovecraft's works and paintings of Zdzisław Beksiński.
Mist Hunter (Flox Studios, Fri 20th March, $5.99) Unusual magic weapons, 100 trophies that change the playstyle, 7 arenas that will put your skills to test. Features Combat - frantic combat that incentives to use and change all the weapons constantly. Almost every enemy has a weakness to the Mist it has been corrupted by. Use the same type of Mist as the enemy to obliterate them in seconds.
Nerdook Bundle Vol. 1 (Digerati, Today, $29.99) One-man indie developer Nerdook is a master at making games that are easy to pick up and play, but impossible to put down. This collection includes three Nerdook gems: Monster Slayers, Reverse Crawl, and Vertical Drop Heroes.
Pocket Mini Golf (QubicGames, Fri 20th March, $1.99) The gameplay is quite easy - hold, aim and release to get the perfect trick shot. Don't overshoot or you'll fall into the void! Adjust strength, angle and put some curve into your shot. Thanks to the realistic physical engine, the ball behaves naturally.
Pooplers (Ultimate Games, Fri 20th March, $8.99) The game is diversified by power-ups and a mother who refers each toddler to a cot as soon as she sees her child pooping on the floor. Staying in a cot reduces the chance of winning in a given round. A humorous game, however, has a number of elements that diversify the gameplay and allow you to create tactics.
Quell Memento (Fallen Tree Games, Fri 20th March, $7.99) Set within an old abandoned house, the player restores order to the jumbled memories of the last occupant, and in doing so embarks on a haunting journey of self-discovery and reflection. Suitable for all ages, this is an experience that will stay with you long after you put it down.
Red Death - Blast through waves of arcane enemies and take down monstrous bosses as you defend the earth against an unknown calamity. As a prologue to Project Starship, vertical bullet hell shoot'em up Red Death sets a collision course against a full-scale invasion bent on eradicating humanity, presented in nostalgic 4-tone style!
Rhythm of the Gods (Nellyvision, Mon 23rd March, $4.99) Solve the problems that the mortal realm faces in this auto-running, Greek-inspired rhythm game. Fight a variety of mythological monsters that are causing a chorus of chaos to impress each god and earn your right to challenge them one-on-one - in a battle of rhythm, of course.
SeaBed (Fruitbat Factory, Today, $19.99) SeaBed is a critically acclaimed yuri-themed mystery visual novel told through the perspectives of three separate characters: Mizuno Sachiko, a designer plagued by hallucinations of her past lover; Narasaki Hibiki, Sachiko's friend and a psychiatrist researching the workings of human memories; and Takako, Sachiko's former lover who has been rapidly forgetting her past, including how or why the two women drifted apart despite being together since childhood.
Silent World (CFK, Today, $4.99) The world you once knew has been lost to nuclear devastation. Facing this new world alone, you begin your search for other survivors. Mutants roam the demolished city, and you'll have to move silently to avoid them and deadly traps scattered throughout the modern ruins. All you have to help you is a single match, which you'll have to use to light your way and find a safe path out of this hostile world.
The Secret Order: Shadow Breach (Artifex Mundi, Today, $14.99) There are dark secrets that have an annoying tendency to crawl back into the light, escaping oblivion. But there is also Sarah Pennington, the most skilled agent of the ever-watching Secret Order, who is there to face them. Join Sarah, a member of the order of the griffins, in her biggest and most challenging adventure.
Thunder Paw (Ratalaika Games, Fri 20th March, $4.99) Thunder was out playing with his ball in the fields, when he suddenly heard a loud explosion near his house! He rushed home, worried about his parents, only to find no one was there. Just a single letter that said his parents had been kidnapped! It's up to Thunder to rescue his parents!
Travel Mosaics 2: Roman Holiday (JetDogs, Mon 16th March, $7.99) Travel Mosaics 2 brings a unique take on a classic nonogram puzzle, offering varying difficulty settings, recognizable and fun images, trivia questions and much more. The Walkers are going on a sightseeing tour to the most famous attractions Rome has to offer!
Vampire: The Masquerade - Coteries of New York (Draw Distance, Tue 24th March, $19.99) Vampire: The Masquerade - Coteries of New York presents the conflict between two vampiric factions: the traditionalist Camarilla and the fiercely independent Anarchs. It's a unique, atmospheric, single-player narrative experience, set in the rich universe of Vampire: The Masquerade 5th Edition.
Breakfast Bar Tycoon – Available March 20
So that's your lot for this week's North American Nintendo Download. Go on, be a sport and drop a vote in the poll above, and comment below with your hot picks!