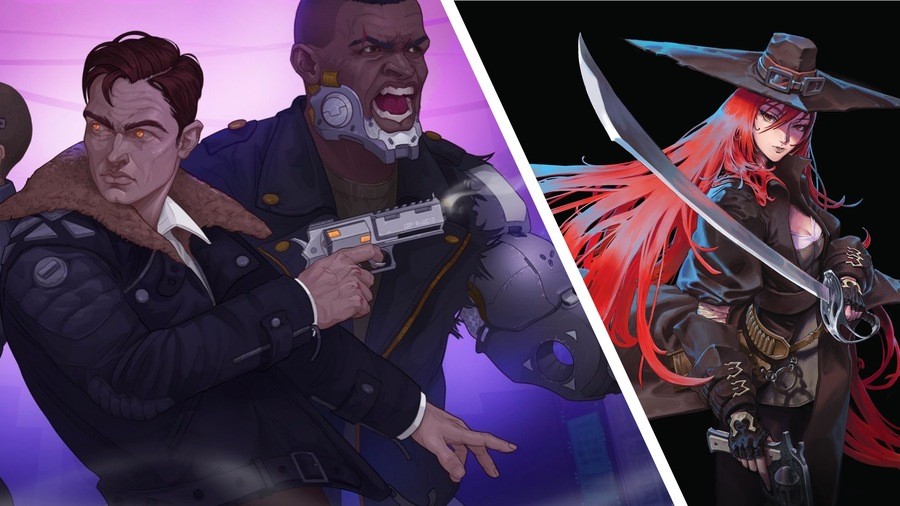 Video game publisher Sold Out has today announced two new titles for Nintendo Switch: a cyberpunk stealth-action RPG called Disjunction, and steampunk action-adventure, Gestalt: Steam & Cinder.
We've got all the details you need on both games below, so let's get stuck in, shall we?
Disjunction
Release: Summer 2020
Set in the dystopian underworld of a near-futuristic New York City, Disjunction is a single-player, cyberpunk, stealth-action RPG that follows the intertwined narratives of three characters as they unravel a mystery that will change the fate of their city.

A classic RPG featuring hardcore stealth-action mechanics and a reactive story where your choices have real consequences, Disjunction gives players the freedom to take the gameplay approach that suits their playstyle: blasting through levels in brutal fast-paced combat, or sneaking around encounters to avoid confrontation.
Key Features:
- Challenging stealth-action gameplay that lets you play the way that suits your style, whether it's sneaking through levels or attacking head-on.
- 30+ handcrafted non-linear levels.
- 3 playable characters, each with individual abilities, cybernetic upgrades and talents to customise your playstyle.
- A reactive story where the player's choices have real consequences.
- Stylized pixel art environments and characters.
- Atmospheric musical score by composer Dan Farley.
Gestalt: Steam & Cinder
Release: 2020
Inspired by 16 and 32-bit classics, Gestalt: Steam & Cinder (previously titled Gestalt: Vanguard) fuses tight 2D platforming and exhilarating combat with an engrossing, twist-laden narrative in a stunningly handcrafted steampunk world.

Join Aletheia and a vibrant cast of characters as they find themselves embroiled in a race to discover the secrets of the massive, steam-powered city of Canaan, the last bastion of mankind. Unravel centuries-old conspiracies, battle hosts of monstrous automata and thwart the twisted schemes of the city's corrupt overseers, the Comitium, as you fight for mankind's survival and discover the dark truth of the Steam City's origin.
Key Features:
- Nuanced Combat System – Unleash Aletheia's inner power, grow stronger, and engage in deep and varied combat, mastering a vast range of melee combos and ranged revolver attacks in uncompromising action.
- Riveting Narrative – Encounter a vibrant cast of characters and explore Canaan's districts in an intertwining narrative filled with conspiracy-laden intrigue, NPCs, optional side quests, and choice-driven dialogue.
- Mesmerizing Art – Traverse a vast and stunningly handcrafted steampunk world, from the thriving city streets of Irkalla to the sprawling Scrap Sea, all embellished with spectacular animations and gorgeous backdrops.
- Grow Your Skills – Gain experience and craft new abilities to tap into the mysterious power dwelling within Aletheia as you discover new areas, smash through secret paths and take on the Steam City's toughest enemies.
- Shape Your Fate – Make decisions that will shape the fates of Aletheia and other characters you'll meet along your journey.
If you happen to be attending PAX East at the end of the month, you'll be able to check out both of these games at Sold Out's booth. If you're not attending, make sure to keep an eye out for more news on these games as we get closer to their respective release dates.
Liking the sound of either of these two games? Let your thoughts be known in the comments below.