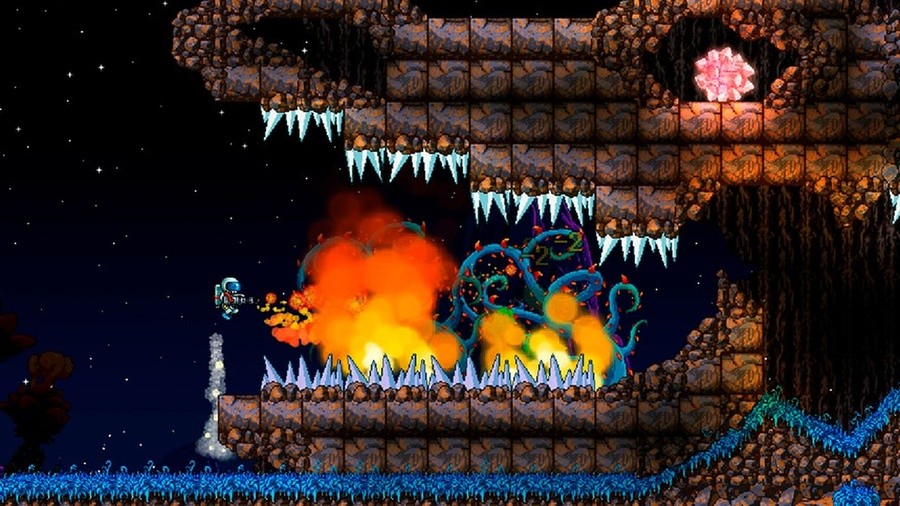 Launching in January 2020 on Nintendo Switch is Willy Jetman: Astromonkey's Revenge, an arcade shooter with a title which just made several fully grown adults in the Nintendo Life office let out a small chuckle. There's no hope for us.
Inspired by the console classics of the '90s, this one is set in the orbit of Gravos, a planet which has been subjected to an environmental disaster. The game's protagonist, Willy, is a street sweeper whose mission is to collect all of the space garbage that is destroying the planet and take it to the recycling centres. Unfortunately, countless enemies are hoping to ruin those plans.
Here's a little more info taken from the game's Switch eShop listing:
Enjoy this exciting adventure that will transport you to a faraway world. Explore, fight, earn experience, purchase weapons... don't let your guard down even for a second and save your friends to become the biggest intergalatic hero of all time... or not.

A mysterious accident causes an environmental disaster on a faraway planet. But don't worry, here's Willy, a friendly street sweeper who somehow gets wrapped up in the biggest space adventure ever told.
Action, shooting, platforms and a colourful pixelart style that you'll love.

Take control of Willy, because if it were down to that lazy cow... the galaxy would explode tomorrow.
It's set to launch on 31st January for $14.99.
Do you like the sound of it? Let us know in the comments below.