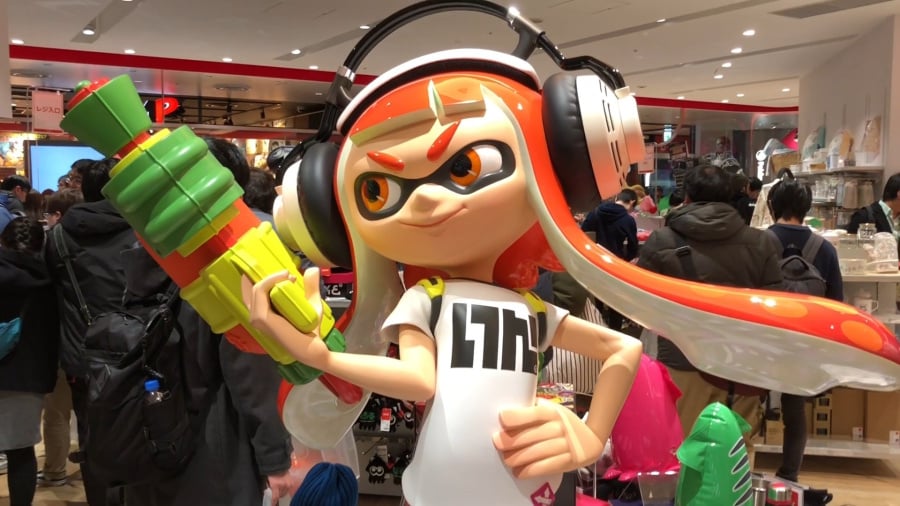 Nintendo TOKYO officially opened in the renovated Shibuya Parco in Tokyo last week, and despite it being both rainy and the coldest day of the year, that didn't stop Nintendo fans from lining up by the thousands to get in.
The store officially opened up at 10:00, but you first had to line up to get a timeslot ticket and wristband to enter. We arrived just after 9:00 am and got a 10:30 am entry ticket. At 10:00 am, we were directed to stand in a line that stretched from the store entrance on the 6th floor all the way to the roof of the building on the 10th floor.
It was absolute chaos getting into line, with both Nintendo TOKYO staff and Shibuya Parco staff being out of sync with communication. Although our ticket said 10:30, we were unable to enter until about noon. Early reports from fans indicated that people arriving at 10:00 am were receiving tickets with time slots beyond 1:00 pm and labelled with customer numbers beyond 1,000.
After what felt like an eternity, we were finally at the front of the line, and what appeared before us can only be described as unbelievable – like something truly out of a video game. After we were greeted by a huge 8-bit Mario statue, we were led into the store. Aside from the new Nintendo TOKYO store, the floor was also shared by a new Pokémon Center as well as a Capcom store! A video gamer's paradise! But that's a report for another time.
The first thing you notice when you arrive is the incredible Nintendo atmosphere. It's like a world separate from the rest of the mall. From the amazing statues of Mario, Link, Isabelle, and an Inkling to various TV monitors displaying gameplay of recent Nintendo adventures, and the music, it's essentially Nintendo squeezed into one store! While shopping, the music really puts you into the Nintendo spirit. The music selection includes Song of Storms (The Legend of Zelda: Ocarina of Time), Jump Up, Super Star! (Super Mario Odyssey), Ebb & Flow (Splatoon 2), and more.
The most important quality to consider is if the exclusive merch is worth visiting for. Of course, general Nintendo goods such as plushies and games are available, but certain products, such as amiibo, are missing entirely. Many of the toys, while available in stores across Japan, are not usually easy to find all together.
For example, Nintendo TOKYO had every Kirby item we've seen in Japan so far, in addition to most Mario merch we've seen around as well. While Kirby gets the least focus (it's okay Kirby, you have a permanent café in Tokyo all to yourself soon), what really stands out is the exclusive merch.
From unique Splatoon shirts to Zelda neckties, every turn will lead you to something you've never seen before! Particularly cool is the Super Mario x Pokémon 8-Bit Scramble series. The cost is about what you'd expect. Around $40 for T-shirts and other tops, $5 for hand towels, $10 for cooking supplies such as plates and bento sets. Here's a full detailed list of items and their cost (check the photos at the bottom for reference numbers):
Super Mario Family Life Collection
1. Resin Plate ¥850
2. Resin Bowl ¥850
3. Resin Mini Plate Set ¥1,500
4. Stacking Cup Set ¥3,200
5. Chopstick Set of 4 ¥1,700
6. Lunch Mat ¥1,600
7. Die-Cut Cushion ¥3,200
Crossing Splatoon Collection

1. Scarf Towel ¥1,500
2. Face Towel ¥1,200
3. Mascot Toy ¥850
4. Skateboard Deck ¥12,000
5. Baseball Cap ¥3,600
6. T-Shirt ¥3,000
7. Messenger Bag ¥5,500
8. Shoebox ¥800
9. Badge ¥1,200
10. Wristband ¥ 850
11. Stainless Steel Bottle ¥2,700
12. Washi Tape ¥850
Super Mario Power Up Collection
1. Mascot Toy ¥1,500
2. Ballpoint Pen w/ Mascot Cap ¥600
3. Mini Towel ¥650
4. Die-Cut Memo Pad ¥500
5. Rubber Coaster ¥700
6. Rubber Keychain ¥600
7. 10-in-1 Set of Pens ¥1,800
8. Hatena Block Ring Notebook ¥650
9. Pencil Bag ¥1,800
10. Tote Bag ¥4,000
11. Folding Bag ¥1,500
12. Smartphone Case ¥3,000
13. Rail Pass Case ¥1,800
14. Pouch ¥1,600
Animal Crossing Collection
1. One Handed Pot ¥4,500
2. Kitchen Mittens ¥1,300
3. Enamel Mug ¥1,000
4. Canister (large) ¥2,400
5. Canister (small) ¥1,500
6. Glass Storage Bottle ¥680
7. Stacking Containers (large) ¥1,400
8. Stacking Containers (small) ¥1,200
The Legend of Zelda Collection
1. B6 Ring Notebook ¥780
2. 4-in-1 Set of Jetstream Multi-Colored Pens ¥1,500
3. Pen Case ¥1,600
4. Mugcup ¥1,600
5. Smartphone Case ¥3,000
6. Pouch ¥2,500
7. Hand Towel ¥600
8. Keychain ¥1,000
9. Sweater ¥7,500
10. Long T-shirt ¥3,800
11. T-shirt ¥3,500
12. Pins ¥700
13. Leather Tote Bag ¥7,000
14. IC Card Case ¥2,000
15. Necktie ¥4,200
8 BIT SCRAMBLE Super Mario x Pokémon Collection
1. Cookies w/ Die-Cut Cans ¥1,200
2. Petit Can Collection Colorful Ramune ¥400
3. Die-Cut Cushion ¥3,000
4. T-Shirt ¥3,000
5. Mug ¥1,700
6. 6-in-1 Set of A4 Clear Files w/ Case ¥1,900
7. Soft Case for iPhone 8/7/6s/6 ¥1,880
8. Multi Smartphone Cover ¥3,000
9. Large Hand Towel ¥600
10. Large Square Towel ¥1,000
11. Backpack ¥7,200
Nintendo TOKYO Collection
1. Pin Set ¥3,600
2. 1-in 2 Set of Masking Tape ¥800
3. Large Masking Tape ¥1,300
4. Rubber Strap Collection ¥600
5. Ring Notebook ¥800
6. PVC Bag ¥2,500
7. Pen Case ¥1,400
8. Schedule Book ¥880
9. Block Memo Pad ¥1,200
10. Transparent Sticker Sheet ¥500
11. 3-in-1 Set of Postcards ¥500
12. Square Pouch ¥1,800
13. Cushion ¥2,500
14. Mug ¥1,400
15. Stainless Steel Bottle w/ Ring Handle ¥3,350
16. Pen ¥1,000
18. Cookies w/ Can ¥1,680
19. Face Towel ¥1,200
20. Logo T-Shirt ¥4,800
21. Cookies w/ Can ¥1,500
22. Tote Bag ¥3,000
23. Multi-Pen ¥700
Also available for a limited time, if you spend over ¥5,000 in the store, you'll receive a random Nintendo TOKYO Christmas ornaments. If you spend over ¥20,000, you'll receive the entire set of four! Unfortunately, it looks like franchises such as Fire Emblem, Metroid and Mother have no representation in the store. Even Pokémon, which has a store dedicated to its own brand across the floor, has exclusive merch available in Nintendo TOKYO. We hope to see more series show up in Nintendo TOKYO in the future.
At the end of the day, visiting Nintendo TOKYO truly is a unique experience you won't find anywhere else, even in Nintendo NYC. In the heart of Tokyo, surrounded by other stores such as the Pokémon Center and the Capcom Store, it's a shopping experience every Nintendo fan has to try. We simply can't recommend visiting Nintendo TOKYO enough.
There's a lot to explore and experience in Nintendo TOKYO. We hope you'll visit yourself soon and let us know your own thoughts. Until then, be sure to drop us a comment on what you think is the coolest merch available at the store.
[source nintendo.co.jp]