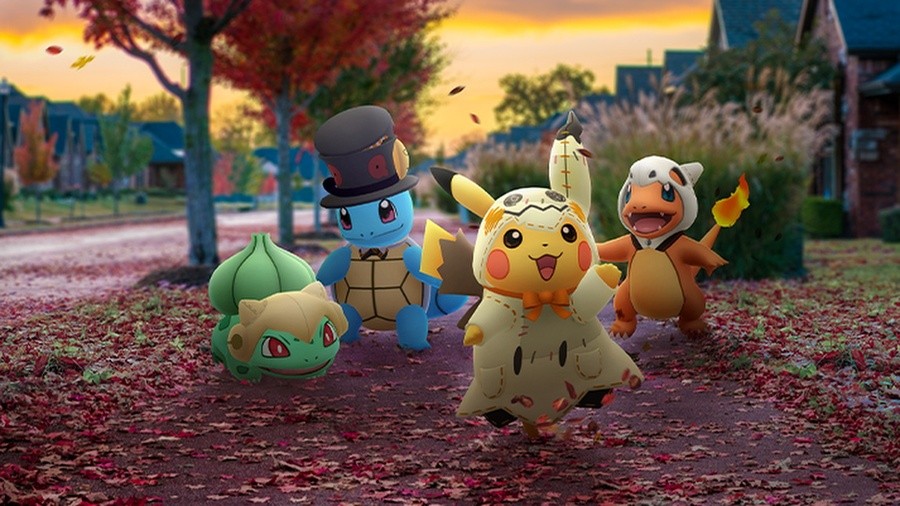 October is upon us, bringing its usual dreary weather along for the ride, and that means that Halloween is just around the corner. As usual, Pokémon GO will be celebrating the event in style and developer Niantic has now revealed exactly what will be going down.
Everything's kicking off from Thursday 17th October at 1pm PDT (so that's 4pm EDT / 9pm BST / 10pm CET), with more Shadow Pokémon appearing, new items, a new shiny, and lots more besides.
We have a full guide to the featured Pokémon and the Special Research Project 'A Spooky Message' here, or read on for the press release:
Starting Thursday, October 17, 2019

Features
- Rescue more Shadow Pokémon from Team GO Rocket — Be ready to rescue the following Pokémon from Team GO Rocket Grunts at PokéStops near you: Weedle, Kakuna, Beedrill, Electabuzz, Magmar, Lapras, Mareep, Seedot, Nuzleaf, Sableye, Trapinch, Cacnea, Shuppet, and Duskull.
- Thrilling threads in the Style Shop — Play dreadful dress-up with new avatar items, including a Zubat Bag, a Pikachu Onesie, a Cubone Cap, a Litwick Cap, and a Mimikyu Bag!
- A Spooky Shiny Pokémon makes its debut — If you're lucky, you might encounter Shiny Yamask.
From Thursday, October 17, 2019 to Friday, November 1, 2019

Features
- Don't be scared! More Ghost- and Dark-type Pokémon will be appearing in the wild, in Eggs, and in raids — Gastly, Murkrow, and more will be appearing. Making its Halloween debut is Yamask, the Spirit Pokémon!
- Pokémon wearing creepy-cute Halloween costumes arrive in raids and in the wild! — Some Pokémon have donned costumes to celebrate Halloween this year! Look forward to Bulbasaur wearing Shedinja costumes, Charmander wearing Cubone costumes, and Squirtle wearing Yamask costumes in raids. In the wild, be on the lookout for Pikachu wearing Mimikyu costumes! If you're lucky, you might even encounter these alarmingly adorable Pokémon as Shiny Pokémon!
- The Pitch-Black Pokémon makes its ominous debut in Pokémon GO! Darkrai will be appearing in five-star raids!
- Frightful and fun Field Research tasks will be available for a limited time during this event.
- You've received a spooky message. Check out your Special Research when the Halloween event begins, Trainer, and you might face a Forbidden Pokémon...
Bonuses
- 2× Catch Candy
- 2× Hatch Candy
- 2× Transfer Candy
As you can see, some of the features listed above will end on 1st November, the day after Halloween.
Will you be heading out to catch 'em all over Halloween? Let us know with a comment below.
[source pokemongolive.com]