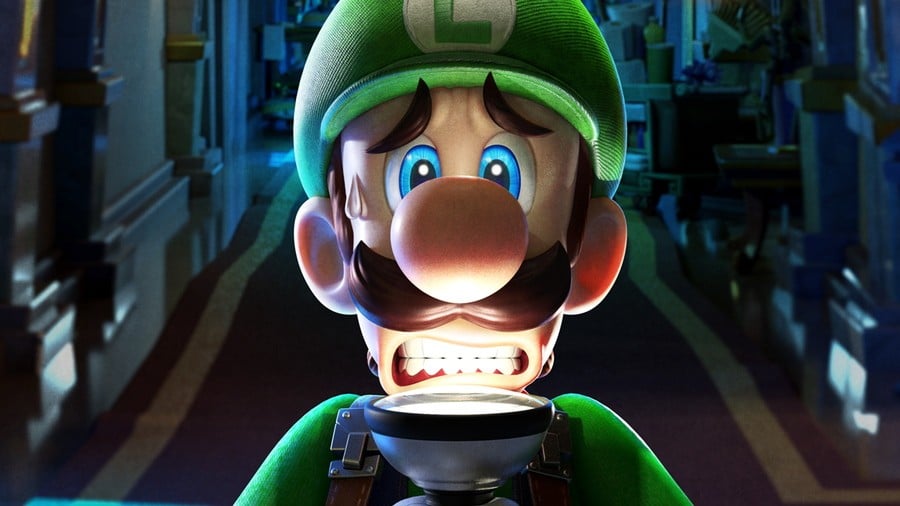 The latest Nintendo Download update for North America has arrived, and it's bringing new games galore to the eShop in your region. As always, be sure to drop a vote in our poll and comment down below with your potential picks for the week. Enjoy!
Nintendo Switch
Luigi's Mansion 3 (Nintendo, Today, $59.99) Luigi embarks on a dream vacation with Mario and friends upon receiving an invitation to a luxurious hotel. However, his dream quickly becomes a nightmare when King Boo reveals everything had been a ploy to capture Mario and friends. With the assistance of Professor E. Gadd once again, the reluctant and cowardly hero Luigi traverses up and down treacherous floors of the now-ominous hotel on a quest to save them. Read our Luigi's Mansion 3 review.
Mario & Sonic at the Olympic Games Tokyo 2020 (SEGA, Tue 5th November, $59.99) Join Mario, Sonic and friends for their greatest adventure yet at the Tokyo 2020 Olympic Games, exclusively on Nintendo Switch! Go for gold as you compete in action‐packed sports games, including 4 brand new events to Tokyo 2020 Skateboarding, Karate, Surfing, and Sport Climbing, as well as a large selection of classic events.
Just Dance 2020 (Ubisoft, Tue 5th November, $39.99) This year, Just Dance 2020 will celebrate a decade of bringing people together with exciting new content including: 40 new songs, from chart-topping hits to viral internet phenomena to the latest emerging artists, there is something for everyone in Just Dance, and the return of Co-op Mode - players can team-up with their friends for more fun to combine scores and rule the dancefloor.
Switch eShop
64.0 (indienova, Today, $2.99) Beware! This game is really hard! If you like challenges or you don't mind losing A LOT, this game is for you.
Agony (Forever Entertainment, Today, $19.99) Agony throws you in the midst of hell where you strive to stay alive and solve the riddle behind the mysterious Red Goddess; architect of this place of sorrow and pain, and the sole entity with knowledge of how escape… but there is more to the story than it seems.
Arcade Archives: Mr. Goemon (HAMSTER)
Construction Simulator 2 US - Console Edition (Astragon, Wed 6th November, $19.99) YOUR OWN CONSTRUCTION COMPANY Once you have started your own company, you can start exploring new regions in Westside Plains bit by bit, and accept ever-larger and more lucrative construction jobs in the open world of Construction Simulator 2 US – Console Edition.
Delta Squad (Ratalaika Games, Fri 1st November, $5.99) Just when you think the world is safe and it's okay to take a break, a new threat emerges. Having already survived an alien invasion in FullBlast, the Delta Squad must now do battle against General Rumanovsky, a maniacal overlord who will stop at nothing to achieve global domination.
Flan (AnelaGamesStudio, Today, $9.99) Operate two people at the same time! ? Action game to think about each other! When the girl woke up, a dark and cold place spread out. As the girl advances, she meets a frozen black knight. Together, you can come to the truth!
Ghost Parade (Aksys Games, Today, $39.99) There's something spooky in the woods. . . And it needs your help! Your walk home takes an other-worldly turn as you become lost in a dark, mysterious forest. Join a mystical battle to protect the supernatural inhabitants from those who are trying to level their home for profit.
Mononoke Slashdown (Arc System Works, Today, $6.99) Control Kagemaru the ninja, using ninjutsu arts, kunai daggers and the katana to defeat ghosts and monsters in this 2D scrolling action game! Kill the ghosts to collect in-game currency and use it to buy powerful weapons, armor, ninjutsu techniques to power-up, and return the city back to its people! What is more, every stage has secret challenges to complete.
Otokomizu (Undefined, Today, $9.00) Hovering in the sky over Edo City with a loincloth! This jet pack firefighting 3D action game has the most mysterious operation feeling ever!
Perseverance (Fri 1st November, $4.99) You play as Jack Cutter, a father who is struggling to keep his family together. He's a 'go-to' guy in his hometown of Grey Ville. Research conducted in the nearby military base gives the town a mysterious aura. Residents prefer to stay away from it. Things take an unexpected turn when one of the experiments goes horribly wrong and the area is quarantined.
Race With Ryan (Outright Games, Fri 1st November, $39.99) Ready, Set, Race With Ryan! Take the wheel as Ryan and all your favorite Ryan's World friends! Ryan's World has come to life, and it's every bit as colorful, fun and fast as you imagined. So pick a racer, head to one of six magical locations, and step on the gas to show your friends and family who the fastest racer really is.
Ships (Ultimate Games, Tue 5th November, $13.99) Participate in the extraction of large-scale marine facilities from the bottom of the sea, in the transport and assembly of large offshore installations, as well as in rescue and transport missions. In a special game mode, you will take direct control of crew members and appropriate accessories (e. g. fire extinguishers, fire hoses, water cannons, inflatable boats, searchlights) to defend the ship against pirate attacks, put out a fire or pick out survivors.
Sky Gamblers: Storm Raiders 2 (Atypical Games, Today, $19.99) Unlock, upgrade and customize the legendary planes of WWII. Get into the cockpit and prepare to takeoff. Become the master of the skies! IMMERSIVE GAMEPLAY You will fly in fully recreated cities with realistic weather in places like UK, US, Egypt, Russia, Norway and Germany.
Spirit Roots (Drageus Games, Fri 1st November, $6.99) Your destination is on the outskirts of the stellar system, where a hundred years conflict created a unique situation: the small remaining parts of the two fighting planets had to be stitched together to create a surviving larger one.
The Big Journey (Nestor Yavorskyy, Today, $4.99) The Big Journey is a beautiful, casual jump 'n' roll adventure. Tilt the world to roll around and explore a beautiful world with Mr. Whiskers. Mr. Whiskers loves all types of food, but when the maker of his favorite dumplings goes missing, our pudgy feline hero has no choice but to acquire a taste for adventure.
The Lord of the Rings: Living Card Game (Asmodee Digital, Tue 5th November, $24.99) Build your deck and face the Dark Forces of Sauron! Battle spiders, orcs, Ringwraiths, and more as you journey through Middle-earth, earning cards and devising new tactics along the way. In The Lord of the Rings: Living Card Game, players lead their own fellowship of heroes through immersive quests, each with its own unique narrative and challenges.
The Mims Beginning (Ultimate Games, Mon 11th November, $8.99) Experience the mysterious and mystical by taking on a journey with Mims in this strategic god-like video game. Create structures, plant vegetation, breed animals, take care of your minions, use divine PSI powers, triumph in face of natural disasters, fight monsters, predict the future, reveal secrets and so much more. Assume the lead over Mims as they journey across the galaxy in their epic quest!
The Wardrobe: Even Better Edition
Windmill Kings (Bigosaur, Fri 1st November, $9.99) The evil black wizard has installed a clone on your throne and exiled you from the kingdom. Come, Exile. The time has come to take your kingdom back! Or challenge your friends in custom 2-player battles ranging from skirmish to all-out war.
Yuri (Fingerlab, Today, $13.99) Yuri is a platform game with a unique atmosphere. You'll need dexterity, curiosity and the ability to go with the flow to help Yuri overcome all the obstacles and reach the goal of his mysterious journey. Explore an exuberant and sensitive world, full of secret passages and buried memories.
Nintendo eShop Sales

Check out the full list of deals available this week here.
So that's your lot for this week's North American Nintendo Download. Go on, be a sport and drop a vote in the poll above, and comment below with your hot picks!