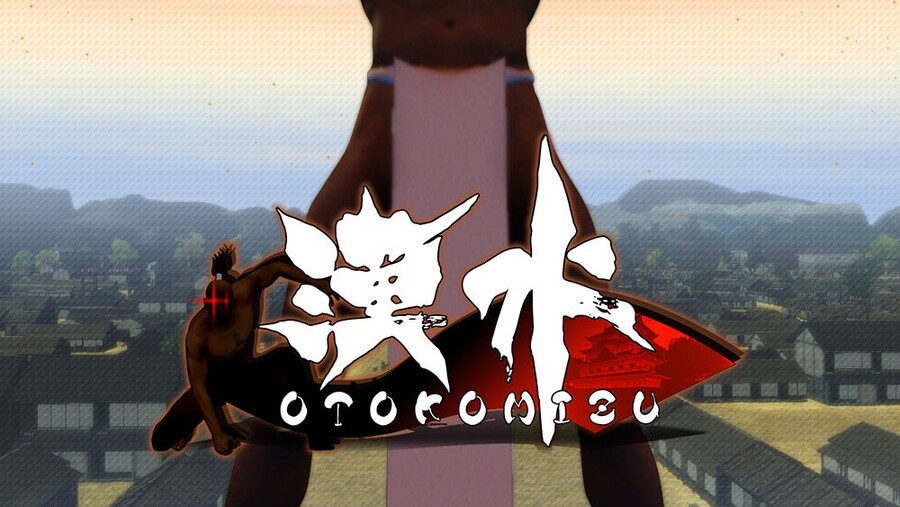 Sometimes while sweeping the internet for new game releases we come across something that defies easy categorisation. Most games are easy: oh, it's XCOM meets Mario, or looks like DOOM in Minecraft with a dash of endless runner. Then there are things like Otokomizu which, well, look at it.
It's coming to Switch on 31st October from publisher 'Undefined' (according to Nintendo.com!), and it looks like... a game you'll be able to play on Nintendo Switch. Normally at times like these the eShop webpage comes to our rescue with a brief description summarising the game. Otokomizu's description is certainly brief, summing up the title thusly:
Hovering in the sky over Edo City with a loincloth!
This jet pack firefighting 3D action game has the most mysterious operation feeling ever!
Hmm. Not much to go on, that's for sure. Still, they say that a picture paints a thousand words, so feast your eyes on these cheeky screenshots. Be warned, though - there were only three words which sprang to mind when we first saw these:
Fortunately, a trip to the Steam store sheds a little more light on the subject, although not much. Developed by Big Boys Studio and published (on Steam, at least) by Stepcloud.inc, the game launched in February on PC. We were going to summarise the details, but we think it's better to preserve the uncanny quality of the original text:
It is Edo period.
Eject water from your body and fight the fire for Edo City.

Water ejecting trigger pads are attached to both hands and feet, and you can shoot up in the sky as if you have a jet pack.
Try to move to extinguish fire delicately with your right hand, left hand, right foot and left foot.
Hover in the air and be dramatic, or go carefully. Either is fine. It's up to you!
Switch the "stance" and change your posture which is the direction of the ejection.
There are several types of "stance". Some are compatible for moving around. Some are compatible for attacking. You can unlock these stances by extinguishing fire and collecting "Mizudama".
Chose four stances and create your own style!

Knock down the large boss and don't forget the disturbing ninjas.
That's that cleared up then! If you're intrigued to see the game in action (and be warned, it features men wearing only fundoshi and spraying liquid from various places), you can check out the PC trailer.
If you want to find out more, it'll cost you $9 / £7.19 for the privilege when the game launches on Halloween (or a day earlier in the UK). With the huge number of games coming out right now we doubt this'll be creeping onto our review list, so feel free to report back in the comments section below and let us know exactly what's going on here.