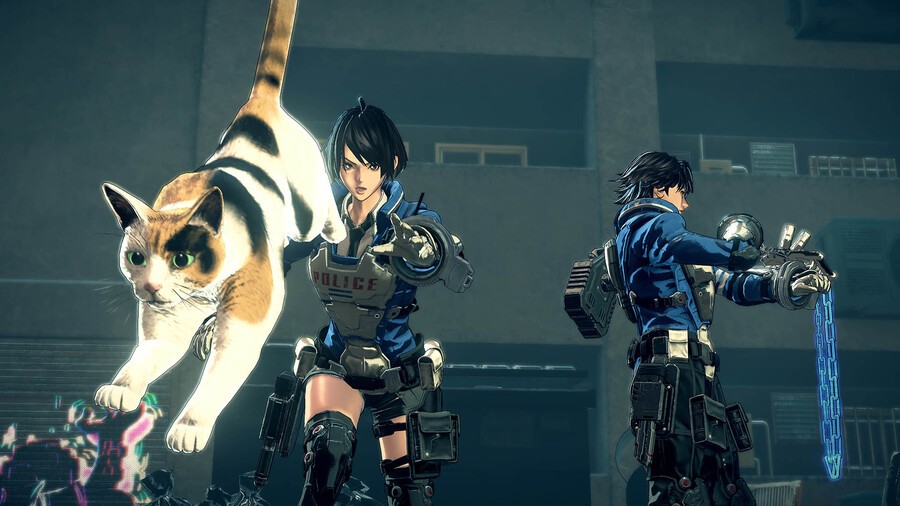 We did it, folks! We've made it to another weekend and this time there's a pretty major release to be getting stuck into. You can probably guess what most of us are playing this time around, but we've shared our plans with you below regardless. As always, we'd love for you to join in the fun and leave your own entries in our comment and poll sections below. Enjoy!
PJ O'Reilly, reviewer
This weekend will see a massive battle of wits take place between myself and my five-year-old son with regards to who gets the most time on our Switch. I'm all over Astral Chain right now, really enjoying everything about it, chopping and changing my Legion abilities to see what works best for my crazy offensive style of play. On the other hand, he's deep in Rayman Legends territory and loving every second of the music levels. I'd like to think I'll be able to come out on top in this one, I mean he is only five after all, but kids they…find a way.

Dom Reseigh-Lincoln, reviewer
Last weekend I decided to replay a game I simply cannot quit - Dragon's Dogma: Dark Arisen. Much like Skyrim and The Witcher 3, it's one of those action-RPGs that's so good I can't help but go back to it, even with my pile of shame looking at me with disgust. But here I am, playing with a Fighter build, running around Grand Soren, kicking goblins off cliffs and climbing onto the back of a cyclops like it's a typical day.
I may have also sworn the house down when a Griffin came out of nowhere and killed my squad of pawns when I was nearing the of a tough mission, but at least my kids were asleep at the time. The same can't be said for our neighbours though...
Ryan Craddock, staff writer
Yesterday, I was delighted to hear the familiar 'clunk' of the letterbox as Astral Chain was lovingly (at least, in my mind) shoved through the door. I'd usually avoid picking up games like this - where I don't quite know if it'll be to my tastes or not - but I just wanted to give in to the hype for a change and treat myself.
Thing is, a week-or-so ago I pledged to tackle a couple of games from my backlog before jumping into anything new, and I've been successfully doing that by finally playing through Sega's Rhythm Thief & The Emperor's Treasure on 3DS (I do love a good rhythm game). I haven't completed that yet, so really I should stick with that before moving onto Astral Chain but who knows if I'll be able to manage it... Astral Chain has cats in it for crying out loud.
Ollie Reynolds, reviewer
Much like everyone else this weekend, I'll be diving headfirst into Astral Chain. I've been trying to avoid reading too much into it in the lead up to its launch, but judging by the quality of Platinum's previous games, I'll be in for quite a ride.
I'll also be looking after my nephew for a while, so I'll be introducing him to the delights of Heave Ho, which - knowing how fond he is of flatulence at his age - he'll absolutely adore!
Austin Voigt, contributing writer
So… this weekend is my grandparents' 50th wedding anniversary, which means I'll be stuck at our lake home in the middle of nowhere, and my time will be taken up entirely with family-related events, rather than gaming. However, I shall be sneaking away whenever possible to watch others' footage of Astral Chain, and wishing I'd preordered it for myself when I had the chance.
Liam Doolan, news reporter
Instead of Astral Chain, this weekend I'll be spending my time with Collection of Mana. I think the focus will probably be on the standout of the bunch, Trials of Mana. I'm not particularly worried about spoiling things before the 3D remake arrives next year, either.
In my downtime, I think I'll give the 12th season of Rocket League a try. It's at least a couple of months since I've played this game, so it's about time I revisit it to see how it's holding up. Last of all I'll be spending some time with DeNA's new mobile game, Pokémon Masters. If it fails to entertain me, I'll probably head back to Pokémon GO.
Gavin Lane, staff writer
This week I shall be relaxing with retro games. After firing up my Nintendo 64 with Mario Golf a couple of months back to remind myself how it worked with the Transfer Pak, I remembered just what a great game it is and I've been meaning to get back to it for a couple of rounds ever since. My original save data got erased, but rather than mourning what was lost, let's look at this as an opportunity to forge a new path and put down a few new course records. I also get to smirk at funny golf jargon like 'bogey' and 'double bogey'. Golf's stupid. Video game golf on the other hand…
Which games are you playing this weekend? (350 votes)
Astral Chain

37%

Rayman Legends: Definitive Edition

2%

Dragon's Dogma: Dark Arisen

2%

The Elder Scrolls V: Skyrim

3%

Rhythm Thief & the Emperor's Treasure

0%

Heave Ho

1%

Collection of Mana

4%

Rocket League

2%

Pokémon Masters

4%

Pokémon GO

3%

Mario Golf

1%

Something else (comment below)

39%
Please login to vote in this poll.
As always, thanks for reading! Make sure to leave a vote in the poll above and a comment below with your gaming choices over the next few days...