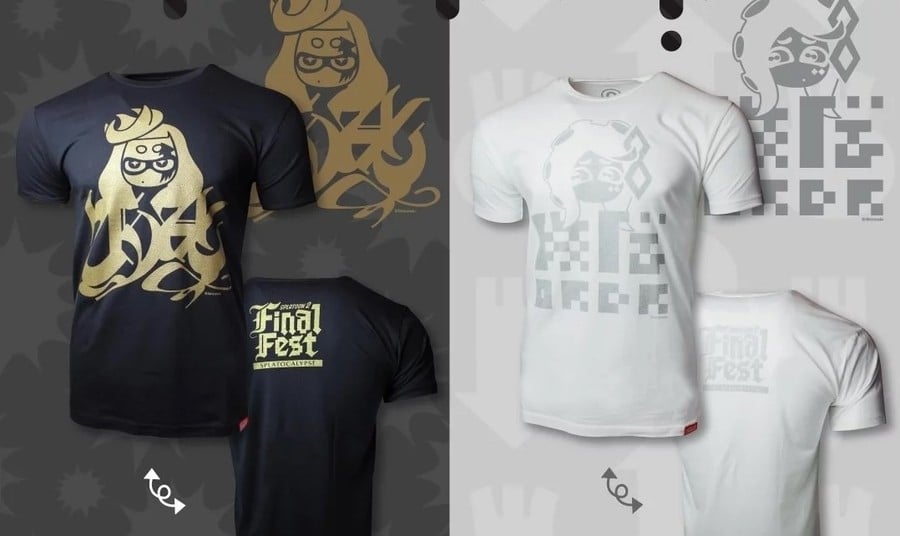 If you happen to be located in the UK or Europe in general, we're reminding you the limited edition Splatoon 2 t-shirts - celebrating the final Splatfest - are now available to purchase from the local My Nintendo Store.
Although the high-quality Splatoon 2 poster set has already sold out, at the time of writing you can still get your hands on a Team Chaos or Team Order t-shirt for £24.99. This offer is available until 21st July.
Show your support for Team Order or Team Chaos (or both, if you like!) with this Splatoon 2 Final Fest T-shirt, available in limited quantities. This single-jersey T-shirt is made from 100% cotton with an OEKO-TEX® certificate, and is available in a range of sizes: Kids (152, corresponds to UK kids size 11-12), S, M, L and XL.
The Chaos team T-shirt comes in black with metallic gold prints on both front and back, while the Order team T-shirt comes in white with metallic silver prints. Both designs feature a sewn label on the bottom front of the T-shirt.
If you purchase a t-shirt, you'll also get access to exclusive in-game content for Splatoon 2:
And that's not all, we have a special bonus for all who buy the T-shirts! If you buy one of these Splatoon 2 Splatfest T-shirts, you'll also receive some exclusive in-game gear. A download code for the gear will be sent to you by email after your purchase and is valid for one month from the date your receive it. Four pieces of gear, two T-shirts and two jackets, are included in this download code.
You can score a discount on your t-shirt order if you use a My Nintendo Store voucher, which is available as a Gold Point reward on My Nintendo:
Discounts of €1.00/£1.00, €3.00/£3.00 or €5.00/£5.00 are possible on any order of more than €20.00/£20.00 at My Nintendo Store.
Did you manage to get a poster? How about a limited edition t-shirt? Tell us below.
[source mynintendostore.nintendo.co.uk, via mynintendostore.nintendo.co.uk, my.nintendo.com]